Home Page | About Me | Home Entertainment | Home Entertainment Blog | Politics | Australian Libertarian Society Blog | Disclosures
---
Blu-ray Reviews: 2008 High Definition Audio Demonstration Disc
---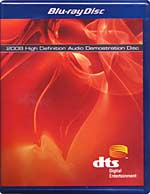 2008 High Definition Audio Demonstration Disc
18 August 2008
---
All right, you caught me out. This isn't a review. It is merely a track and data listing for this test disc. So why would I want this information?

Consider, I have before me a Blu-ray player that, according to the advertising material, can decode DTS-HD Master Audio. How can I be certain that it can do as claimed? Especially since at the time that I am writing, only the Sony Playstation 3 has to my knowledge the capability of decoding this audio format.

Here's what I do. I set the Blu-ray player to convert the audio for output over HDMI as multichannel PCM (7.1 channels if given the choice). Then I play some of the Titles shown below. The excerpt from Hairspray, for example, should produce 7.1 channels of PCM. If, however, the resulting PCM is only 5.1 channels then it's likely that the unit is actually decoding the standard DTS core embedded within the DTS-HD Master Audio.

Likewise, the two 'Nature's Journey' Titles are encoded at 96kHz sampling rate. My home theatre receiver reports the sampling rate of the PCM it receives. If I have any sampling downconversion feature within the Blu-ray switched off, and the receiver reports the PCM as being 48kHz, once again this suggests that the standard DTS core (which supports only 48kHz) is being decoded by the player rather than the full DTS-HD MA.

Just as a brief aside on video: frame stepping through some of the pieces I've listed below as being 'VC1 1080p60' suggests that these are encoded as four progressive frames followed by a repeated frame, then four new progressive frames followed by a repeated frame, and so on. What could this mean? Could this mean the video is actually 1080p48, converted to 1080p60? But some of the other Titles, such as the two DTS-HD trailers, are clearly 1080p60 (hmmm, or maybe 1080p30 -- I'll have to count up the frames per second).

UPDATED 17 March 2009: I have corrected a couple of minor errors in the table below, and added bitrates for the DTS-HD TrueHD tracks. These are derived from the excellent BDInfo tool (version 0.5.2). So also are the bit-depths (16 or 24 bits).
---
Content
Channels
Item
Title #
Audio Format
Bitrate
F
R
S
Bits
Freq
Time
Video
Main Menu music - Excerpt from Porcupine Tree: 'Start of Something Beautiful'
-
DTS
1536kbps
3
2
1
24
48kHz
N/A
VC1
Movie: Excerpt from Night at the Museum
1
DTS-HD MA
4218kbps
3
2
1
24
48kHz
4:23
VC1 1080p24
Movie: Excerpt from Eragon
2
DTS-HD MA
4574kbps
3
2
1
24
48kHz
3:10
VC1 1080p24
Movie: Excerpt from X-Men: The Last Stand
3
DTS-HD MA
5457kbps
3
3
1
24
48kHz
4:18
VC1 1080p24
Movie: Excerpt from Hairspray
4
DTS-HD MA
6393kbps
3
4
1
24
48kHz
4:33
VC1 1080p24
Movie: Excerpt from Rush Hour 3
5
DTS-HD MA
6332kbps
3
4
1
24
48kHz
3:20
VC1 1080p24
Movie: Excerpt I from Nature's Journey
6
DTS-HD MA 96/24
5971kbps
3
2
0
24
96kHz
3:21
VC1 1080i60
Movie: Excerpt II from Nature's Journey
7
DTS-HD MA 96/24
4817kbps
3
2
0
24
96kHz
2:14
VC1 1080i60
Music: The Black Crowes: 'Hard to Handle'
8
DTS
1536kbps
3
2
1
16
48kHz
8:28
VC1 1080i60
Music: BT: 'Dynamic Symmetry'
9
DTS-HD MA
4914kbps
3
4
1
24
48kHz
11:25
VC1 1080p24
Music: Alice Cooper: 'School's Out' (Live at Montreaux 2005)
10
DTS
1536kbps
3
2
1
24
48kHz
4:39
VC1 1080i60
Music: Pixies: 'Debaser'
11
DTS-HD MA
2652kbps
3
2
1
16
48kHz
2:51
VC1 1080i60
Music: The Who: 'Pinball Wizard' (Live at the Isle of Wight Festival 1970)
12
DTS-HD MA
2855kbps
3
2
1
16
48kHz
2:54
VC1 1080i60
Music: Chieli Minucci: 'Daybreak'
13
DTS-HD MA
6474kbps
3
4
1
24
48kHz
8:34
VC1 1080i60
Extras: 'Hear No Evil'
14
DTS-HD MA
2938kbps
3
2
1
24
48kHz
1:43
VC1 1080p60
Extras: DTS-HD Educational Videos: 'Better Sound Today'
15
DTS-HD MA
2072kbps
3
2
1
16
48kHz
1:03
VC1 1080i60
Extras: DTS-HD Educational Videos: '7.1 Channels'
16
DTS-HD MA
2047kbps
3
2
1
16
48kHz
1:03
VC1 1080i60
Extras: DTS-HD Educational Videos: 'Identical to the Studio Master'
17
DTS-HD MA
2059kbps
3
2
1
16
48kHz
1:03
VC1 1080i60
Extras: DTS-HD Trailers - SFX
18
DTS-HD MA
9528kbps
3
4
1
24
96kHz
0:17
MPEG4 AVC 1080i60
Extras: DTS-HD Trailers - Orchestra
19
DTS-HD MA
8852kbps
3
4
1
24
96kHz
0:17
MPEG4 AVC 1080i60
---
&copy 2002-2008, Stephen Dawson