Home Page | About Me | Home Entertainment | Home Entertainment Blog | Politics | Australian Libertarian Society Blog | Disclosures
---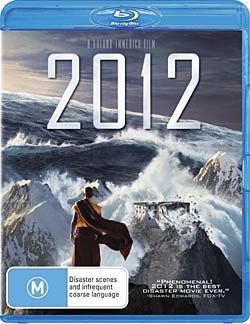 Originally published in Australian Smart Home Ideas, Winter 2010
Last updated 22 May 2011
---
2012
2009 - Sony Pictures Home Entertainment Australia
Director: Roland Emmerich
Starring: John Cusack, Amanda Peet, Chiwetel Ejiofor, Thandie Newton, Oliver Platt, Thomas McCarthy, Woody Harrelson, Danny Glover, Liam James, Morgan Lily, Zlatko Buric and Beatrice Rosen

Movie:

Picture:

Sound:

Extras:

---
2012, like much of Roland Emmerich's previous work (Independence Day, The Day After Tomorrow), is all about the spectacle. I felt somewhat like a late 19th century visitor to a top notch circus, gasping at the wonders of the world. The key was switching off the analytical part of my mind so that the relentlessness of the coincidence piled on coincidence, the never ending succession of escapes by the skins of teeth, didn't become too infuriating.

The story is simply: the world is coming to an end. But not really. The catastrophes due to collapsing land masses and rising oceans, will be survivable by some especially well prepared individuals. Everyman John Cusack isn't well prepared, but he is lucky enough to have all those coincidences to draw upon.

Anyone with an impressive home theatre system and a desire to show it off to friends should own this disc. The picture is good. Emmerich might tend towards cookie cutter characters, but he sure knows how to do CGI special effects. Not having seen the end of the world I can't say that they were accurate, but they were impressive and mostly looked plausible to the eye.

The sound swirls and engulfs the listener, with chaos arriving from all directions. Perhaps another half octave of bass extension might have made it even more impressive, but otherwise is was absolutely state of the art.

The Australian version comes on a single disc, rather than the two discs of the US Special Edition version. But you're not losing much with the local one. You still get the audio commentary, and the BonusView PIP commentary. You get the 'Interactive Mayan Calculator', a feature in which you enter your birth date to get a horoscope-type reading. For a calendar which is supposed to nonchalantly forecast the end of the world, its personal remarks seem carefully inoffensive. All that the Americans get that we don't are a music video, a 'making of' featurette for the music video, and a 22 minute featurette on how the end of the Mayan calendar might mean the end of the world. Instead we get a four minute version, which is probably a good trade.
---
Facts
Running time: 158 minutes
Picture: 2.35:1, 1080p24, MPEG4 AVC @ 21.99Mbps
Sound: English, French: DTS-HD Master Audio 16/48 3/2.1 @ 2,155kbps (2,110kbps for French) (core: DTS 16/48 3/2.1 @ 1509kbps); English Audio Descriptive Service, Commentary (Emmerich/Kloser): Dolby Digital 2/0.0 @ 192kbps; BonusView PIP: DTS-Express 16/48 2.0 @ 192kbps
Subtitles: English, English for the Hearing Impaired, French, Arabic, Danish, Dutch, Finish, Hindi, Norwegian, Swedish, English (Commentary), French (Commentary), Dutch (Commentary)
Extras: Bookmarks; BonusView PIP feature: 'Roland's Vision' (480p60, MPEG4 AVC, DTS-Express 16/48 2.0 @ 192kbps); BD-Live MovieIQ option; Interactive Mayan Calendar (with date-based personality profiles and horoscopes); 5 Deleted Scenes (1080p24, MPEG4 AVC, DD2.0 @ 192kbps - 5 mins); Alternate Ending (1080p24, MPEG4 AVC, DD2.0 @ 192kbps - 4 mins); 5 Featurettes (1080i60, MPEG4 AVC, DD2.0 @ 192kbps - 60 mins)
Restrictions: Rated

(Australian rating); Region Free

The following video bitrate graphs were generated by BDInfo. First, this is the graph for the main movie stream: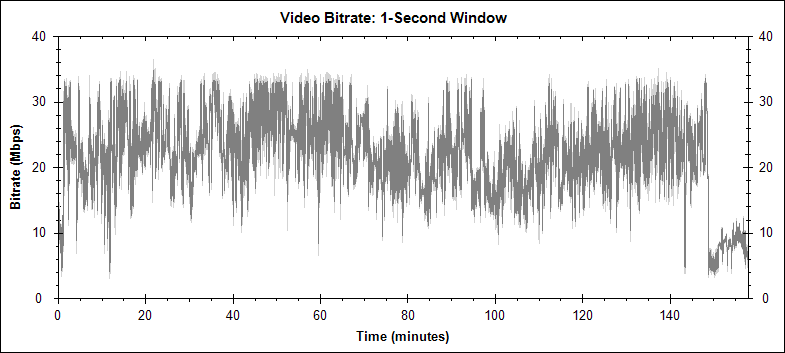 This one is the for BonusView PIP video stream: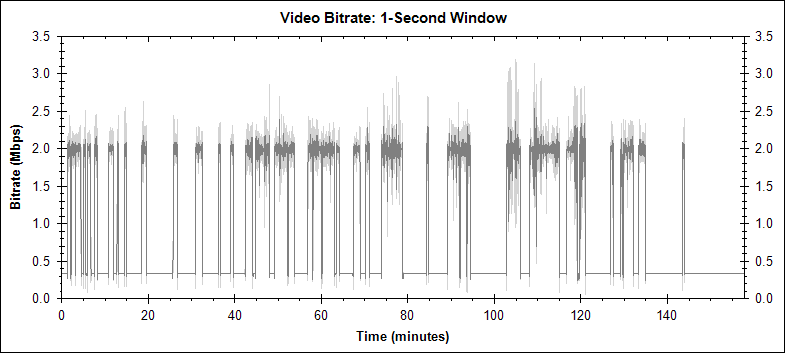 ---
&copy 2002-2011, Stephen Dawson