Home Page | About Me | Home Entertainment | Home Entertainment Blog | Politics | Australian Libertarian Society Blog | Disclosures
---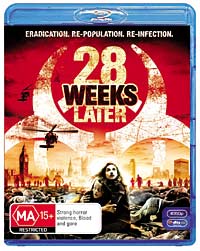 Not previously published
Last updated 21 April 2009
---
28 Weeks Later
2002 - Twentieth Century Fox Home Entertainment South Pacific Pty Ltd
Director: Juan Carlos Fresnadillo
Starring: Robert Carlyle, Catherine McCormack, Rose Byrne, Jeremy Renner, Harold Perrineau, Idris Elba, Imogen Poots, Mackintosh Muggleton, Amanda Walker, Shahid Ahmed, Garfield Morgan and Emily Beecham

Movie:

Picture:

Sound:

Extras:

---
No review as yet
---
Facts
Running time: 99 minutes
Video: 1.85:1 1080p24, MPEG4 AVC @ 34.73Mbps
Sound: English: DTS-HD Master Audio 24/48 3/2.1 @ 4084kbps; German, Spanish: DTS 3/2.1 @ 768kbps; English Descriptive Audio: Dolby Digital 3/2.1 @ 384kbps; Commentary: Dolby Digital 2/0.0 @ 224kbps
Subtitles: English for the Hearing Impaired, German, German (Text), Spanish, Spanish (Text), Danish, Finnish, Norwegian, Swedish, English (Commentary), German (Commentary), Finnish (Commentary), Norwegian (Commentary), Swedish (Commentary)
Extras: Two Graphic animations (1.85:1 letterbox, 480p, MPEG2, DD2.0 @ 192kbps - 12 mins); Three featurettes (480i, MPEG2, DD2.0 @ 192kbps - 27 mins); Two deleted scenes (1.85:1 letterbox, 480i, MPEG2, DD2.0 @ 224kbps - 5 mins); Trailer (1080p24, MPEG2, DD5.1 @ 448kbps - 2 mins); Four trailers for other movies (1080p24, MPEG2, DD5.1 @ 448kbps - 8 mins)
Restrictions: Rated

(Australian rating); Locked to Region B

This is the video bitrate graph for this movie, generated by BDInfo 0.5.2:
---
Here are some comparisons between the PAL DVD and the Blu-ray version of this movie.
At the top of each is the full frame (suitably shrunk down) used in the comparison, with a 250 pixel wide detail from the frame underneath. The left side is from the PAL DVD. The image was captured digitally from the disc, scaled up from its native 720 by 576 resolution to 1,024 by 576 (to present in the correct aspect ratio), and then, in order to be comparable to the Blu-ray version, from that to 1,920 by 1,080. The detail is from that last scaled version, and has not been rescaled again. The right side is from the Australian Blu-ray. This has not been scaled at all.
Different applications were used to capture the two frames, so I am not normally comfortable comparing the colour between the two, merely the detail and sharpness (although there seems to be very little difference between the two versions in colour or brightness). For those visitors from NTSC lands, generally the PAL DVD is just a touch sharper than the NTSC DVD.
The movie is very grainy, and a hard, sharp focus apparently wasn't a priority. Still, it is only in the Blu-ray that the grain is apparent.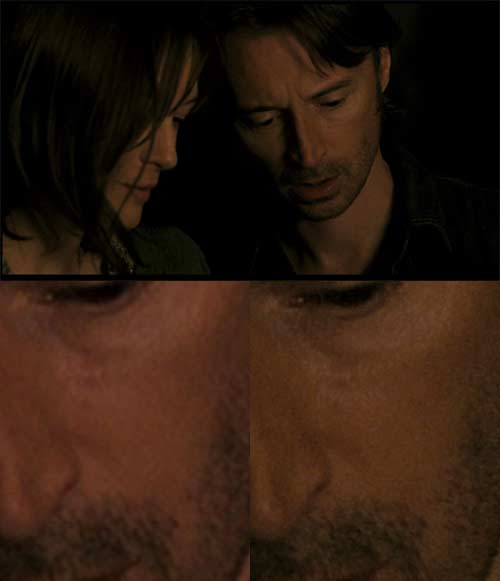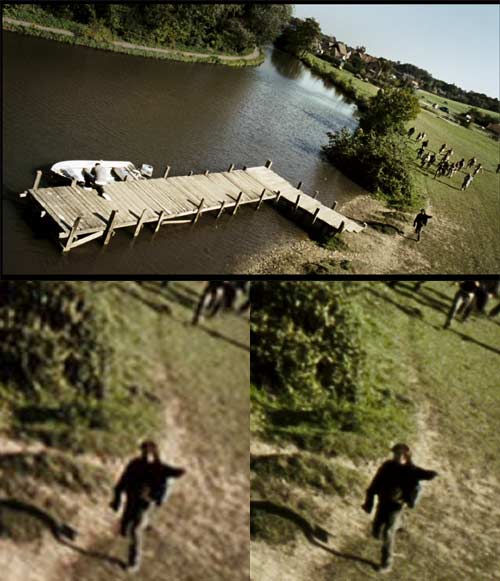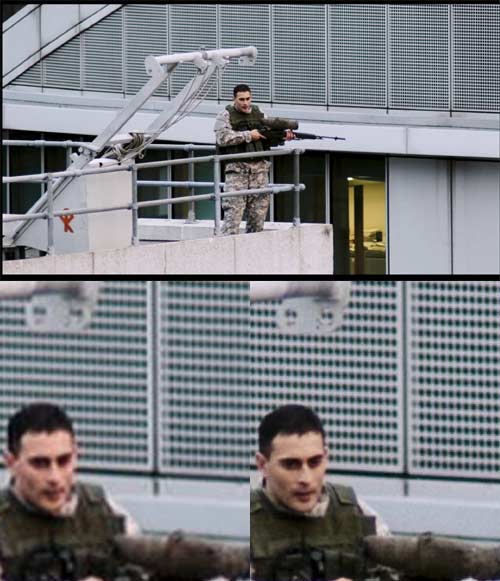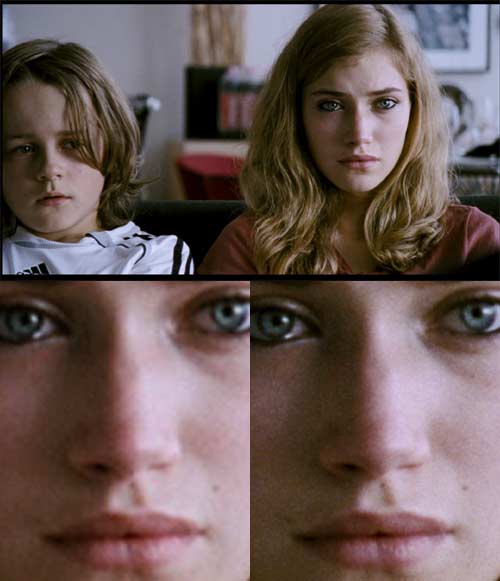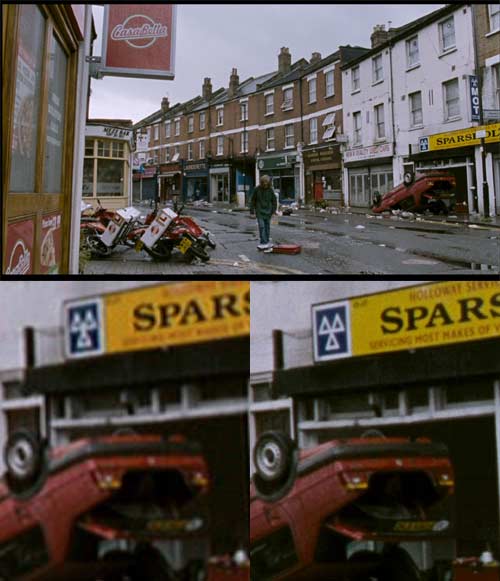 ---
&copy 2002-2009, Stephen Dawson