Home Page | About Me | Home Entertainment | Home Entertainment Blog | Politics | Australian Libertarian Society Blog | Disclosures
---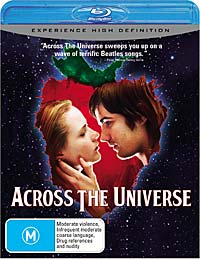 Originally published in Australian HI-FI, November/December 2008, v.39#6
Last updated 28 March 2010
---
Across the Universe
2007 - Sony Pictures Home Entertainment Australia
Director: Julie Taymor
Starring: Evan Rachel Wood, Jim Sturgess, Joe Anderson, Dana Fuchs, Martin Luther and T.V. Carpio

Movie:

Picture:

Sound:

Extras:

The concept behind Across the Universe is audacious: tell a story almost entirely using only the words (and music) of The Beatles. Fittingly, the story is a romance set in the turbulent late 60s in America, amongst a group of people bumping up against both the music scene and anti-Vietnam war radicalism.
The writers and director managed to pull this off, with considerable poignancy and, for the most part, exceptional musical value. In addition to the actors, there are plenty of cameos from famous performers. Joe Cocker appears as a tramp and a pimp to sing 'Come Together', brilliantly. Bono appears as 'Dr Robert' and sings 'I Am the Walrus', boringly.
The more impressive work is the harnessing of the songs to advancing the story. Dana Fuchs' and Martin Luther's characters are clearly modelled on Janis Joplin and Jimmy Hendrix, except that in this alternative reality they have a relationship. You just have to see -- and hear -- how 'Oh! Darling' is used. One of the characters is drafted, and on arriving at the recruitment centre 'I Want You' is both surprisingly and fittingly employed in a large spectacular dance number that is reminiscent of Alan Parker's work in The Wall.
The picture, sometimes naturalistic (especially the parts set in sooty Liverpool), sometimes fantastical, sometimes psychedelic, is brilliantly captured on this MPEG4 AVC Blu-ray disc. The colours are strong when required, and accurate when necessary. As I am writing, there is a fluorescent coloured negative image running as our stars find themselves on a drug-fuelled road trip.
For sound you get another fine, lossless transfer, this time using Dolby TrueHD in 5.1 channel format. As with Hairspray this is allegedly a 24 bit transfer, at 48kHz sampling. I've noticed that Dolby TrueHD typically has a markedly lower bitrate than DTS-HD Master Audio. For this movie, it normally hovers well under 3Mbps, and rarely blips up to above 4Mbps. I do wonder if Dolby TrueHD is a more efficient process.
For extras you get an art gallery, and extended versions of eight of the songs, and 80-odd minutes of featurettes. The longer song versions get full 1080p24 treatment (everything is either 1080p or 1080i), but only standard Dolby Digital 5.1 sound. Still, with Blu-ray standard Dolby Digital can go up to 640kbps, rather than 448, so higher than DVD quality is available.
---
Facts
Running time: 133 minutes
Video: 2.35:1, 1080p24, MPEG4 AVC, 23.65Mbps
Sound: English: Dolby TrueHD 48kHz/24 bit 3/2.1 @ 2535kbps; English Descriptive: Dolby Digital 3/2.1, 640kb/s; Commentary: Dolby Digital 2/0.0, 192kb/s
Subtitles: English, Arabic, Bulgarian, Croatian, Czech, English for the Hearing Impaired, Hindi, Hungarian, Icelandic, Polish, Romanian, Slovene, Turkish
Extras: Persistent bookmarks, 'Don Nace Art Gallery' (155 stills), 11 Extended song versions, alternative song takes, deleted scenes (1080p24, MPEG4 AVC - Dolby Digital 5.1 @ 448kbps - 41 mins); 5 Featurettes (1080i60, MPEG4 AVC - Dolby Digital 2.0 @ 224kbps - 81 mins)
Restrictions: Rated

(Australian rating); Region Free

The following video bitrate graph was generated by BDInfo 0.5.3: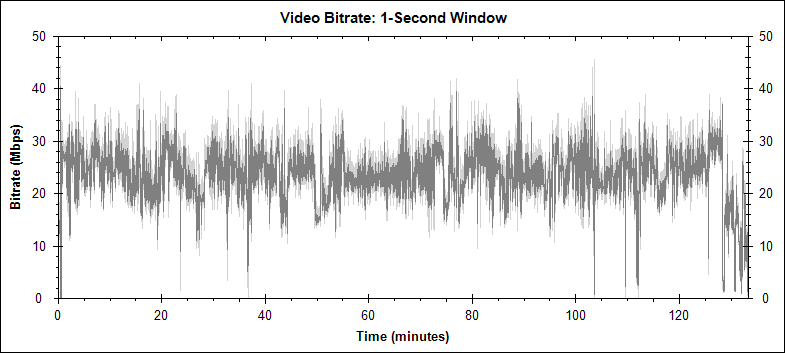 ---
---
&copy 2002-2010, Stephen Dawson