Home Page | About Me | Home Entertainment | Home Entertainment Blog | Politics | Australian Libertarian Society Blog | Disclosures
---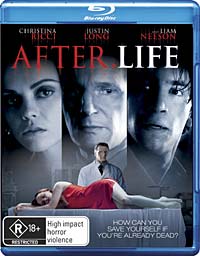 Originally published in Sound and Image, July/August 2010, v.23#08
Last updated 22 May 2011
---
After.Life
2009 - Roadshow Entertainment
Director: Agnieszka Wojtowicz-Vosloo
Starring: Christina Ricci, Liam Neeson, Justin Long and Chandler Canterbury

Movie:

Picture:

Sound:

Extras: Nil
---
Death and its variations seem to be so cool at the moment. Zombie movies are definitely in, some funny, some scary. A couple of years ago Will Smith was killing the undead with wild abandon. Vampire/human romance is in (but not yet, thankfully, zombie/human romance). For some reason these appeal more to girls than boys: on IMDB The New Moon scored 6.2 from female voters, and 4.2 from males.

But this movie deals with a different aspect of the dead: their relationship with their undertakers. And, no, there is no necrophilia involved. Just the conceit that the newly dead still continue to exist for a while as their bodies gradually decompose, and that some gifted individuals can communicate with them.

Liam Neeson is one such, a passive/aggressive undertaker who expresses irritation from time to time that the dead refuse to accept that they are dead. Christina Ricci is the one on his slab. Meanwhile, Justin Long is the boyfriend who starts to think that perhaps she survived, and Chandler Canterbury is Neeson's protege.

But the question is: is she really dead?

This film looks very pretty, in a somewhat dark way. The contrasting elements are sure to suffer on DVD (Ricci spends most of her time in a bright red slip), so Blu-ray is definitely the way to go. The audio is all about dialogue and atmosphere, and does its job nicely. Roadshow has packed the whole thing onto a single layer disc (using less than 21GB), and provides no special extras, which is unfortunate, because the US version has a 'making-of' featurette and a director's commentary that may have gone some way towards resolving in my mind that question.
---
Facts
Running time: 103 minutes
Picture: 2.35:1, 1080p24, MPEG4 AVC @ 29.97Mbps
Sound: English: Dolby TrueHD 16/48 3/2.1 @ 1479kbps (embedded: Dolby Digital 3/2.1 @ 448kbps); English Audio Descriptive: Dolby Digital 2/0.0 @ 640kbps
Subtitles: English
Extras: Nil
Restrictions: Rated

(Australian rating); Region free

The following video bitrate graph was generated by BDInfo. This is the graph for the main movie stream: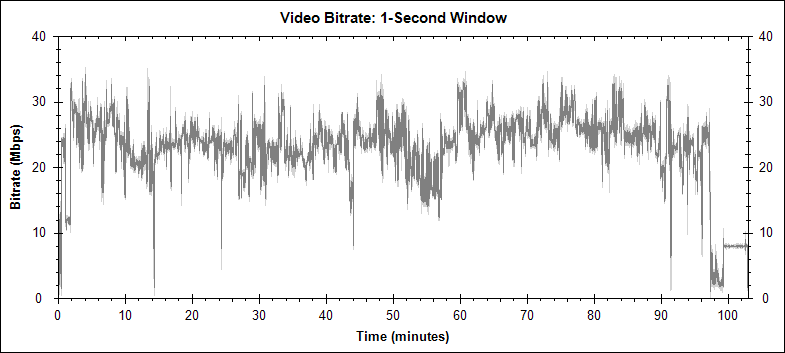 ---
&copy 2002-2011, Stephen Dawson