Home Page | About Me | Home Entertainment | Home Entertainment Blog | Politics | Australian Libertarian Society Blog | Disclosures
---
Originally published in Sound and Image, April/May 2008, v.21#6
Last updated 28 March 2010
---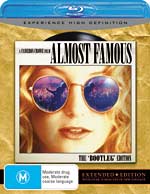 Almost Famous
2000 - Sony Pictures Home Entertainment Australia
Director: Cameron Crowe
Starring: Billy Crudup, Frances McDormand, Kate Hudson, Patrick Fugit, Anna Paquin, Noah Taylor, Jason Lee and Philip Seymour Hoffman

Movie:

Picture:

Sound:

Extras:

---
One of the irritating things about Blu-ray vis-a-vis HD DVD has been disc loading time. In part that has just been Blu-ray players being slow to recognise discs, and in this respect they haven't been much different from HD DVD. But the moment the disc producers added BD-Java elements, things slowed down even more, and far beyond the equivalent HDi features of HD DVD.

Basically, you will have to wait while the disc loads. This one -- Almost Famous -- took 77 seconds from pressing the 'Close' key on a Samsung BD-P1400, 63 seconds on a Panasonic DMP-BD30 -- until the Sony Pictures logo appeared. All this, apparently, to implement just one feature: bookmarking.

Until the last few weeks I had been operating under the impression that 'Grace Period' Blu-ray players did not have any persistent storage, unlike the 'Final Standard Profile' ones which are required to have 256 megabytes. But this one has a bookmark feature. I figured it would be like bookmarks on some DVD players, which disappear the moment you switch off the unit or eject the disc. But, no, these bookmarks persist. In fact, I am playing Almost Famous again right now as I write, and the bookmarks I entered some six weeks ago on this player allow me to jump instantly to those places.

So how can we have persistent bookmarks, but no persistent memory in which to store them? I turns out that even Grace Period players do have persistent storage. Just that it's a tiny amount, a mere 64 kilobytes, or four one thousandths of a percent of that demanded for a Final Standard Profile player.

Using the bookmarks is easy. Just press the 'B' key while the disc is playing and a cute graphic appears on the screen 'You have added a bookmark'. You can retrieve these from the 'Special Features' menu, or jump to them using a progress bar.

But, hey, what about the movie? It has been a couple of years since I saw the movie on DVD so I wasn't surprised about the addition of a few scenes. A few? The Director's Cut version on this Blu-ray runs a full forty minutes longer than the original release, and except for a single brief scene, not one of the additions seems tedious or out of place.

All you need to know about what's in the movie is that it consists of 161 minutes of undiluted charm.

The picture quality is as good as it gets. The sound, presented on Dolby TrueHD, is excellent as well. There are few extras, the most interesting of which is two minutes of Creem magazine editor Lester Bangs dumping on 70s rock stars, including my beloved Emerson Lake and Palmer.
---
Facts
Running time: 161 minutes
Picture: 1.85:1 anamorphic, 1080p24, MPEG4 AVC
Sound: English: Dolby TrueHD 16/48 3/2.1 @ 1654kbps (Core: Dolby Digital 3/2.1 @ 640kbps); Polish Voiceover: Dolby Digital 3/2.1 @ 640kbps
Subtitles: English, Polish, Portuguese, Spanish, Mandarin, Korean. Thai, Arabic, Bulgarian, Croation Czech, English for the Hearing Impaired, Hebrew, Hindi, Hundarian, Icelandic, Romainian, Slovak, Slovene, Turkish
Extras: Bookmarks; Behind the scenes footage (1080i60, MPEG2, DD2.0 @ 224kbps - 9 mins); Lester Bangs interview (1080i60, MPEG2, DD2.0 @ 224kbps - 2 mins); Two trailers for other movies (1080p24, MPEG2, DD5.1 @ 448kbps - 4 mins)
Restrictions: Rated

(Australian rating); Region Free

The following video bitrate graph was generated by BDInfo 0.5.3: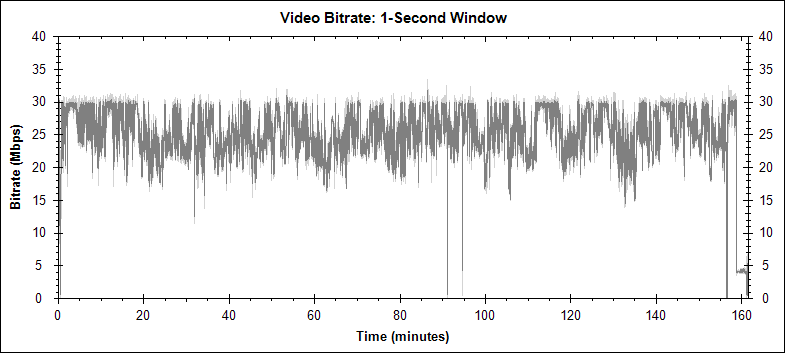 ---
Here is a full frame from the movie: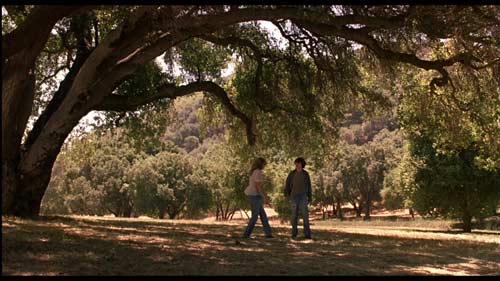 Here are three details from this frame. The left side is from the PAL DVD. The image was captured digitally from the disc, scaled up from its native 720 by 576 resolution to 1,024 by 576 (to present in the correct aspect ratio), and then, in order to be comparable to the Blu-ray version, from that to 1,920 by 1,080. The detail is from that last scaled version, and has not been rescaled again. The right side is from the Australian Blu-ray. This has not be scaled at all. I think that Blu-ray frame may have been the one after the DVD frame. The process was fairly fiddly. I think I need make no remarks about the relative qualities of the two. For those visitors from NTSC lands, generally the PAL DVD is just a touch sharper than the NTSC DVD.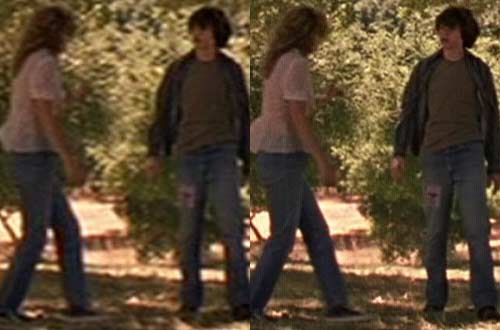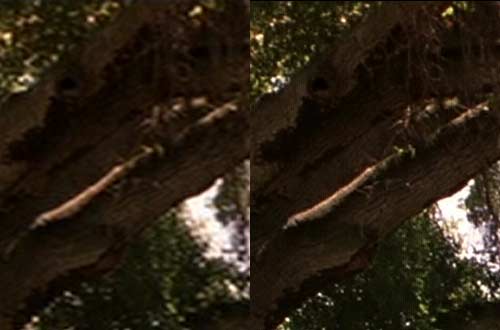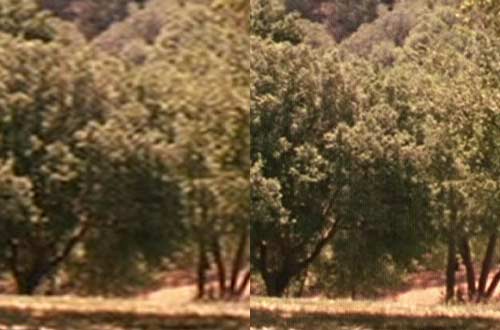 ---
&copy 2002-2010, Stephen Dawson