Home Page | About Me | Home Entertainment | Home Entertainment Blog | Politics | Australian Libertarian Society Blog | Disclosures
---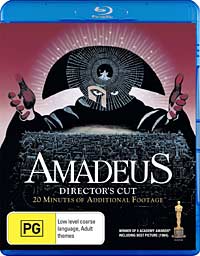 Originally published in Australian HI-FI, July/Aug 2010, v.41#4
Last updated 20 August 2010
---
Amadeus (Director's Cut)
1984 - Warner Bros Entertainment Australia Pty Ltd
Director: Milos Forman
Starring: F. Murray Abraham, Tom Hulce, Elizabeth Berridge, Roy Dotrice, Simon Callow, Christine Ebersole, Jeffrey Jones, Charles Kay and Kenneth McMillan

Movie:

Picture:

Sound:

Extras:

---
Imagine you're a young actor and you are offered a role in a major movie as the title character. Not just any character, but one of the greatest composers of all time. It's a role that you imagine will have you creating greatness, yet dying an early death while still a young man. The possibilities would just seem incredible.

But then imagine your disappointment when you discover that your character will actually be a buffoon.

Things don't start auspiciously for the young Wolfgang Amadeus Mozart in this classic biopic, written by Peter Shaffer, based on his own play. Although it plays quite loosely with his life, and even more so with that of narrator, rival and villain Antonio Salieri, it still manages to hit many of the high points. For example, his method of composing, which was to assemble entire works in his mind, and then simply pour them onto the page without alteration, leaving his original manuscripts remarkably clean. Or of his astonishing musical recall, shown by his instantaneous memorisation of Salieri's welcome march.

This scene, impressive as it appears, understates the real story because the ditty used in this movie was little more complicated than Mozart's own compositions as a five year old, recorded in his father's 'Nannerl Notenbuch'. His most famous feat of musical memory was when he was just fourteen years old and after one hearing of Allegri's 'Miserere' in the Sistine Chapel, wrote out the entire nine voice polyphonic work (he slightly revised it a few days later after a second hearing).

On this disc the movie is presented as the 180 minute Director's Cut version, with 20 more minutes content than the original theatrical cut. As is Warner Bros' habit, it appears to have encoded the video with a view to how it thinks the picture looks, rather than using up the available space on the disc with a generous bitrate. Consequently about 14GB of the disc remains unused, even though the movie scores a mere 16.68Mpbs average video bitrate. There were no apparent compression artefacts, and for the most part the immense detail of the part-Rococo, part neo-classical, decor is beautifully presented. The film itself seemed to suffer from moments of variable focus (for example, the stage scene around 1:48:30) which didn't seem to have anything to do with the transfer.

But, ultimately, it's all about music, and the Dolby TrueHD 5.1 channel mix delivers a superb representation of the original sound track. There isn't much surround, but it's not about that. It's about as brilliant a merging of music and movie as has ever appeared on screen.
---
Facts
Running time: 180 minutes
Picture: 2.42:1, 1080p24, VC1 @ 16.68Mbps
Sound: English: Dolby TrueHD 16/48 3/2.1 @ 1396kbps (core: Dolby Digital 3/2.1 @ 640kbps); English, French, German, Italian, Spanish: Dolby Digital 3/2.1 @ 640kbps; Commentary: Dolby Digital 1/0.0 @ 192kbps
Subtitles: English for the Hearing Impaired, French, German for the Hearing Impaired, Italian, Italian for the Hearing Impaired, Spanish (Castellano), Dutch, Korean, Spanish (Espanol), Portuguese (Brazilian), Danish, Finnish, Norwegian, Polish, Portuguese, Swedish, Japanese
Extras: Documentary: 'The Making of Amadeus' (480i60, VC1, DPL2.0 @ 192kbps - 61 mins); Trailer (480i60, VC1, DPL2.0 @ 192kbps - 2 mins)
Restrictions: Rated

(Australian rating); Region Free

The following video bitrate graph was generated by BDInfo 0.5.3: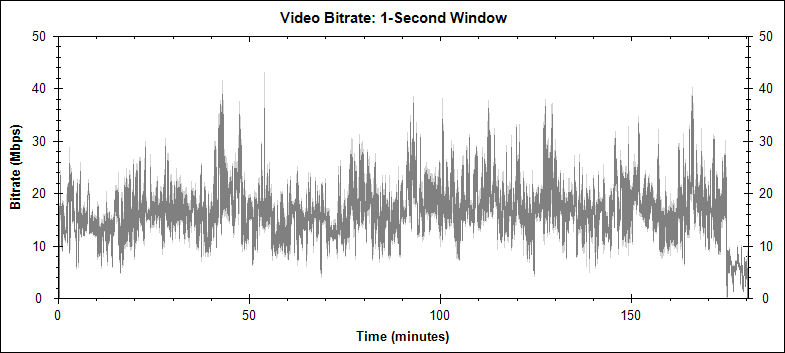 ---
Here are some comparisons between the Australian PAL DVD and the Blu-ray versions of this movie. Both the DVD and the Blu-ray versions were supplied to me by Warner Bros, the former way back in 2000. Presumably a later DVD edition has been released including the most recent restoration work, but we'll stick with this version.

In the following examples, at the top of each is the full frame (suitably shrunk down) used in the comparison, with a 250 pixel wide detail from the frame underneath. The left side is from the PAL DVD. The image was captured digitally from the disc (using VideoReDo Plus), scaled up from its native 720 by 576 resolution to 1024 by 576 (to present in the 16:9 aspect ratio) by the application. Then, in order to be comparable to the Blu-ray version, I scaled it from that to 1,920 by 1,080 in Photoshop. The detail is from that last scaled version, and has not been rescaled again. The right side is from the Australian Blu-ray (captured using the command-line media player MPlayer). This has not been scaled at all.

Since different applications were used to capture the two frames, I am not normally comfortable comparing the brightness or colour between the two. For those visitors from NTSC lands, generally PAL DVDs are just a touch sharper than NTSC DVDs.

I want to focus on the bright scenes full of 18th Century detail, but we must have one of the darker ones, such as this near the opening. The major impediment to the DVD version is compression noise, largely absent from the Blu-ray: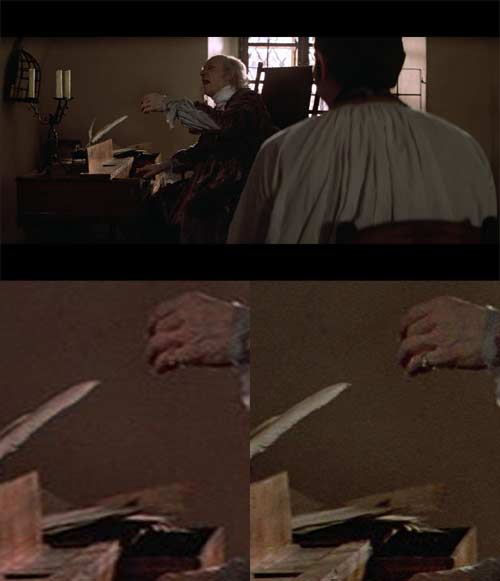 I guess that not much more needs to be said if you look at the following two shots. Blu-ray provides an enormous amount more sharpness and clarity:
Sharpness and clarity provide a more relaxing viewing experience, and more information upon which your judgement about a movie may be based. But it also makes a lot of stuff seem much more real. In the Blu-ray version, that chair looks real, while in the DVD version it doesn't: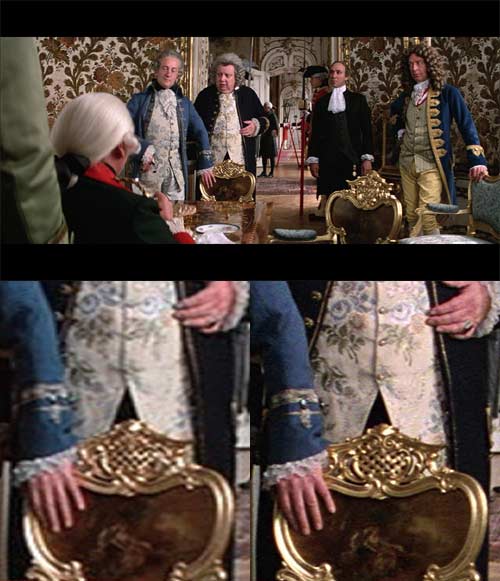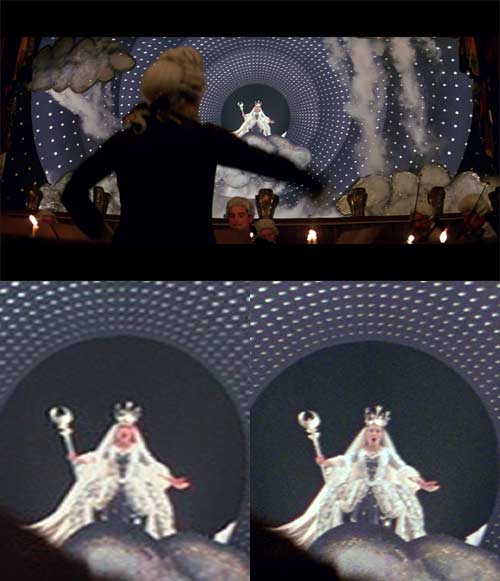 ---
&copy 2002-2010, Stephen Dawson