Home Page | About Me | Home Entertainment | Home Entertainment Blog | Politics | Australian Libertarian Society Blog | Disclosures
---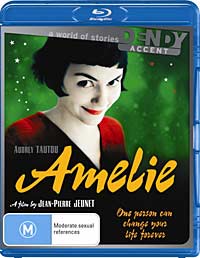 Blu-ray Reviews: Amélie (Le fabuleux destin d'Amélie Poulain)
Originally published in Sound and Image, February/March 2010, v.23#04
Last updated 21 February 2013
Download scan of review (JPEG, right click, Save As): Review.
---
Amélie (Le fabuleux destin d'Amélie Poulain)
2001 - Icon Film Distribution Pty Ltd
Director: Jean-Pierre Jeunet
Starring: Audrey Tautou, Mathieu Kassovitz, Rufus, Lorella Cravotta, Serge Merlin, Jamel Debbouze, Clotilde Mollet, Claire Maurier, Isabelle Nanty, Dominique Pinon, Artus de Penguern, Yolande Moreau and Urbain Cancelier

Movie:

Picture:

Sound:

Extras:

---
Sometimes acclaimed European directors move to the US and help lift Hollywood's standards. Jean-Pierre Jeunet is apparently not one of those. After making near masterpieces in his French homeland, his one flirtation with Hollywood resulted in Alien: Resurrection, the fourth of that franchise. Little more needs to be said.

Home he went and promptly produced Amélie, a romantic comedy with the look of a fantasy.

And this truly is magnificent, with its fantasy overtones and styling. A literal translation of the full French titles gives a better sense of what it's all about: The Fabulous Destiny of Amélie Poulain.

If you're a bloke, you will enjoy the mystery element and still find yourself quickly charmed by everything else. And you may well decide, as I did, that no one could have played Amélie other than Audrey Tautou.

The 1080p24 MPEG4 AVC video transfer does a fine job with this movie. It has to: there's lots of smooth camera movement in unusual directions, and much of the movie seems to be shot with closely placed wide angle lenses, offering great depth of field, so the picture is always sharp. It is also faithfully delivered with its strong golden colour cast, positively glowing from the screen. It's nice on a good LCD or plasma TV, but really this one invites you to soak in it on a large front projection screen.

Being from France, the movie is unsurprisingly presented in French (although it is titled 'English' on players' information displays). English language subtitles are provided.

With some foreign movies, including those presented on Blu-ray, the subtitles are 'burnt-in' or 'imposed'. That is, rather than using the subtitle facilities available on Blu-ray, the subtitles form part of the video. Examples of this are The Baader Meinhof Complex and Red Cliff. Since I'm mono-lingual it doesn't worry me, but those who know German or Mandarin may prefer to see those movies in their native languages without English text on the screen.

Amélie, thankfully, is not like this. It defaults to English subtitles on, and although there is no 'Language' menu item to switch them off, the 'Subtitle' key on your remote control will do the job.

Meanwhile, the dialogue (and narration, of which there is quite a bit) presented clearly (insofar as I could tell). The sound field was surprising for a movie of this kind, but only initially. The 24 bit DTS-HD Master Audio lossless encode reveals from time to time some quite engaging surround work, and brings out the slightly overblown Foley effects. This is in keeping with the semi-fantasy feel of the movie. Even the LFE gets a workout thanks to the rhythmic follow-up to a bathroom encounter (see Chapter 11), which features some seriously deep bass. The DTS-HD core is full bitrate (1,509kbps) 24 bit DTS.

The disc opens with 56 seconds of unskippable copyright and anti-piracy stuff, followed by three of trailers which can be skipped, but only with three or four presses of the skip key.

There are some featurettes as well which are of moderate interest. These have been upscaled from SD to 1080i50 ... poorly. They would have presented better left at 576i50, like the trailers.
---
Facts
Running time: 122 minutes
Picture: 2.35:1, 1080p24, MPEG4 AVC @ 25.98Mbps
Sound: English: DTS-HD Master Audio 24/48 3/2.1 @ 4125kbps (core: Dolby Digital 3/2.1 @ 1509kbps)
Subtitles: English
Extras: Gag Reel: 'Audrey Tatou's Funny Faces' (1080i50, MPEG4 AVC, DTS-HD MA 24/48 2.0 @ 1811kbps - core DTS 24/48 2.0 @ 1509kbps - 2 mins); Storyboard Comparison (1080i50, MPEG4 AVC, DTS-HD MA 24/48 2.0 @ 1739kbps - core DTS 24/48 2.0 @ 1509kbps - 1 min); Photo Gallery (1080p24, MPEG4 AVC, DTS-HD MA 24/48 5.1 @ 4436kbps - core DTS 24/48 5.1 @ 1509kbps - 2 mins); Featurette: 'Making of Amélie' (1080i50, MPEG4 AVC, DTS-HD MA 24/48 2.0 @ 1765kbps - core DTS 24/48 2.0 @ 1509kbps - 13 mins)
Restrictions: Rated

(Australian rating); Region Free

The following video bitrate graph was generated by BDInfo 0.5.3: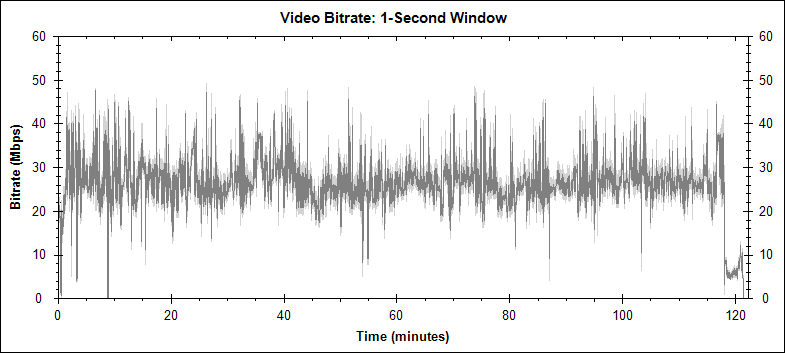 ---
Here are some comparisons between the Australian PAL DVD and the Australia Blu-ray version of this movie. The Blu-ray was supplied to me by Icon Film Distribution. The PAL DVD was purchased by me some years ago.

At the top of each is the full frame (suitably shrunk down) used in the comparison, with a 250 pixel wide detail from the frame underneath. The left side is from the PAL DVD. The image was captured digitally from the disc, scaled up from its native 720 by 576 pixel resolution to 1,024 by 576 (to present in the correct aspect ratio) by the application. I then scaled it, in order for it to be comparable to the Blu-ray version, to 1,920 by 1,080 pixels.

The detail is from that last scaled version, and has not been rescaled again. The right side is from the Australian Blu-ray. This has not been scaled at all. Different applications were used to capture the two frames, so some caution should be exercised in judging colour and brightness.

For visitors from NTSC lands, generally the PAL DVD is just a touch sharper than the NTSC DVD.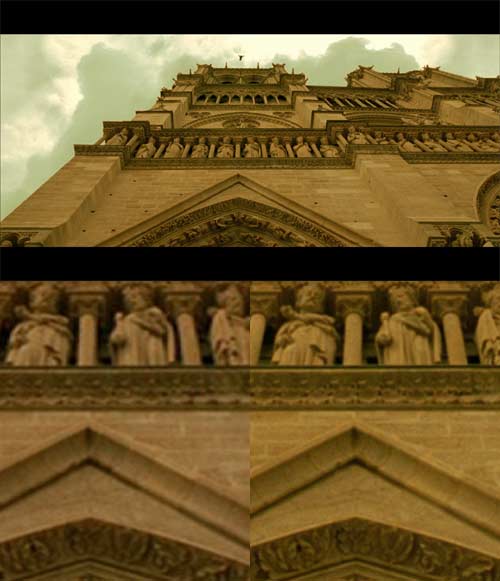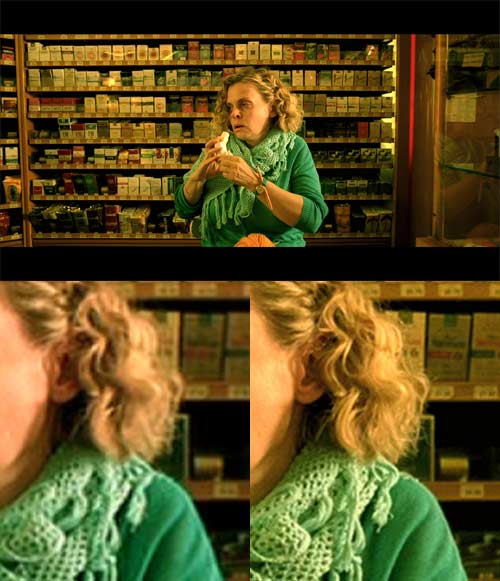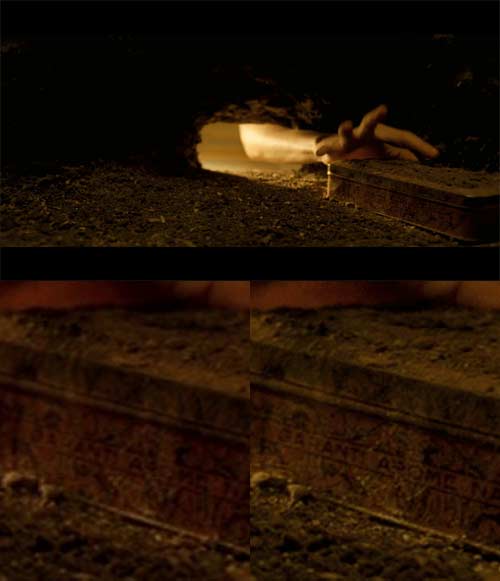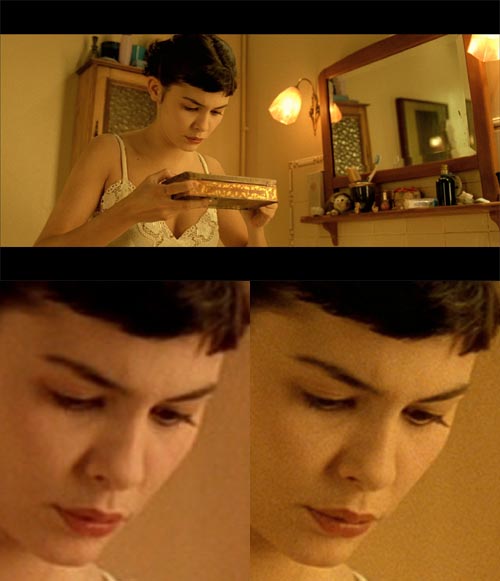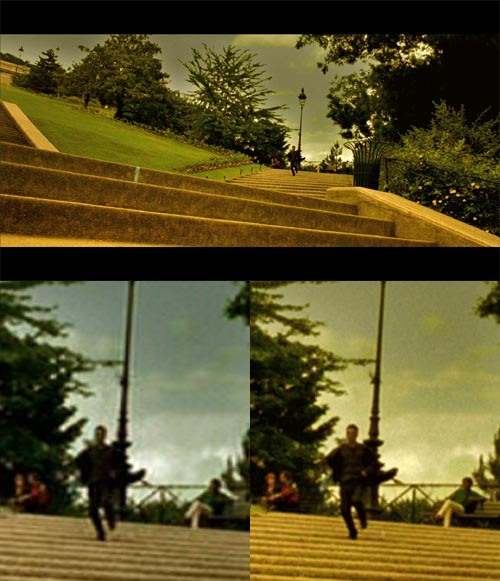 ---
&copy 2002-2010, Stephen Dawson