Home Page | About Me | Home Entertainment | Home Entertainment Blog | Politics | Australian Libertarian Society Blog | Disclosures
---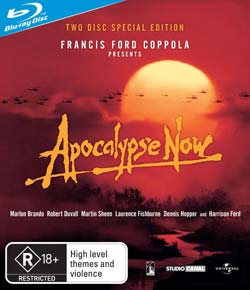 Originally published in Sound and Image, 2011
Last updated 24 August 2012
Download scan of review (JPEG, right click, Save As)
---
Apocalypse Now
1979 - Universal Pictures (Australasia) Pty Ltd
Director: Francis Ford Coppola
Starring: Marlon Brando, Martin Sheen, Robert Duvall, Frederic Forrest, Sam Bottoms, Laurence Fishburne, Albert Hall and Dennis Hopper

Movie:

Picture:

Sound:

Extras:

---
In 1985 I was in Melbourne at a loose end, so I wandered into an old Collins Street cinema and found myself before Apocalypse Now. Back then it was just that: no 'Redux'. In the darkened cinema, with perhaps six other people at this afternoon screening, I experienced the most extraordinary five minutes of cinema of my life.

It was the start of this movie: a ballet of sound and picture, intimately joined into an artwork of heart-aching beauty, and horror. The dark screen, lightened to disclose an idyllic scene, overlaid by the pristine sound of The Doors playing 'The End', brutally rent by war, melding into an introduction of our main character as the sound of a helicopter's rotors become that of an overhead fan and again that of a helicopter. This is simply perfection.

I have shown this opening scene a dozen times, to my kids and many others. This is what cinema is capable of achieving, I say.

But it has always been on DVD. Until now.

On Blu-ray, it is the same but better. Now it works on a big screen, not just on the small, and is all the better for it.

Of course, there is a movie after this section. It is fine enough in its own depressing way. A take on Joseph Conrad's The Heart of Darkness, don't expect to find much that's uplifting. But delivering this dark tale are Martin Sheen at his height and Marlon Brando at his most, well, inscrutable. Just occasionally, the incredibly young Lawrence Fishburne flashes an expression that reminds you of the Morpheus he was later to become.

In 2001 Coppola released a longer 'Redux' version which restored some footage he'd dropped mostly for quality reasons in the original release. New tech permitted him to correct it.

This Blu-ray release -- unlike the DVD, which was Redux only -- allows you to choose the version you want to see. Thankfully the Australian Blu-ray gets the seamless branching treatment between the two versions, unlike the French release which has two full copies of both versions on one disc, resulting in a video bitrate as low as 11.1Mbps for one of them. We get an acceptable 18Mbps in MPEG AVC format.

Coppola's earlier Godfather duo look reasonably good on Blu-ray, by virtue of extensive restoration work. You kind of feel that, well, at least they've rescued the movie before black levels deteriorated too much more, and increasing grain made them seen even more Pointillist. His later Bram Stoker's Dracula is just plain disappointing on Blu-ray, dreadfully softened by his desire to do all his special effects in camera.

But Apocalypse Now is a revelation. Clean and sharp, with a generally steady camera. Good black levels and a stylised colour palette that is even throughout. Some say that the palette has changed at times according to the whim of the cinematographer, Vittorio Storaro. I'm not going to trust my memory of seeing this at the flicks in 1985 (and who's to say whether that cinema was properly calibrated anyway?) Instead, let me just say that to my eye the colour was fitting, glowing and dark as appropriate. The aspect ratio on this release has been restored to its original 35mm 2.35:1, rather than the strange 2.00:1 previously insisted upon by the cinematographer.

The sound is magnificent. As some of the extra features make clear, Coppola insisted that this movie consist of an integrated visual and auditory experience, so he recorded it in 5.1 channels, a configuration that anticipated what would become the norm in another dozen years. It sounds far more modern than 1979.

There are lots of interesting featurettes, but unfortunately, unlike some of the overseas versions, the Australian one does not get the famous 1991 documentary: Hearts of Darkness: A Filmmaker's Apocalypse. The 'R' rating is, I'd say, a hangover from 1979. These days the movie would be more likely to score an 'MA'.
---
Facts
Running time: 147 minutes (196 for Redux version)
Picture: 2.35:1, 1080p24, MPEG4 AVC @ 17.99Mbps
Sound: English: DTS-HD Master Audio 24/48 3/2.1 @ 4404kbps (4484kbps for Redux - core: DTS 24/48 3/2.1 @ 1509kbps); English: DTS 16/48 2/0.0 @ 768kbps; Commentary: Dolby Digital 2/0.0 @ 224kbps
Subtitles: English
Extras: 3 Featurettes (1080p24, MPEG4 AVC - 121 mins); 1938 Mercury Theatre on the Air radio dramatisation of 'The Heart of Darkness' (1080i50 - 37 mins); Poetry Performance by Marlon Brando (480i60 - 17 mins); Monkey Sampan 'Deleted Scene' (480i60 - 3 mins); 12 Additional Scenes (480i60 - 26 mins); Kurtz Compound Destruction with Credits (480i60 - 6 mins); 2001 Cannes Film Festival intervew (1080i60 - 39 mins); 9 Featurettes (480i60 - 72 mins); Article on soundtrack by Bob Moog (11 pages of text and pics - 1080p24)
Restrictions: Rated

(Australian rating); Locked to Region B

The following video bitrate graphs were generated by BDInfo 0.5.7. This is for the original theatrical version: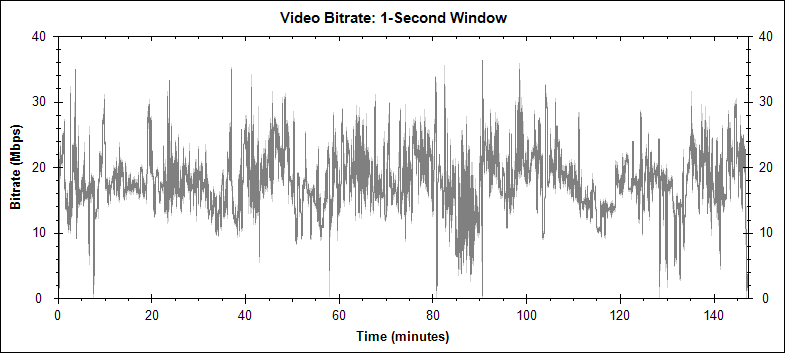 This is for the 'Redux' version: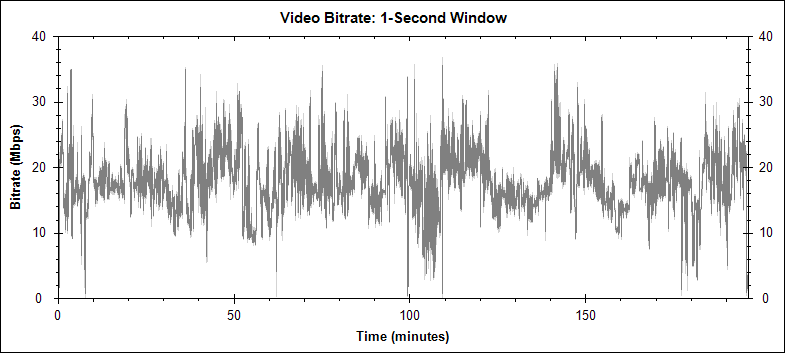 ---
&copy 2002-2012, Stephen Dawson