Home Page | About Me | Home Entertainment | Home Entertainment Blog | Politics | Australian Libertarian Society Blog | Disclosures
---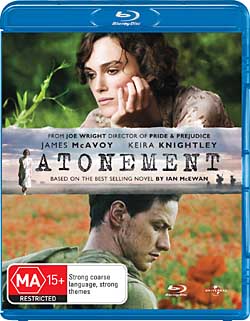 Originally published in Sound and Image, April 2011, v.24#05
Last updated 24 February 2013
Download scan of review (JPEG, right click, Save As)
---
Atonement
2007 - Universal Pictures (Australasia) Pty Ltd
Director: Joe Wright
Starring: James McAvoy, Keira Knightley, Saoirse Ronan, Julia West, Brenda Blethyn, Harriet Walter, Juno Temple, Felix von Simson, Charlie von Simson and Alfie Allen

Movie:

Picture:

Sound:

Extras:

---
There are three reasons why the 2007 UK movie Atonement belongs in your collection. The first is that the movie itself, as a movie, is simply excellent. It deals with perception and imagination. About a naive young girl not understanding what she is seeing, and therefore seeing the worst. And even though that may sound like your standard movie reviewer's words for a movie that is utterly boring, it is not boring in the slightest, with plot twists and turns worthy of an Agatha Christie thriller.

The second reason is the picture quality. No, it isn't the very best ever seen, but it is uniformly good, and allows the summer English countryside, and a stately English manor home, to be revealed to a level of detail and reality rarely approached.

And the third? The sound design. This was the most fascinating and interesting of any movie I've yet watched, but it isn't the bombs and war, but the everyday sounds that are so impressive. Young Briony is frequently accompanied by the satisfying clack of a typewriter, which accelerates and becomes woven into the music as a principal rhythmic element.

Earlier in the movie, a bee leads Briony's gaze to an important plot point, but for minutes before hand it buzzes around her room, and around ours.

Water drips in the underground shelter on the beaches of Dunkirk, and it is free from the specific speaker positions, coming from high, to the left of centre.

People like George Lucas are wont to say that the sound of a movie is vitally important in establishing its power and tone. But compared to this one, most movies are at most perfunctory. If only all movies could pay so much attention to sound.

Unfortunately, Universal has treated this disc to a lesser standard than it usually offers. While its main menu looks the same as most Universal discs, it lacks the My Scenes feature which provides bookmarking, even though it employs BD Java for purposes which aren't clear. It has a couple of featurettes and seven deleted scenes, but all these are presented in US-style standard definition: 480i60.
---
Facts
Running time: 123 minutes
Picture: 1.85:1, 1080p24, MPEG4 AVC @ 28.94Mbps
Sound: English: DTS-HD Master Audio 24/48 3/4.1 @ 3114kbps (core: DTS 24/48 3/2.1 @ 1509kbps); Portuguese: English: DTS-HD Master Audio 16/48 3/2.1 @ 2141kbps (core: DTS 16/48 3/2.1 @ 1509kbps); Japanese, French, Italian German, Spanish: DTS 16/48 3/2.1 @ 768kbps; Commentary: Dolby Digital 2/0.0 @ 192kbps
Subtitles: Japanese, English, French, Italian, German, Spanish, Dutch, Danish, Norwegian, Finnish, Greek, Portuguese, Chinese, Korean, Chinese, Swedish, Japanese (Commentary), English (Commentary), French (Commentary), Italian (Commentary), German (Commentary), Spanish (Commentary)
Extras: 7 Deleted Scenes with optional commentary (480i60, MPEG2, 2 x DD2.0 @ 192kbps - 7 mins); 2 Featurettes (480i60, MPEG2, DD2.0 @ 192kbps - 32 mins)
Restrictions: Rated

(Australian rating); Region Free

The following video bitrate graph was generated by BDInfo 0.5.4: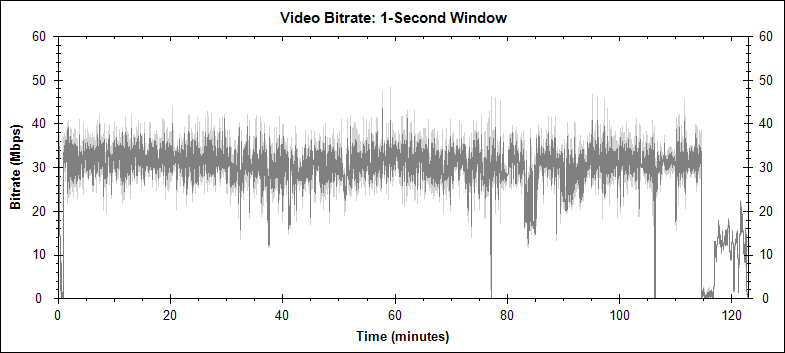 ---
&copy 2002-2012, Stephen Dawson