Home Page | About Me | Home Entertainment | Home Entertainment Blog | Politics | Australian Libertarian Society Blog | Disclosures
---
Originally published in Sound and Image, May/June 2008, v.21#7
Last updated 5 April 2010
---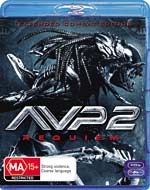 Aliens vs Predator - Requiem
2007 - Twentieth Century Fox Home Entertainment South Pacific Pty Ltd
Director: Colin Strause/Greg Strause
Starring: Steven Pasquale, Reiko Aylesworth, John Ortiz, Johnny Lewis, Ariel Gade, Kristen Hager, Sam Trammell, Robert Joy, Tom Woodruff Jr and Ian Whyte

Movie:

Picture:

Sound:

Extras:

---
Aliens and a Predator return from their other movie incarnations to attempt, once again, to dominate each other. Okay, I'm going to be nasty here and deliver a mini-spoiler by way of explanation. Skip, now, to the next paragraph to avoid this. And here it is: one thing that lifts this movie very slightly above the mediocre is that it plays with your expectations, and makes them quite futile. Unlike many movies, you can't really be certain at any point who, if anyone, is going to 'make it'. One of the first victims of the Aliens is a father who is taking his son hunting in the woods. The hand-like juvenile stage of the alien attaches itself to his face, just as John Hurt was got back in the 1979 original. His son -- a cute-looking wholesome kid, cowers. Our ingrained Hollywood expectations, despite our best efforts, are telling us that he will be saved just in the nick of time (somehow, cliches seem appropriate here). But after a few seconds he also scores an alien slap in the face. Later we return to the scene. The father, then the boy, awaken. Even after the father's chest has been burst by the emerging next-stage alien, we hope for the son. But ...

That woods scene is a glorious demonstration of picture quality. It seems so marvelously real, with razor sharp focus on the faces, the deep and subtlely hued greens of the forest. It's gorgeous. If it weren't for the unwanted intrusion (sorry!) of the aliens, it would be a superb demo clip. Likewise, you are going to have to wait a long time before you hear a better action movie sound mix than the one presented here in DTS-HD Master Audio.

The real reason this review appears here, though, is because this disc represents an Australian first. That is, it is the first to offer BonusView extras.

I kind of expected the first BonusView Blu-ray disc to use its PIP feature for a nice little video commentary. Instead, what you get is with this disc is a clever, comprehensive archive system for the Alien/Predator nerd. It is called the 'Weyland-Yutani Archives', which has detailed 'information' on the Xenomorphs (Aliens) and the Yautja (Predators) under headings such as 'Arsenal', 'Biology'. There are dozens of individual subjects (the Predator Arsenal section has entries for Armor, Ceremonial Daggers, Clocking Devices and so forth). This is presented as a navigable set of icons and text lists over a mecha-DNA back animation. All this is in MPEG4 AVC 1080p24 video with DTS-HD multichannel audio. Some of the entries, though, have 'Historical Images', which are essentially fragments of video taken from any of the seven previous Predator, Alien or both movies. These are shown a little under quarter screen size in a box on the screen, and are delivered over the secondary video and audio channels with MPEG4 AVC video and stereo DTS-HD audio.

It is impressive as a demonstration, and even more impressive that someone has gone to so much trouble to assemble the back story of the two alien species. I still suspect that we have only seen the beginnings of the power that will be provided to special extras by secondary video and audio.

The disc works fine on a Grace Period player -- except for this extra. When I selected this, the player I tried it on just froze.
---
NOTE (Thursday, 24 July 2008): When I first wrote this review I had a problem with the sound. The problem only applied when I used the English language DTS-HD Master Audio track, and output this as a bitstream to my Yamaha home theatre receiver.

The problem was that 11 minutes and 50 seconds into the movie there was a loud multi-channel crack during a regular dialogue scene. I checked this with two different Blu-ray players from different brands, and both had the same problem.

When I changed the output of the players to 'PCM conversion', which forced them to use the 'core' standard DTS audio track incorporated into the DTS-HD MA, this noise disappeared, suggesting that the problem exists only with the DTS-MA encode.

I had been using a pre-production test disc, so I asked Twentieth Century Fox for a replacement with a production disc, which they supplied. This also made the noise.

I did some googling and it turned out that this noise has been noticed with other discs and a limited range of equipment. Noticed enough to have been tagged the 'DTS Bomb'.

It seems that some home theatre receivers which used a particular chipset to perform DTS-HD Master Audio decoding would respond at certain points in some DTS-HD MA tracks with this nasty noise. Fortunately it turned out to be repeatable, and thus able to be solved.

The equipment concerned were at least two Yamaha receivers: the RX-V3800 and the RX-V1800 (I have the latter), plus some of last years' Onkyos and Integras. Yamaha and Onkyo/Integra have issued firmware updates for their receivers. I applied it to my Yamaha and the disc played merrily through 11:50 with no glitches whatsoever.
---
Facts
Running time: 94 minutes
Picture: 2.35:1 anamorphic, 1080p24, MPEG4 AVC @ 26.62Mbps
Sound: English: DTS-HD Master Audio 48kHz/24 bit 3/2.1 @ 4324kbps; French, German: DTS 3/2.1 @ 768kbps; 2 x Commentaries: Dolby Digital 2/0.0 @ 224kbps; English Descriptive Audio: Dolby Digital 3/2.1 @ 448kbps
Subtitles: Dutch, English, French, French (Titles), German, German (Titles), Danish, Finnish, Norwegian, Swedish, English (Commentary 1), English (Commentary 2)
Extras: Seven stills galleries (1080p24 - 116 HD stills); Weyland-Yutani Archives (BonusView PIP feature - 1080p24, MPEG4 AVC, DTS-HD MA 24/48 5.1 with Secondary video: 480p24, MPEG4 AVC, Secondary audio: DTS Express 2.0 @ 192kbps); Eight featurettes (480i60, MPEG2, DD2.0 @ 224kbps - 83 mins); Twenty deleted/extended scenes (1080p24, MPEG4 AVC, DD5.1 @ 448kbps - 21 mins); Trailer (1080p24, MPEG4 AVC, DD5.1 @ 448kbps - 2 mins); Two other movie trailers (1080p24, MPEG4 AVC, DD5.1 @ 448kbps - 4 mins)
Restrictions: Rated

(Australian rating); Locked to Region B

The following video bitrate graph was generated by BDInfo 0.5.3: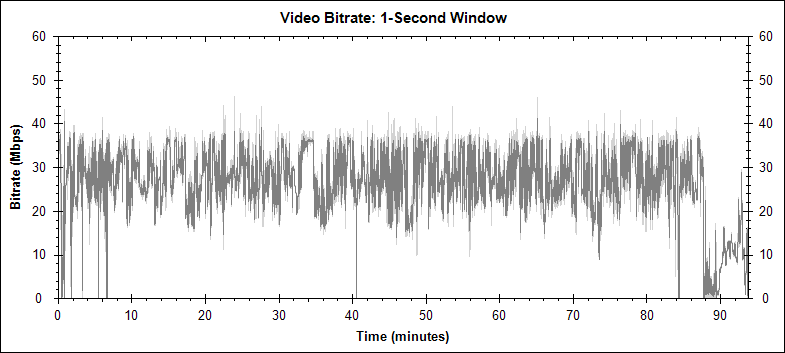 ---
&copy 2002-2010, Stephen Dawson