Home Page | About Me | Home Entertainment | Home Entertainment Blog | Politics | Australian Libertarian Society Blog | Disclosures
---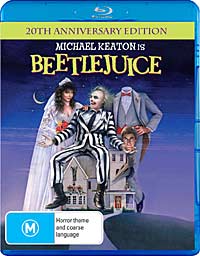 Not previously published
Last updated 27 June 2009
---
Beetlejuice
1988 - Warner Bros Entertainment Australia Pty Ltd
Director: Tim Burton
Starring: Alec Baldwin, Geena Davis, Michael Keaton, Winona Ryder, Jeffrey Jones, Catherine O'Hara and Annie McEnroe

Movie:

Picture:

Sound:

Extras:

---
No review as yet.
---
Features
Running time: 92 minutes
Picture: 1.78:1 anamorphic, 1080p24, VC1 @ 20.94Mbps
Sound: English: Dolby TrueHD 16/48 3/2.1 @ 1580kbps (Core: Dolby Digital 3/2.1 @ 640kbps); English, Music Only: Dolby Digital 3/2.1 @ 640kbps; French, German, Italian, Spanish, Japanese: Dolby Digital Surround 2/0.0 @ 192kbps; Spanish: Dolby Digital 2/0.0 @ 192kbps; French (Quebec): Dolby Digital 1/0.0 @ 192kbps
Subtitles: English, French, German, Italian, Italian for the Hearing Impaired, Spanish, Dutch, Chinese, Korean, Spanish, Portuguese (Brazil), Danish, Finnish, Norwegian, Porutuguese, Swedish
Features: Three Beetlejuice Cartoons (480i60, VC1, Dolby Digital 2/0.0 @ 192kbps - 37 mins); Trailer (480i60, VC1, Dolby Digital 2/0.0 @ 192kbps - 1 min)
Restrictions: Rated

(Australian rating); Region Free

This is the video bitrate graph for this movie, generated by BDInfo 0.5.2: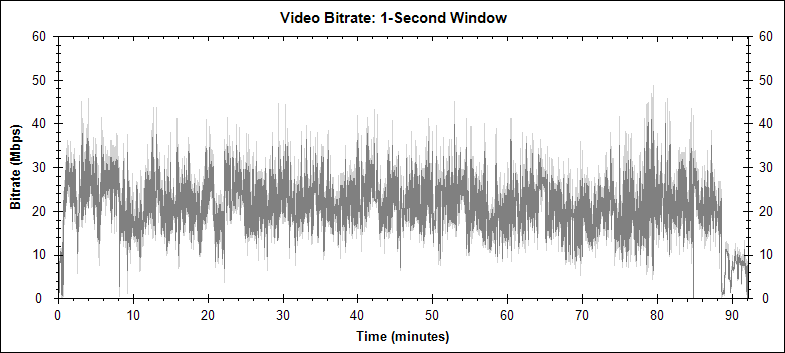 ---
Here are some comparisons between the Australian PAL DVD and the Australian Blu-ray version of this movie. At the top of each is the full frame (suitably shrunk down) used in the comparison, with a 250 pixel wide detail from the frame underneath. The left side is from the PAL DVD. The image was captured digitally from the disc, scaled up from its native 720 by 576 resolution to 1,024 by 576 (to present in the correct aspect ratio). I then scaled it, in order for it to be comparable to the Blu-ray version, to 1,920 pixels wide.

The detail is from that last scaled version, and has not been rescaled again. The right side is from the Australian Blu-ray. This has not been scaled at all. Different applications were used to capture the two frames, so I am not comfortable comparing the colour between the two, merely the detail and sharpness. For visitors from NTSC lands, generally the PAL DVD is just a touch sharper than the NTSC DVD.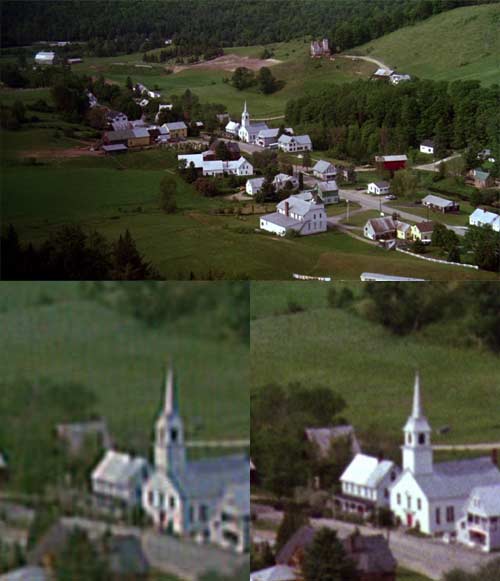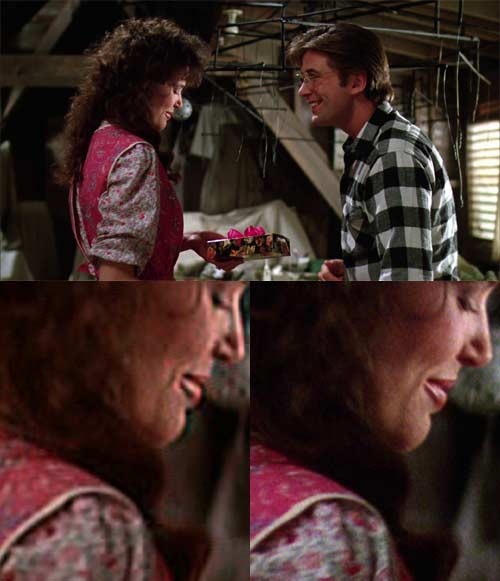 Just look at all that MPEG noise on the DVD: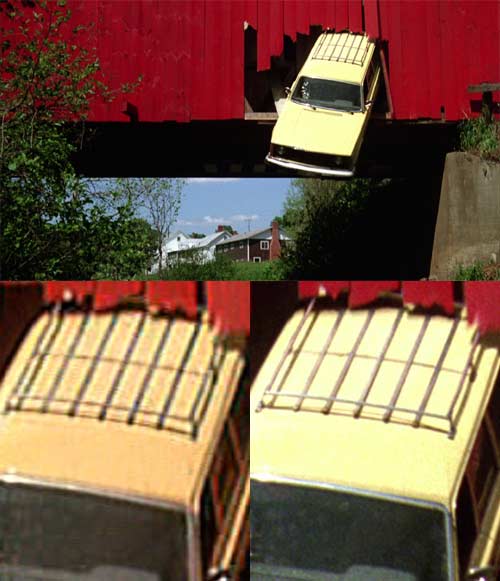 Unfortunately, Blu-ray tends to be rather less inclined to cover up the rudimentary special effects of some older movies, such as this rather basic cut and paste: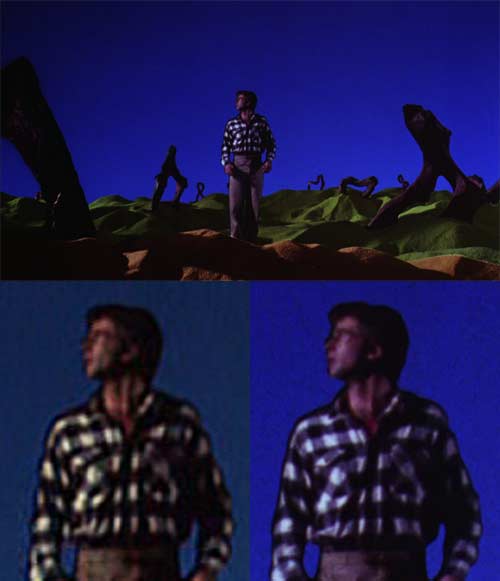 Blu-ray makes the grain in the sky better defined, but at the same time somehow less objectionable: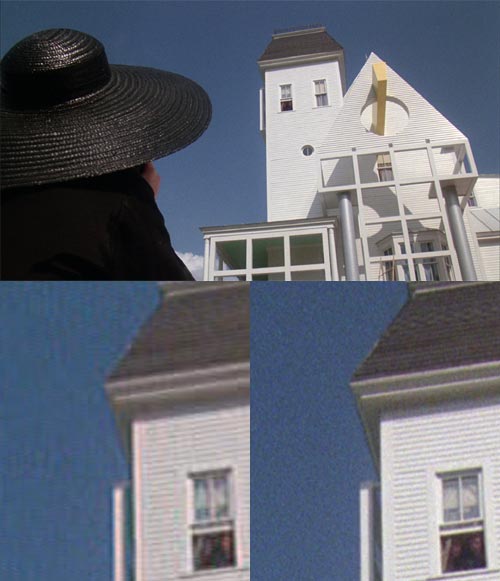 Blu-ray also resolves hair rather better than DVD: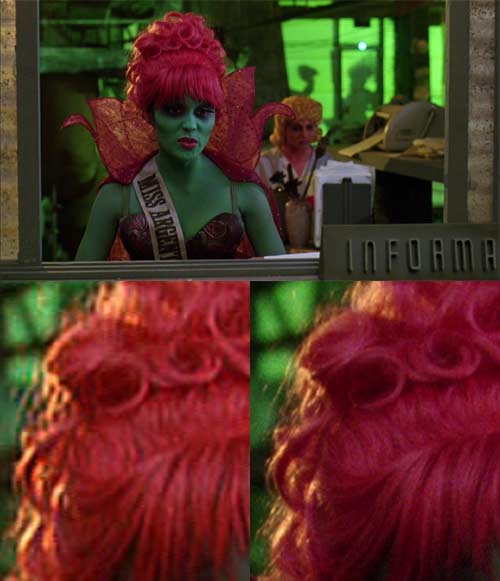 This doesn't seem to be a Blu-ray improvement as such. For some reason part of Michael Keaton's left iris seems to have just about become invisible in the DVD version. Weird: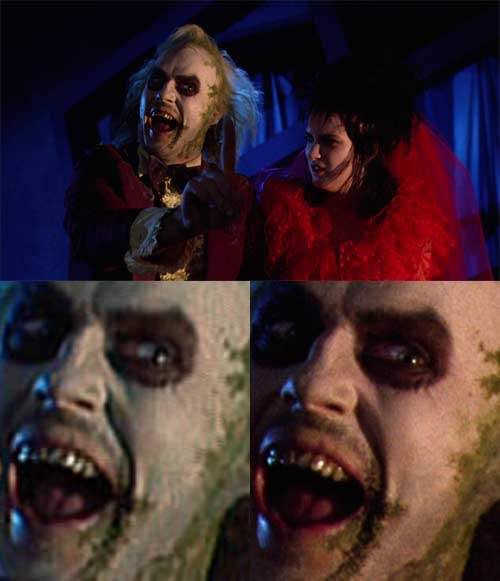 Finally, the framing is markedly different between the two versions. On the following shot, the DVD is the top and the Blu-ray the bottom. The DVD has a 1.80:1 aspect ratio with a narrow black band across the top of the frame while the Blu-ray is 1.78:1, using the entire 16:9 frame. However the Blu-ray seems to be zoomed in just a touch more, so a very slender sliver is lost to both the left and right of the frame. Substantially more appears in the bottom of the Blu-ray frame, and substantially less at the top: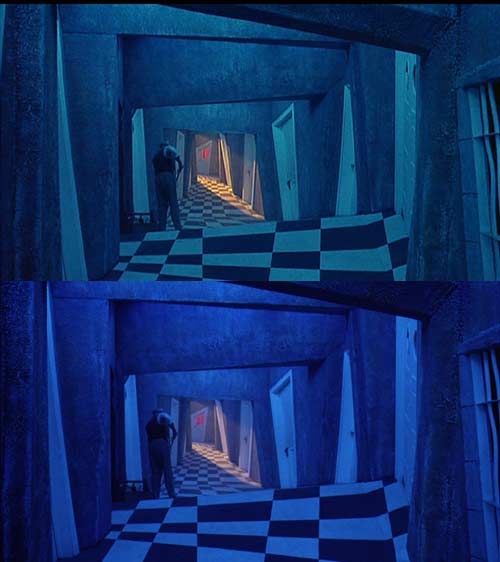 ---
&copy 2002-2009, Stephen Dawson