Home Page | About Me | Home Entertainment | Home Entertainment Blog | Politics | Australian Libertarian Society Blog | Disclosures
---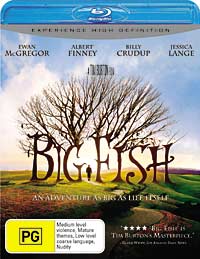 Not previously published
Last updated 27 June 2009
---
Big Fish
2003 - Sony Pictures Home Entertainment Australia
Director: Tim Burton
Starring: Ewan McGregor, Albert Finney, Billy Crudup, Jessica Lange, Helena Bonham Carter, Alison Lohman, Robert Guillaume, Marion Cotillard, Matthew McGrory, David Denman, Missi Pyle, Loudon Wainwright III, Ada Tai, Arlene Tai and Steve Buscemi

Movie:

Picture: Not Ready Yet; Sound: Not Ready Yet; Extras:

---
No review as yet
---
Features
Running time: 125 minutes
Picture: 1.85:1, 1080p24, MPEG2 @ 24.27Mbps
Sound: English, Italian: LPCM 16bit/48kHz 3/2.1 @ 4,608kbps; English, Italian: Dolby Digital 3/2.1 @ 640kbps; Commentary: Dolby Digital 2/0.0 @ 192kbps
Subtitles: English, English for the Hearing Impaired, Italian, Hindi, English (Commentary), Italian (Commentary)
Features: Commentary; Blu-ray promo (1080p24, MPEG2, DD5.1 @ 640kbps - 1 mins); 7669 Test Patterns (1080p24, MPEG2, No audio - 1 min)
Restrictions: Rated

(Australian rating); Region Free

This is the video bitrate graph for this movie, generated by BDInfo 0.5.2: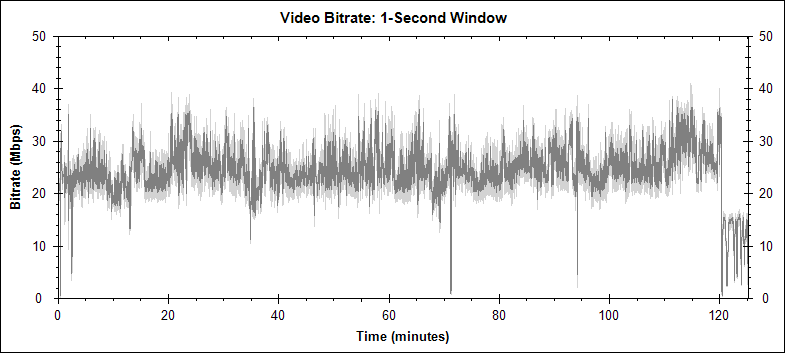 ---
Here are some comparisons between the PAL DVD and the Blu-ray version of this movie.
At the top of each is the full frame (suitably shrunk down) used in the comparison, with a 250 pixel wide detail from the frame underneath. The left side is from the PAL DVD. The image was captured digitally from the disc, scaled up from its native 720 by 576 resolution to 1,024 by 576 (to present in the correct aspect ratio), and then, in order to be comparable to the Blu-ray version, from that to 1,920 by 1,080. The detail is from that last scaled version, and has not been rescaled again. The right side is from the Australian Blu-ray. This has not been scaled at all.
Different applications were used to capture the two frames, so I am not normally comfortable comparing the colour between the two, merely the detail and sharpness. For those visitors from NTSC lands, generally the PAL DVD is just a touch sharper than the NTSC DVD.
There is no discernible difference in the framing (as there often is with catalogue movies), so I'm inclined to think that digital copy created in the original high definition telecine process that would have been conducted for the DVD (this would have been downconverted to PAL and NTSC resolutions afterwards) was retained and used for this Blu-ray.
Also worth noting is that as a fairly early Blu-ray release, this one used MPEG2 for the compression of the video, just like the original DVD. So the differences seem likely to be due solely to the differences in resolution and capacity.
Do not expect to be blown away by the picture quality in this movie. The problem isn't the transfer, I think, but the source. The movie has two interpersed story lines. The first shot is from the framing story, set today. The other is fantasy/recollection, and so is rather stylised. Both are soft. As seen here, the Blu-ray is grainy, but not at all afflicted by the obvious compression noise on the DVD. Look not only at Billy Crudup's face, but see how much more real the window catch seems in the Blu-ray, despite the lack of sharpness: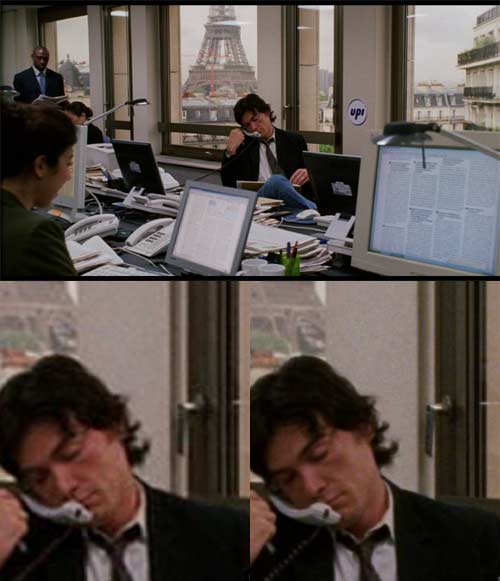 Despite the source limitations, consider how much more real the Blu-ray looks when it brings out the woodgrain on the handrail knob: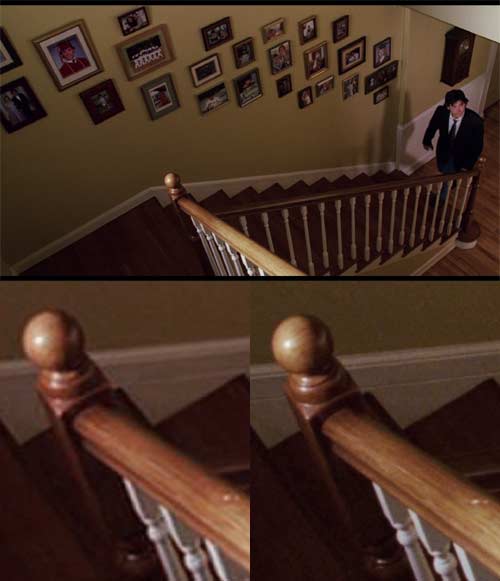 The remaining shots are from the fantasy/recollection sections of the movie, which form its bulk: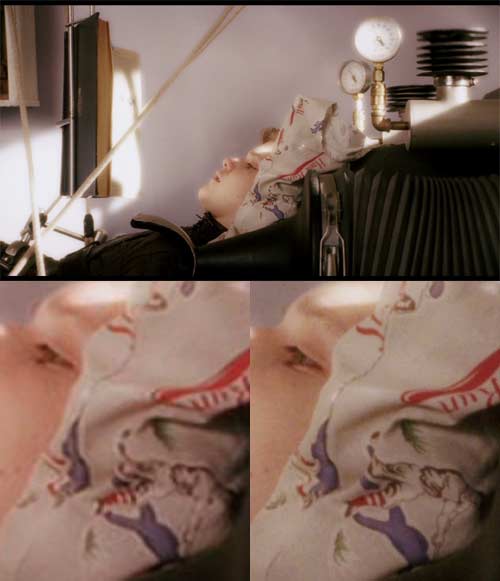 The stylised cinematography and post-processing reduce detail and grain, but still the DVD loses what detail remains, such as fence pickets, text on a sign, corrugations on a roof: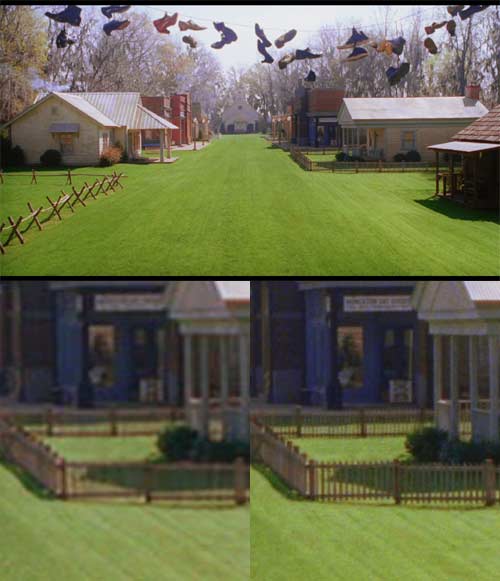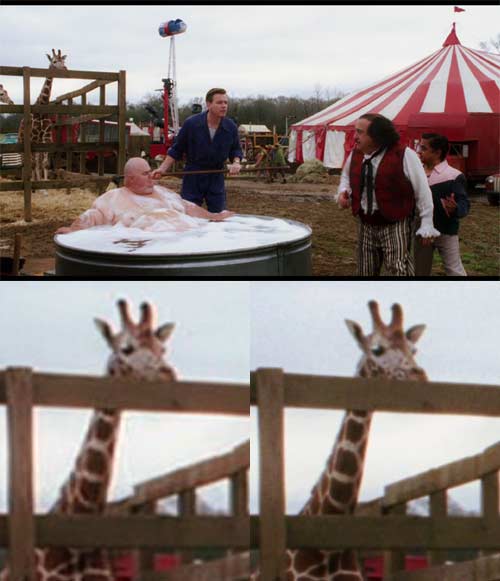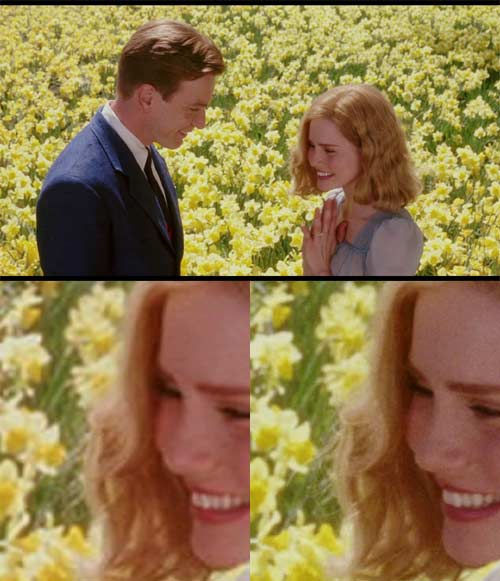 ---
&copy 2002-2009, Stephen Dawson