Home Page | About Me | Home Entertainment | Home Entertainment Blog | Politics | Australian Libertarian Society Blog | Disclosures
---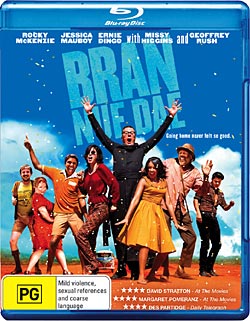 Originally published in Australian HI-FI, Jan/Feb 2011, v.42#1
Last updated 23 February 2012
---
Bran Nue Dae
2009 - Roadshow Entertainment
Director: Rachel Perkins
Starring: Rocky McKenzie, Jessica Mauboy, Ernie Dingo, 'Missy' Higgins, Geoffrey Rush, Deborah Mailman, Tom Budge, Magda Szubanski, Ningali Lawford and Dan Sultan

Movie:

Picture:

Sound:

Extras:

---
I confess, I approached this movie with trepidation. I knew nothing other than it was a musical set in Western Australia, and dealt mostly with an Aboriginal community.

What worried me was the music. For me, a movie musical is mostly about the music, then about the story, and only then about everything else. So what a relief this movie was. The music was most enjoyable, and well performed.

No, there are unlikely to be timeless classics here, but they all work well. Mostly written by Broome native Jimmy Chi and his band, Kuckles, they cover the range from big-band like production numbers, though to one powerful piece evoking the wrongful treatment of the indigenous in times past. But generally the tone of the music, like that of the movie, was of light, gentle comedy.

A romance of sorts, with an amusing pretzel-like twist at the end, the story was at times a little jumpy, but certainly satisfying enough for it to be that rarest of Australian films: profitable.

The picture is presented in the MPEG4 AVC format at 1080p at precisely 24 frames per second (rather than the more usual 24/1.001, which is roughly 23.976). So anyone with sufficiently perfect pitch to be disturbed by music that is 1/10% flat will find this pleasant.

From time to time there was a little, well, it looked somewhat like 'ringing' from edge enhancement, around the borders of sharply contrasting objects. But it wasn't consistent and it appeared primarily in scenes where I suspect the main elements had been green-screened into backgrounds, so perhaps it was just a little sloppiness in that regard.

The Australian bush -- the Western Australian bush -- was shot in a luminously colourful way. The reds of the soil are deep and rich, rather than burnt. The greens of foliage, and the colours of the sparse bush flowers are fluorescent. I can only assume that the film makers were going for the look of an Albert Namatjira landscape. Not that the scenery is particularly dwelt upon. This movie is short and very much to the point.

The sound was serviceable during the non-musical parts, with some good surround as Willie first goes to school, and during the rain storm. The music is better than serviceable, dynamic and well balanced, using all five speakers (just a bit of ambience for the rear), except for a repeated song over the end credits, which is in stereo only, using just two of the 5.1 channels of the Dolby TrueHD audio.
---
Facts
Running time: 85 minutes
Picture: 1.78:1, 1080p24*, MPEG4 AVC @ 27.64Mbps
Sound: English: Dolby TrueHD 24/48 3/2.1 @ 3475kbps (embedded: Dolby Digital 3/2.1 @ 640kbps); English Audio Descriptive: Dolby Digital 2/0.0 @ 256kbps
Subtitles: English for the Hearing Impaired
Extras: Featurette: 'The Story of Bran Nue Dae' (1080i50 - 24 mins); 11 Interviews (576i50 - 32 mins); 5 Film to Storyboard comparisons (576i50 - 6 mins)
Restrictions: Rated

(Australian rating); Region Free

The following video bitrate graph was generated by BDInfo 0.5.3: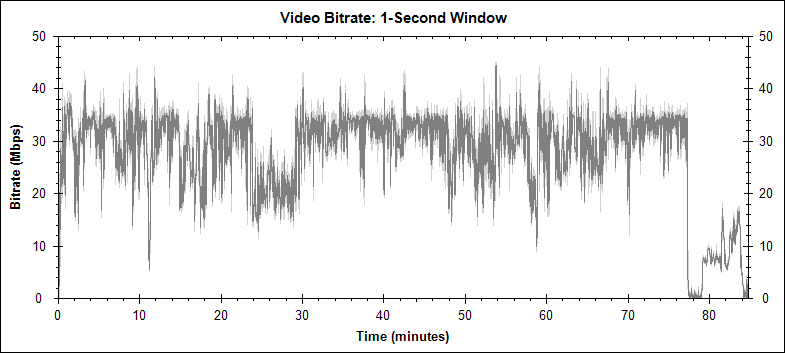 ---
&copy 2002-2012, Stephen Dawson