Home Page | About Me | Home Entertainment | Home Entertainment Blog | Politics | Australian Libertarian Society Blog | Disclosures
---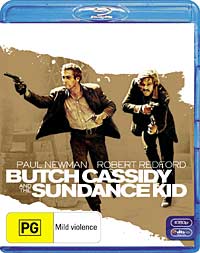 Blu-ray Reviews: Butch Cassidy and the Sundance Kid
Originally published in Sound and Image, Nov/Dec 2008, v.22#2
Last updated 21 April 2009
---
Butch Cassidy and the Sundance Kid
1969 - Twentieth Century Fox Home Entertainment South Pacific Pty Ltd
Director: George Roy Hill
Starring: Paul Newman, Robert Redford, Katharine Ross, Strother Martin, Jeff Corey, Cloris Leachman, Ted Cassidy and Timothy Scott

Movie:

Picture:

Sound:

Extras:

---
With the end of the 1960s the Hollywood Western died. But shortly before its death it was redefined in different ways. It became a spaghetti Western in the hands of Sergio Leone; it became really bloody in The Wild Bunch. And it became just plain different, as in Butch Cassidy and the Sundance Kid.

Much of the movie involves running away -- breaking the biggest convention of all in the Western: the hero stands and fights.

1969 was a long time ago. Robert Redford, now an old man, was unknown. Director George Roy Hill had to battle mightily to have him co-star, as we are informed by one of the commentaries (assembled from old audio recordings of various people involved in making the movie). The other commentary is by the scriptwriter, William Goldman. He was a grumpy old man when he recorded the commentary (it was at least 2005, judging from internal references), and there are significant gaps, but his observations on the changing art of the movie are fascinating.

This rendition of it is generally excellent but with a few oddities. The video is MPEG2 encoded, but looks fine on those frames which are both present and clean. Most of the frames which are present are clean. Some are a little marred with dirt. One on which I happened (58:16) had an attractive pink thread curled over the middle. Having said that, I've just frozen on a nearby scene in which the western sun is so bright that there is immense depth of field, and the variegated fields and forests up to the horizon are delivered with glorious clarity, impeded only by a touch of atmospheric haze. Some of the dark scenes were rather grainy and failed to deliver the full depth of blacks.

What was irritating, though, was that from time to time a frame was dropped. This may be due (14:55) to meeting the censorship requirements of the time, but others (eg. 8:46, and a whole series at 58:16) seem entirely unnecessary. They just cause visual jumps which are irritating. I'm inclined to think that these are due to film repairs.
---
Facts
Running time: 110 minutes
Picture: 2.35:1 anamorphic, 1080p24, MPEG2 @ 32.07Mbps
Sound: English: DTS-HD Master Audio 24/48 3/2.1 @ 2131kbps (Core: DTS 24/48 3/2.1 @ 1536kbps); Commentary 1, Commentary 2: Dolby Digital 2/0.0 @ 224kbps
Subtitles: English, Danish, Finnish, Norwegian, Swedish, English (Commentary 1), English (Commentary 2), Danish (Commentary 1), Danish (Commentary 2), Finnish (Commentary 1), Finnish (Commentary 2), Norwegian (Commentary 1), Norwegian (Commentary 2), Swedish (Commentary 1), Swedish (Commentary 2)
Extras: Featurette: Making Of ((MPEG2 1080p24 - 35 mins); Featurette: 'The Wild Bunch: The True Tale of Butch and Sundance' (MPEG2 1080p24 - 25 mins); Deleted Scene (MPEG2 1080p24 - 4 mins); Three Trailers (MPEG2 1080p24 - 5 mins)
Restrictions: Rated

(Australian rating); Region B Locked

This is the video bitrate graph for this movie, generated by BDInfo 0.5.2: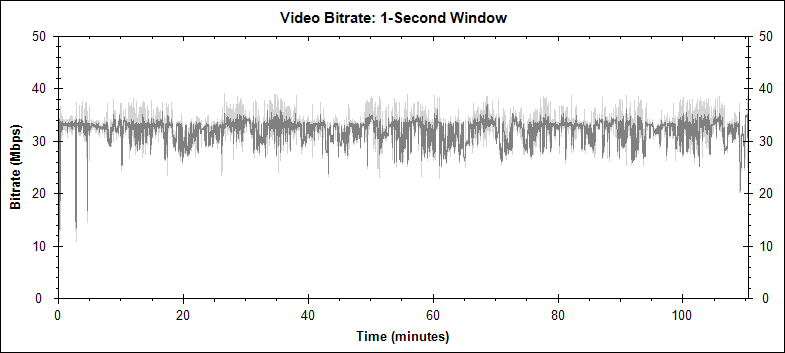 ---
Here are some comparisons between the PAL DVD and the Blu-ray version of this movie. At the top of each is the full frame (suitably shrunk down) used in the comparison, with a 250 pixel wide detail from the frame underneath. The left side is from the PAL DVD. The image was captured digitally from the disc, scaled up from its native 720 by 576 resolution to 1,024 by 576 (to present in the correct aspect ratio), and then, in order to be comparable to the Blu-ray version, from that to 1,920 by 1,080. The detail is from that last scaled version, and has not been rescaled again. The right side is from the Australian Blu-ray. This has not been scaled at all. Different applications were used to capture the two frames, so I am not comfortable comparing the colour between the two, merely the detail and sharpness. For those visitors from NTSC lands, generally the PAL DVD is just a touch sharper than the NTSC DVD.

One of the many great on-screen aspects of Paul Newman was his almost luminous eyes. Here, even in this grainy, sepia shot, they stand out so much more than the DVD: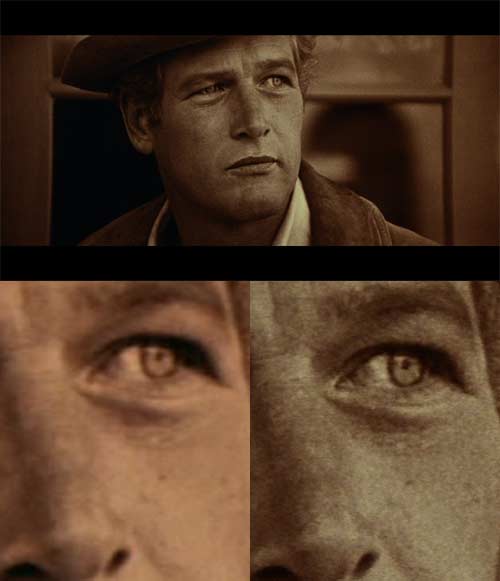 Sticking with one more from the opening sepia segment, no, this Blu-ray doesn't have the sharpest picture ever to cross my desk. Nonetheless, it's far better than the DVD: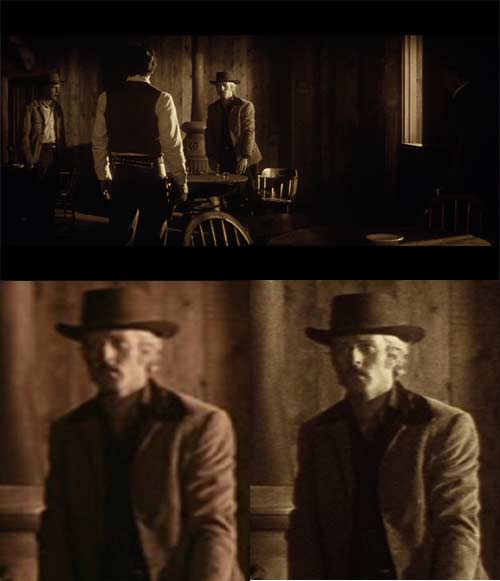 It's a bit hard to spot Robert Redford's trademark mole on his right cheek when you're watching the DVD:
Here we focus not on the characters (there isn't that much difference between them in this action shot), but on the background, and note the reduced blockiness of the Blu-ray: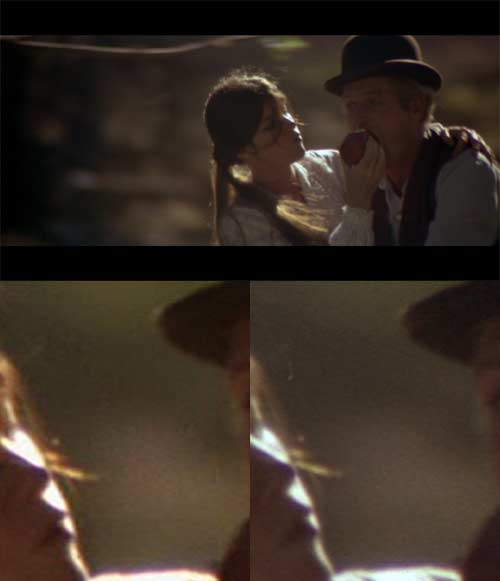 Ah, the water. It ripples: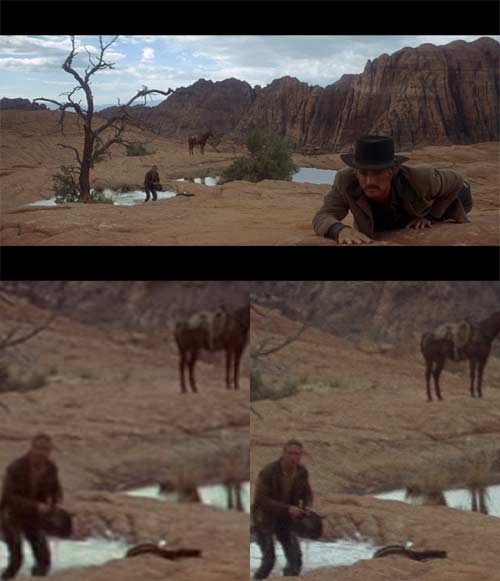 Yes, water really does look so much better on Blu-ray: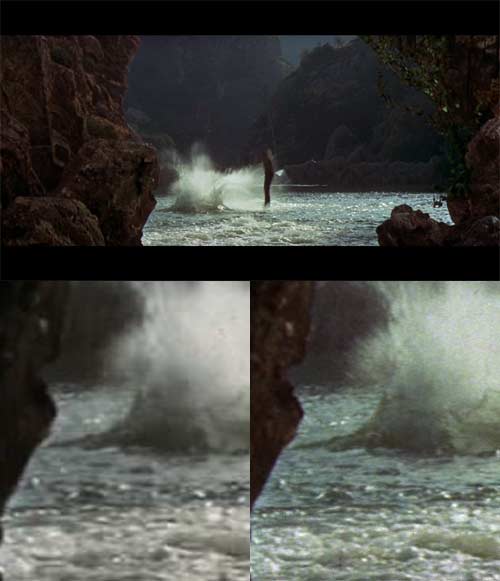 ---
&copy 2002-2008, Stephen Dawson