Home Page | About Me | Home Entertainment | Home Entertainment Blog | Politics | Australian Libertarian Society Blog | Disclosures
---
Originally published in Sound and Image, April/May 2008, v.21#6
---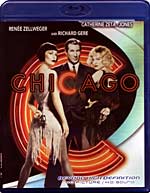 Chicago
2002 - Buena Vista Home Entertainment, Inc
Director: Rob Marshall
Starring: Renée Zellweger, Catherine Zeta-Jones, Richard Gere, John C. Reilly, Taye Diggs, Queen Latifah and Dominic West

Movie:

Picture:

Sound:

Extras:

---
Late last year in a fit of foolishness I purchased four Blu-ray discs from Amazon.com. I was careful, choosing only movies that had been released for well over a year. I wanted to avoid problems with Region Coding. Yes, Blu-ray (unlike HD DVD) has region codes. There are three. The Americas, Japan and Southeast Asia are 'A'. Australia, Europe, Africa and the Middle East are 'B'. Most of the former communist (or still, if only in name) world is 'C'.

When the discs arrived, three of them turned out to have region codes, even though the oldest of these was released way back in 2004. Fortunately the fourth disc, Chicago, was region free. When prices fall a bit more I shall purchase a US Blu-ray player, eliminating the region coding issue. In the meantime, if you're contemplating purchasing a Blu-ray disc from America, consult bluray.liesinc.net to ensure that the disc is region free. Generally, Warner Bros are region free, Fox and Buena Vista aren't.

Chicago is, though, a BV release. It's a musical, of course, transplanted from Broadway, but with a new vision attached by Rob Marshall. The fantasy musical sections and the more-or-less real scenes are sharply intercut, each completing the story for the other. The thing even manages to pull of a surprise ending.

A music deserves fine sound, and this disc receives it.

Occasionally in various sections of the Internet you see quite vociferous arguments about which is better: Dolby TrueHD, DTS-HD Master Audio or Linear PCM. Let us dispose of this right now: all else being equal (ie. bitrate and sampling frequency) there is no difference between them. Dolby and DTS-HD tracks are lossless compression systems. That is, they allow the original PCM to be fully reconstituted with no loss of quality.

In practice, for many people LPCM is best. The reason is that any and every home theatre receiver capable of accepting audio over HDMI will work with this, whereas many equipment combinations cannot fully use Dolby TrueHD nor, more commonly, DTS-HD.

This disc goes with Linear PCM, 5.1 channels of it. Rather than the usual 16 bit, 48kHz version, it gets 24 bits. The total bitrate for this English track alone is 6,912kbps, or slightly more than the average video bitrate for the Australian DVD version of 'Chicago'. And that's not counting the other four audio tracks.

A word of caution: the disc defaults to the 640kbps Dolby Digital version. You will have to explicitly select the LPCM track to get the best quality. The picture is a superb MPEG4 AVC encode which captures the film - grain in the dark scenes and all. Beautiful.

There is one advantage of buying Blu-ray from America. Most of its discs come in 10mm thick boxes, instead of our 15mm ones. That means you can fit 50% more discs on your shelves.
---
Features
Running time: 113 minutes
Video: 1.85:1 anamorphic, 1080p24, MPEG4 AVC
Sound: English: LPCM 24 bit/48kHz 3/2.1 @ 6,912kbps; English, French: Dolby Digital 3/2.1 @ 640kbps; Spanish: LPCM 16 bit/48kHz 2/0.0 @ 1,536kbps; Commentary: Dolby Digital 2/0.0 @ 192kbps
Subtitles: English, French, Spanish
Features: Commentary, Movie Showcase (three song excerpts from movie - 16 mins); Deleted scene: Song 'Class' (4 mins - 480i); Six featurettes (101 mins - 480i); Six 'Extended Musical Perfomances' (33 mins - 480i); Three 'Musical Performances - From Start to Finish' (9 mins - 480i); Four 'Musical Performances - Rehearsals' (14 mins - 480i)
---
Here are some comparisons between the PAL DVD and the Blu-ray version of this movie. At the top of each is the full frame (suitably shrunk down) used in the comparison, with a 250 pixel wide detail from the frame underneath. The left side is from the PAL DVD. The image was captured digitally from the disc, scaled up from its native 720 by 576 resolution to 1,024 by 576 (to present in the correct aspect ratio), and then, in order to be comparable to the Blu-ray version, from that to 1,920 by 1,080. The detail is from that last scaled version, and has not been rescaled again. The right side is from the US Blu-ray (purchased from Amazon). This has not been scaled at all. Different applications were used to capture the two frames, so I am not comfortable comparing the colour between the two, merely the detail and sharpness. For those visitors from NTSC lands, generally the PAL DVD is just a touch sharper than the NTSC DVD.

Here we see the increased background detail, specifically the top right corner of the door behind the actress:
The quality of this movie's transfer to Blu-ray seems from some of these screen shots to be limited by film grain.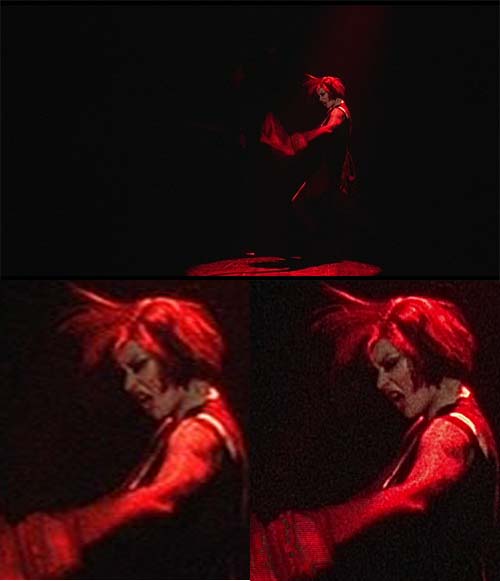 Blu-ray also manages to banish that edge echo afflicting the DVD. On a closer look, it doesn't really banish it, but does narrow and soften it. Why is it that this effect seems to be predominately to left of the foreground objects, rather than to their right. Does the compression system scan from one side to the other?
Still, the detail and increase in sharpness (see the hair) is welcome: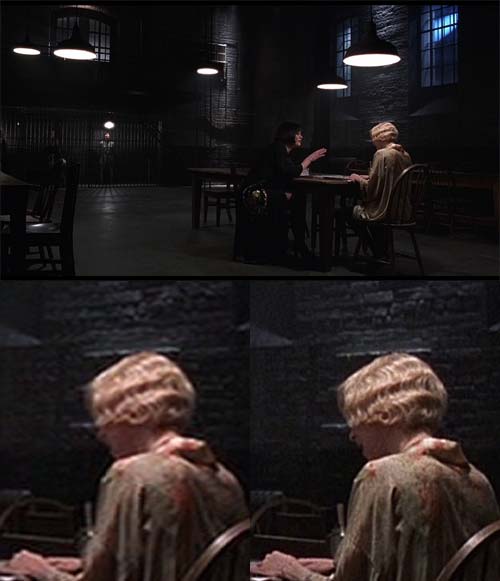 And the Blu-ray allows you see that the lamp shades are actually patterned: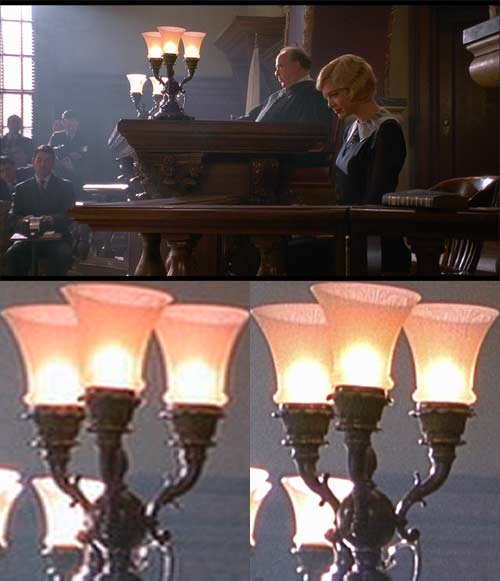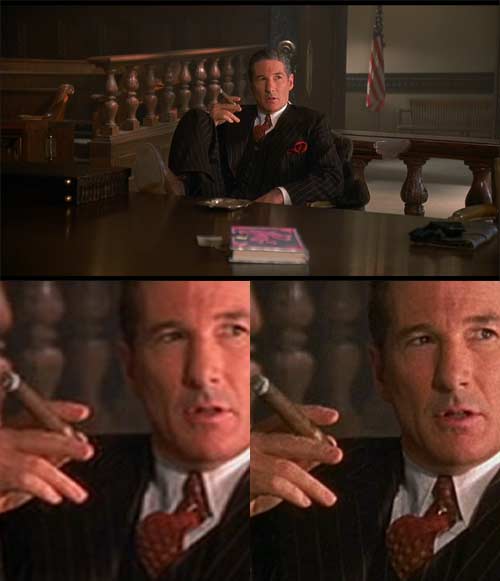 ---
&copy 2002-2008, Stephen Dawson