Home Page | About Me | Home Entertainment | Home Entertainment Blog | Politics | Australian Libertarian Society Blog | Disclosures
---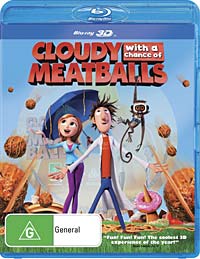 Blu-ray Reviews: Cloudy with a Chance of Meatballs - Blu-ray 3D
Originally published in Sound and Image, v.24#01
Last updated 22 May 2011
---
Cloudy with a Chance of Meatballs - Blu-ray 3D
2009 - Roadshow Entertainment
Director: Phil Lord/Chris Miller
Starring: Bill Hader, Anna Faris, James Caan, Andy Samberg, Bruce Campbell, Mr. T, Bobb'e J. Thompson, Benjamin Bratt, Neil Patrick Harris, Al Roker and Lauren Graham

Movie:

Picture:

Sound:

Extras:

---
Well here we go once again: let us all welcome what is effectively a new disc format. It is called 'Blu-ray 3D'. This, like the 3D films presently in the cinema, is a full colour form of 3D that requires a Blu-ray 3D compatible player, and of course a TV or display that supports 3D. And the first movie we will look at in that format is 'Cloudy with a Chance of Meatballs'.

This is a computer animated movie from Sony Pictures Animation. While quite a way short of a fine Pixar release, this is still a quite amusing movie, even getting me to laugh out loud at several points. Basically, the Bill Hader-voiced character is a hapless geek and inventor, misunderstood by all. All his inventions have unfortunate side-effects, which is a pity because every one of them demonstrate scientific advances that would have had him awarded several Nobel Prizes.

The picture quality is as good as it can get, since a computer simply renders the content direct to Blu-ray resolution for disc production. The sound is equally impressive, especially in the later stages of the movie when there is a lot of, well, atmospherics going on.

But I'm not going to talk so much about the movie as about the way it is presented: in two or three dimensions.

With the limited experience of Blu-ray 3D discs I've so far managed to have, it has already become clear that some have the whole disc presented in 3D (if played on a Blu-ray 3D player), including menus, while others stick with 2D except for specific content. This disc is one of the latter.

When you select 'Play' from the main menu, you get a choice of playing the 3D or the 2D version of the movie. If you are playing it in a Blu-ray player which does not support Blu-ray 3D, and try selecting the 3D option, you will get a message saying you can't do that, and suggesting you choose the 2D option.

Now you might think that a disc would get rather crowded with both 2D and 3D content on it, especially if it has three quarters of an hour of extra HD material on it, like this one, and especially if the movie proper not only has two DTS-HD Master Audio tracks (English and Japanese), but also nine other 5.1 channel Dolby Digital tracks. But Blu-ray 3D pulls a rather neat trick: the 3D content is the same as the 2D version, but with an add-on.

Regular Blu-ray works by playing files which contain the actual video and audio and subtitles. There are also play lists and clip files and BD-Java files and all sorts of stuff. But in the end, in a folder on the disc called \BDMV\STREAM is a bunch of files ending in .m2ts which constitute the actual content.

Now all Blu-ray 3D uses the MPEG4 MVC (multiview video coding) format, which is an extension of MPEG4 AVC (advanced video coding). You won't get Blu-ray 3D discs with the VC1 or MPEG2 codecs. The 2D version of the content is actually the left eye content - the part that your left eye sees if you are watching the 3D version. So the left eye material resides in standard .m2ts files. The right eye material also reside in .m2ts files, but these can't be played by a standard player. They are modifications of the matching left eye file. Why treat the right eye stuff independently when it is so clearly similar to the left eye material. Massive compression levels are contained simply by recording the differences of the right eye image from those of the left eye, rather than re-compressing it from scratch. So with this disc the right eye files are only about 48% of the size of the left eye files.

The result is that the disc remains fully compatible with 2D players, while carrying 3D as well.

Well, almost fully compatible with 2D players. There is a 'Sneak Peek' for the Blu-ray 3D version of the 2006 movie 'Open Season' and this can only be played on a 3D player. But that's only because Sony has set up the menus and playlists that way. On a computer, you can drag the left eye file (00154.m2ts, duplicated in 00156.m2ts for some reason, if you're interested) into a player and it runs fine in 2D.
---
Facts
Running time: 90 minutes
Picture: 2.35:1, 1080p24, MPEG4 AVC/MVC @ 24.55Mbps (for 2D/left eye element)
Sound: English: DTS-HD Master Audio 16/48 3/2.1 @ 2300kbps (core: DTS 16/48 3/2.1 @ 1509kbps); Japanese: DTS-HD Master Audio 16/48 3/2.1 @ 2293kbps (core: DTS 16/48 3/2.1 @ 1509kbps); English Audio Descriptive, Cantonese, Mandarin, Danish, Finnish, Korean, Norwegian, Swedish, Thai: Dolby Digital 3/2.1 @ 448kbps
Subtitles: English, English for the Hearing Imparied, Japanese, Chinese Traditional, Danish, Finnish, Hindi, Indonesian, Korean, Norwegian, Swedish, Thai
Extras: Bookmarks; BD-Live; Open Season 3D Sneak Peek (3D only - 1080p24, MPEG4 AVC, DD5.1 @ 640kbps - 1 min); Introduction (1080i60, MPEG2, DD2.0 @ 192kbps - 2 mins); 2 Extended Scenes (1080p24, MPEG2, DD2.0 @ 192kbps - 3 mins); 2 Early Development Scenes (1080p24, MPEG2, DD2.0 @ 192kbps - 6 mins); 7 Featurettes (1080p24, MPEG2, DD2.0 @ 192kbps - 32 mins); Music Video (480i60, MPEG2, DD2.0 @ 192kbps - 4 mins); 1 Featurette (480i60, MPEG2, DD2.0 @ 192kbps - 2 mins)
Restrictions: Rated

(Australian rating); Region free

The following video bitrate graph was generated by BDInfo. This is the graph for the main movie stream: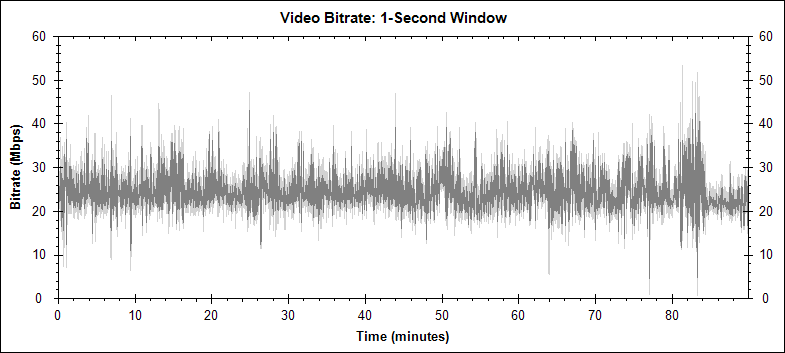 This is the MVC file bitrate graph, which records differences to the master eye. Notice the significantly lower bitrate: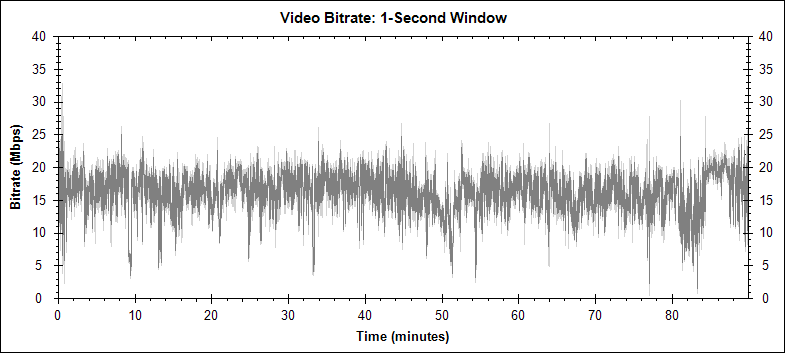 ---
&copy 2002-2011, Stephen Dawson