Home Page | About Me | Home Entertainment | Home Entertainment Blog | Politics | Australian Libertarian Society Blog | Disclosures
---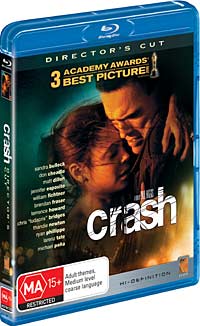 Not previously published
Last updated 6 April 2010
---
Crash
2004 - Icon Film Distribution Pty Ltd
Director: Paul Haggis
Starring: Sandra Bullock, Don Cheadle, Tony Danza, Keith David, Loretta Devine, Matt Dillon, Jennifer Esposito, Brendan Fraser, Terrence Howard, Ludacris, Thandie Newton, Michael Peña and Ryan Phillippe

Movie:

Picture:

Sound:

Extras:

---
No review as yet.
---
Facts
Running time: 110 minutes
Picture: 2.35:1, 1080i50, MPEG4 AVC @ 27.91Mbps
Sound: English: DDTS-HD Master Audio 16/48 3/3.1 @ 2124kbps (Core: Dolby Digital 3/2.1 @ 640kbps); Spanish: Dolby TrueHD 16/48 3/2.1 @ 1454kbps (Core: DTS-ES 6.1 Discrete 16/48 3/3.1 @ 1536kbps); English: Dolby Digital 3/2.1 @ 640kbps; Commentary: Dolby Digital 2/0.0 @ 192kbps
Subtitles: Nil
Extras: Deleted scenes with optional commentary (4:3, 576i50, MPEG4 AVC. 2 x DD 2.0 @ 192kbps - 10 mins); Three featurettes (576i50, MPEG4 AVC, DD 2.0 @ 192kbps - 54 mins)
Restrictions: Rated

(Australian rating); Region Free but with 1080i50 and 576i50 content, may not work in some US players

The following video bitrate graph was generated by BDInfo 0.5.3: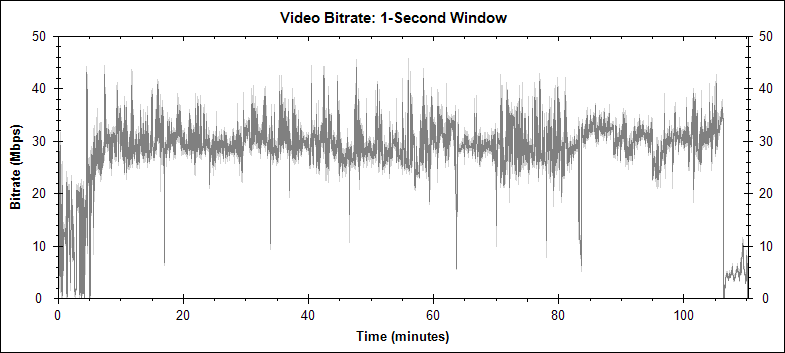 ---
Here are some comparisons between the Australian PAL DVD and the Blu-ray version of this movie.

The DVD is quite awful. The usual way of delivering a movie to PAL DVD is to transfer each film frame to a video frame. Since PAL video frames run at 25 per second, compared to 24fps for film, the movie runs a little fast. But each frame is a fully detailed (within the limits of PAL DVD resolution) copy of the film frame. This DVD didn't use that. Instead it was apparently produced with some kind of NTSC to PAL conversion, resulting at the very least in severe interlaced combing in the great majority of frames. Here is an example, cropped down to 500 by 250 pixels: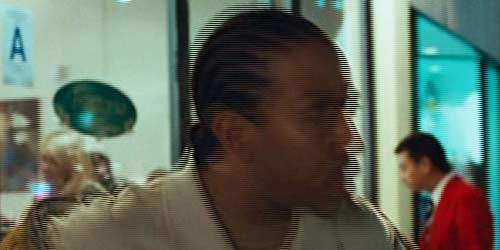 Consequently, for much of the movie vertical resolution is considerably reduced by the deinterlacing process in the DVD player or TV, so it looks pretty dreadful on the big screen.
Despite this, the video quality of this DVD was generally well reviewed, such as here and here, both of which gave it 4 out of 5 stars.
Things are much better for the Blu-ray. This still receives a sub-optimal transfer, being delivered as 1080i50 rather than 1080p24. However the frames are transferred properly one for one (so the movie runs a little faster). If you have a Blu-ray player that can weave the fields together properly to reconstitute the original frames, you will get good results. Unfortunately, Blu-ray players are quite variable in this regard. In this comparison, I shall assume you do have a competent Blu-ray player.
In the following examples, at the top of each is the full frame (suitably shrunk down) used in the comparison, with a 250 pixel wide detail from the frame underneath. The left side is from the PAL DVD. The image was captured digitally from the disc, scaled up from its native 720 by 576 resolution to 1,024 by 576 (to present in the 16:9 aspect ratio), and then, in order to be comparable to the Blu-ray version, from that to 1,920 by 1,080. The detail is from that last scaled version, and has not been rescaled again. The right side is from the Australian Blu-ray. This has not been scaled at all.
Different applications were used to capture the two frames, so I am not normally comfortable comparing the colour between the two, merely the detail and sharpness.
In one frame there was no camera movement, so I can compare non-combed parts of the DVD with the Blu-ray. In some I deinterlace first. I shall note what has been done in each case.
This shot is remarkably soft, even on Blu-ray. I've fairly confident that's the way it was on the film. Note, I deinterlaced the DVD, but even so it doesn't look that much less detailed than the Blu-ray: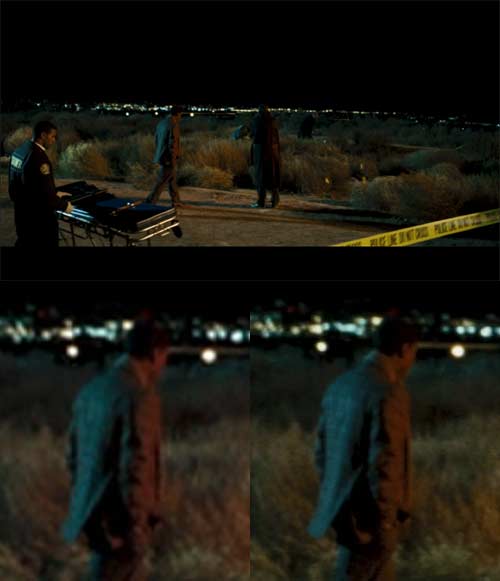 This is more like it, although the Blu-ray is still pretty soft. Since the camera was stable with this shot, there was no need to deinterlace the DVD, so what you see on the left is its full resolution: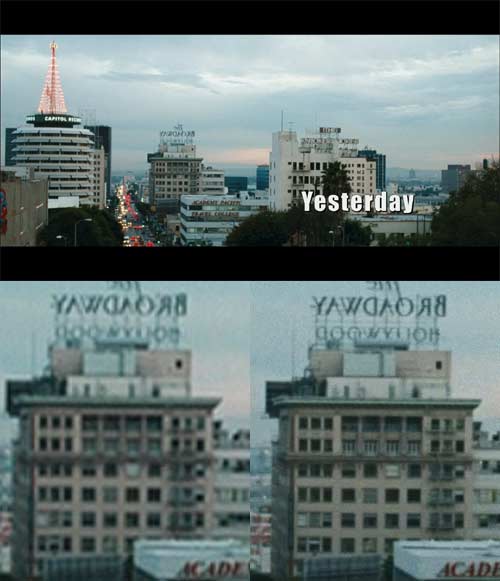 Wow, the DVD didn't even deinterlace cleanly, leaving a ghost of the other field present. The grain on the Blu-ray is, I think, supposed to be there, but it is all washed away by the very vagueness of the picture in the DVD: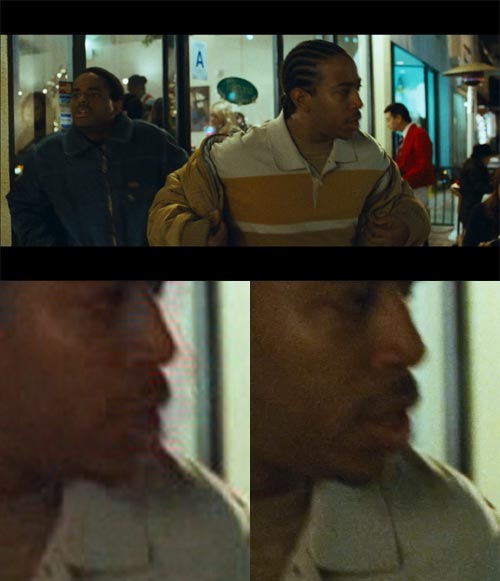 In this shot the DVD happened to be showing one of the rare frames without combing, so here you see the best that it has to offer. This Blu-ray will never be used as demo material from the high resolution of Blu-ray, but it is clearly better than this DVD. If you love this movie, buy the Blu-ray: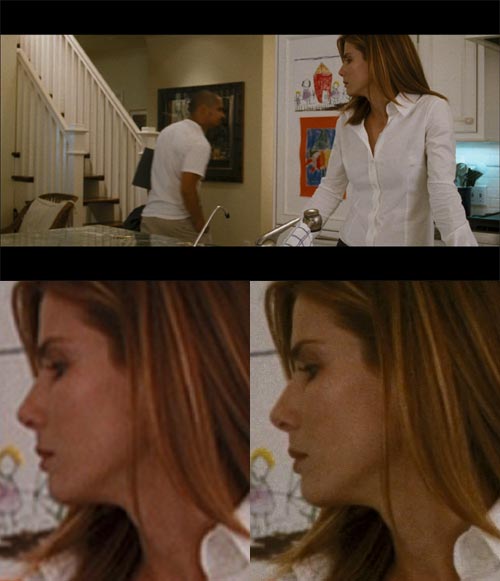 ---
&copy 2002-2010, Stephen Dawson