Home Page | About Me | Home Entertainment | Home Entertainment Blog | Politics | Australian Libertarian Society Blog | Disclosures
---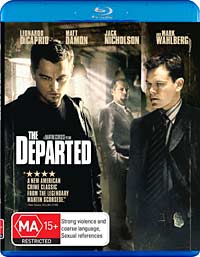 Not previously published
Last updated 26 September 2009
---
The Departed
2006 - Warner Bros Entertainment Australia Pty Ltd
Director: Martin Scorsese
Starring: Leonardo DiCaprio, Matt Damon, Jack Nicholson, Mark Wahlberg, Martin Sheen, Ray Winstone, Vera Farmiga, Anthony Anderson, Alec Baldwin, Kevin Corrigan, James Badge Dale, David O'Hara, Mark Rolston, Robert Wahlberg and Kristen Dalton

Movie:

Picture: TBA Sound: TBA Extras:

---
No review as yet.
---
Facts
Running time: 151 minutes
Picture: 2.41:1, 1080p24, VC1 @ 14.87Mbps
Sound: English: LPCM 16/48 3/2.1 @ 4608kbps; English, French, Spanish: Dolby Digital 3/2.1 @ 640kbps
Subtitles: English, English for the Hearing Impaired, French, Spanish
Extras: 2 Featurettes (480i60, MPEG2, DD2.0 @ 192kbps - 45 mins); Deleted Scenes with introductions by Director (480i60, MPEG2, DD2.0 @ 192kbps - 19 mins); Trailer (480i60, MPEG2, DD2.0 @ 192kbps - 2 mins)
Restrictions: Rated

(Australian rating); Region Free

The following video bitrate graph was generated by BDInfo 0.5.2: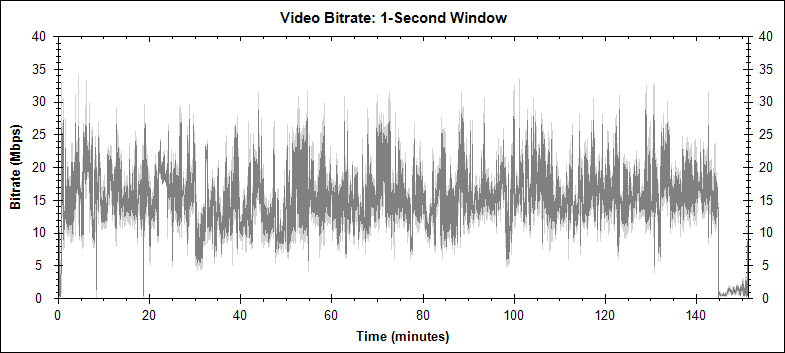 ---
Here are some comparisons between the Australian PAL DVD and the Blu-ray versions of this movie. Both the DVD version was one I had previously purchased, while the Blu-ray version was a commercial copy provided to me by Warner Bros Entertainment Australia Pty Ltd.

In the following examples, at the top of each is the full frame (suitably shrunk down) used in the comparison, with a 250 pixel wide detail from the frame underneath. The left side is from the PAL DVD. The image was captured digitally from the disc (using VideoReDo Plus), scaled up from its native 720 by 576 resolution to 1,024 by 576 (to present in the 16:9 aspect ratio), and then, in order to be comparable to the Blu-ray version, from that to 1,920 by 1,080. The detail is from that last scaled version, and has not been rescaled again. The right side is from the Australian Blu-ray (captured using the command-line media player MPplayer). This has not been scaled at all.

Since different applications were used to capture the two frames, I am not normally comfortable comparing the brightness or colour between the two. For those visitors from NTSC lands, generally PAL DVDs are just a touch sharper than NTSC DVDs.

This disc has a rather low average bitrate. Is it as good as it could possibly be? I don't know. But it most definitely is a great deal better than the DVD.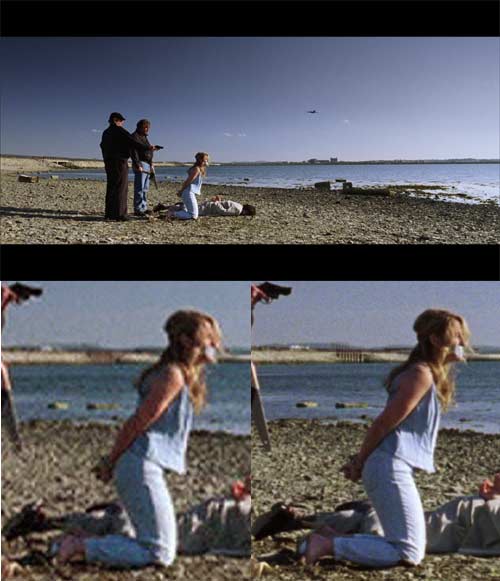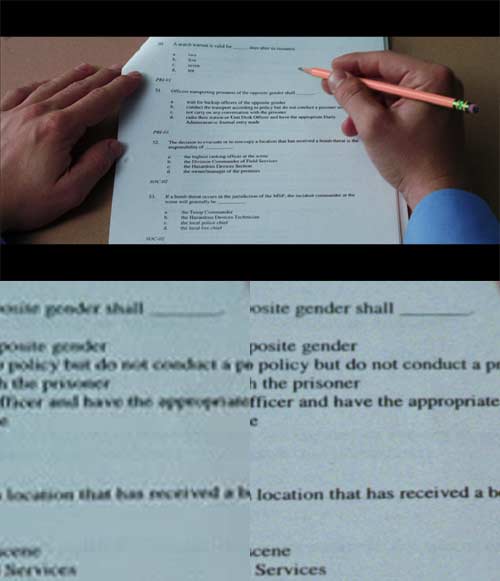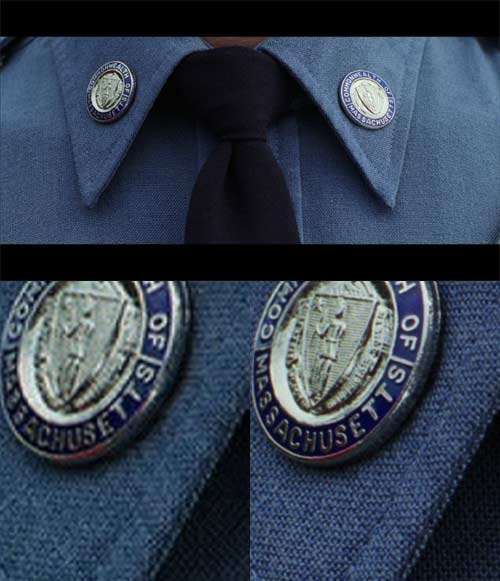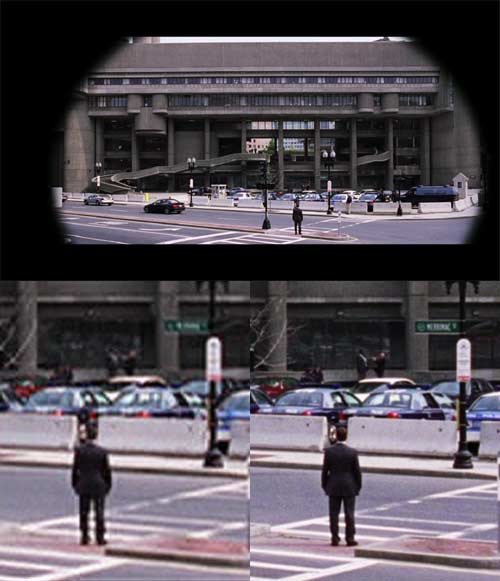 Can you see the woodgrain on the desk? Not on the DVD: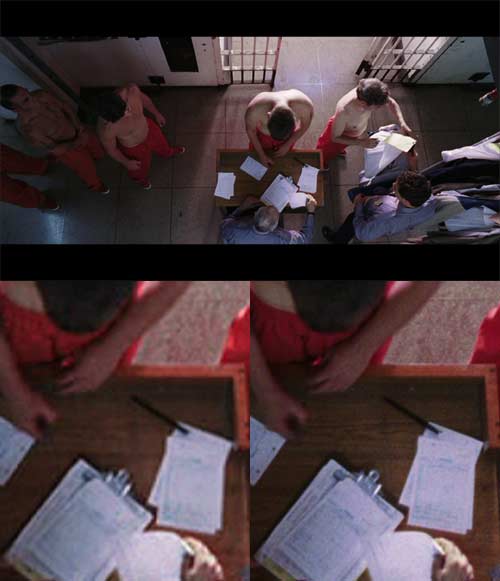 What's Matt Damon thinking? Not a chance of guessing from the DVD: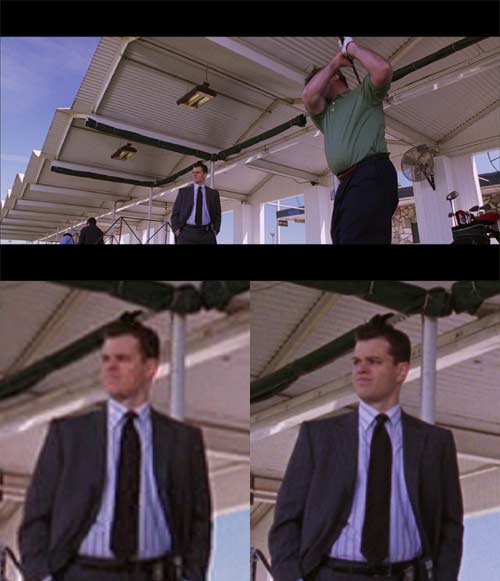 ---
&copy 2002-2009, Stephen Dawson