Home Page | About Me | Home Entertainment | Home Entertainment Blog | Politics | Australian Libertarian Society Blog | Disclosures
---
Originally published in Sound and Image, Feb/Mar 2008, V.21#4
Last updated 27 June 2009
---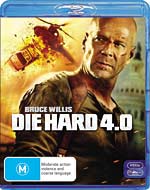 Die Hard 4.0 (aka Live Free or Die Hard)
2007 - Twentieth Century Fox Home Entertainment South Pacific Pty Ltd
Director: Len Wiseman
Starring: Bruce Willis, Timothy Olyphant, Justin Long, Maggie Q, Cliff Curtis, Jonathan Sadowski and Mary Elizabeth Winstead

Movie:

Picture:

Sound:

Extras:

---
Our HD DVD reviews this issue each concern the third installment of a trilogy. Die Hard 4.0, as the name suggests, is the fourth installment of this particular franchise. Once again, Bruce Willis plays the everyman cop called upon to do great things in dire circumstances.

None of the sequels have been a patch on the original, but this one comes the closest. Prepare to suspend disbelief and take the ride as Bruce foils the evil genious and saves his daughter. And, no, I don't think that this constitutes a spoiler. Would you expect the movie to end in any other way?

The disc itself? This disc has new BD-Java enhancements that cause problems on, at least, Pioneer and Sony Blu-ray players. You will need to upgrade their firmware to avoid the disc showing a bright red warning screen telling you to do so. However it makes no difference to playback.

The sound was great when I watched the movie, but since I didn't have a player capable of delivering the actual DTS-HD Master Audio sound in all its glory, I merely had DTS. I expect the sound to be better, tighter and more focused with proper decoding, especially as 24 bit sound is used.

Extras? Okay, but the Australian disc misses out on the US version's commentary, theatrical trailers and a BD-Java game. That's not very fair.
---
Facts
Running time: 129 minutes
Picture: 2.35:1, 1080p24, MPEG4 AVC @ 26.97Mbps
Sound: English: DTS-HD Master Audio 24/48 3/2.1 @ 4091kbps (Core: DTS 24/48 3/2.1 @ 1536kbps); English Descriptive Audio: Dolby Digital 3/2.1 @ 384kbps; German, Spanish: DTS 24/48 3/2.1 @ 768kbps
Subtitles: English for the Hearing Impaired, Danish, Finnish, Nowegian, Swedish, German, German (Text), Spanish, Spanish (Text)
Extras: English Descriptive Audio; Documentary: 'Analog Hero in a Digital World: Making of Die Hard 4.0' (480i60, MPEG2, DD2.0 @ 224kbps - 97 mins); Featurette: 'Yippe-Ki-Yay MotherF*****' (480i60, MPEG2, DD2.0 @ 224kbps - 23 mins); Music Video: 'Die Hard' by Guyz Nite (480i60, MPEG2, DD2.0 @ 224kbps - 5 mins); Featurette: Making Of the music video (480i60, MPEG2, DD2.0 @ 224kbps - 6 mins); Fox Legacy featurette on the Die Hard franchise (480i60, MPEG2, DD2.0 @ 224kbps - 6 mins); Trailer (1080p24, MPEG2, DD5.1 @ 448kbps - 2 mins)
Restrictions: Rated

(Australian rating); Locked to Region B

This is the video bitrate graph for this movie, generated by BDInfo 0.5.2:
---
&copy 2002-2008, Stephen Dawson