Home Page | About Me | Home Entertainment | Home Entertainment Blog | Politics | Australian Libertarian Society Blog | Disclosures
---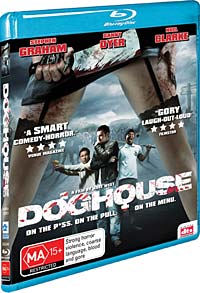 Originally published in Sound and Image, v.24#01
Last updated 22 May 2011
---
Doghouse
2009 - Eagle Entertainent
Director: Jake West
Starring: Danny Dyer, Noel Clarke, Emil Marwa, Lee Ingleby, Keith-Lee Castle, Christina Cole, Terry Stone, Neil Maskell, Emily Booth and Stephen Graham

Movie:

Picture:

Sound:

Extras:

---
What are we to make of Doghouse? Clearly an entry in the low budget, high violence, zombie comedy genre, it runs very close to being a lot of fun. A group of English lads, aged around 30, take off from their various girlfriends and boyfriends and spouses to cheer up one of their number who has recently been dumped. They head off to a small town where girls are reputed to be numerous, but find it largely deserted. Until the now-zombiefied girls appear and the fellows have to fight for their lives. Apparently some army experiment unleashed a sex-specific virus upon the community.

What spoils it is that the lads' actions are frequently even stupider than is the norm for sex war comedies, but there are a few laughs and some beautifully gruesome makeup.

What's great about it is that it comes from a small distribution outfit called Eagle Entertainment. This company is pumping out lots of Blu-ray discs: it's up to 25 now. Few of the movies are famous, but film aficionados are going to find plenty of interesting independent productions there.

As for the disc: this one provides a good transfer of an adequately well shot film, and lots of sound. So much sound that it has the third highest average bitrate for 5.1 channel DTS-HD Master Audio in my collection. It makes use of this to provide plenty of bass underpinning and audio surprises from all different directions.
---
Facts
Running time: 89 minutes
Picture: 1.78:1, 1080p24*, MPEG4 AVC @ 19.15Mbps
Sound: English: DTS-HD Master Audio 24/48 3/2.1 @ 4730kbps (embedded: DTS 24/48 3/2.1 @ 448kbps); English: Dolby Digital 3/2.1 @ 640kbps
Subtitles: Nil
Extras: Making Of Documentary (576i50, MPEG2, DD2.0 @ 192kbps - 41 mins); 3 Deleted Scenes (576i50, MPEG2, DD2.0 @ 192kbps - 3 mins); Bloopers (576i50, MPEG2, DD2.0 @ 192kbps - 8 mins); Photo Gallery (64 stills, 1080p24, MPEG4 AVC, DD5.1 @ 640kbps); 3 Trailers (576i50, MPEG2, DD2.0 @ 192kbps - 3 mins)
Restrictions: Rated

(Australian rating); Locked to Region B
---
&copy 2002-2011, Stephen Dawson