Home Page | About Me | Home Entertainment | Home Entertainment Blog | Politics | Australian Libertarian Society Blog | Disclosures
---
---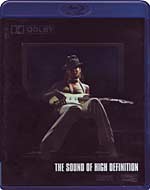 The Sound of High Definition
30 September 2008
---
This isn't a review. It is merely a track and data listing for this test disc. So why would I want this information?

Basically, by setting a Blu-ray player to the task of trying to decode the content of these tracks, I can determine whether it is actually capable of handling a full Dolby Digital Plus or Dolby TrueHD audio track, or merely the standard Dolby Digital core contained within it. By having this contents listing here I can relax about the scrap of paper I previously had this information recorded on.

Incidentally, if you're sharp eyed, you may notice that Titles 18, 19 and 20 have slighty different video standards. 18 and 19 I've put down at 1080i60, while 20 I've put down at 1080p60. In 18 and 19 there is a repeated sequence of three clean frames, then two interlaced, then three clean and so on. In 20 the sequence is thus: A B C D D E F G H H. In other words, there are four clean frames and then the fourth frame is repeated. Why is this? Who knows. Why the difference with Title 18 which, graphically, is virtually identical except for this cadence difference? Who knows.

There is some interesting bass -- random noise I think, but perhaps intentional -- with significant output as low as 11.7 hertz on this disc as well. More on this here.

UPDATED 16 March 2009: I have corrected a couple of minor errors in the table below, and added bitrates for the Dolby TrueHD tracks. These are derived from the excellent BDInfo tool (version 0.5.2). So also are the bit-depths (16 or 24 bits) for the Dolby TrueHD tracks.

Cinema Squid, the creator of BDInfo, rightly points out that the bitrate for lossless audio tracks like Dolby TrueHD and DTS-HD Master Audio has no relationship whatsoever to the fidelity with which they capture the audio tracks. I, like he, simply enjoy having extra information available. But it does also tell you something, which Mr Squid also points out: 'it's just an indicator of the compressability of the source'. Why can some sources be more highly compressed than others?

It could be a coincidence in the way the algorithm analyses the particular audio tracks. But mostly it has to do with the number of levels and the number of channels employed. If a 5.1 channel sound track just bleeds a little audio to the surround channels from time to time, you're going to get a good level of compression (compared to the original 5.1 channel PCM). A busy sound track employing all the channels most of the time will give much lower compressibility.

By golly, you could almost come up with a 'surround utilisation' metric. But that will require more thought.
---
Content
Channels
Item
Title #
Audio Format
Bitrate
F
R
S
Bits
Freq
Time
Video
Disc Startup (same as Title 15)
-
Dolby TrueHD
4496kbps
3
4
1
24
48kHz
0:24
MPEG4 AVC 1080i60
Introduction: The Sound of High Definition
2
Dolby TrueHD
7604kbps
3
4
1
16
96kHz
2:33
MPEG4 AVC 1080i60
Selections in Dolby Digital Plus: Safari
3
Dolby Digital Plus
1664kbps
3
4
1
-
48kHz
1:34
MPEG4 AVC 1080i60
Selections in Dolby Digital Plus: Dave Matthews and Tim Reynolds: Live at Radio City Hall: 'Lie in Our Graves'
4
Dolby Digital Plus
1664kbps
3
4
1
-
48kHz
2:30
MPEG4 AVC 1080i60
Selections in Dolby Digital Plus: Elements: Air, Earth, Snow, Water
5
Dolby Digital Plus
1664kbps
3
4
1
-
48kHz
2:43
MPEG4 AVC 1080i60
Selections in Dolby TrueHD: Harry Potter and the Goblet of Fire
6
Dolby TrueHD
3664kbps
3
2
1
24
48kHz
1:20
MPEG4 AVC 1080i60
Selections in Dolby TrueHD: Nine Inch Nails: Beside You in Time, 'The Hand That Feeds'
7
Dolby TrueHD
4532kbps
3
2
1
24
48kHz
2:41
MPEG4 AVC 1080p60
Selections in Dolby TrueHD: San Francisco Symphony: Aaron Copeland's Appalachian Spring
8
Dolby TrueHD
3730kbps
3
2
1
24
48kHz
2:14
MPEG4 AVC 1080i60
Selections in Dolby TrueHD: Dave Matthews and Tim Reynolds: Live at Radio City Hall: 'Crash Into Me'
9
Dolby TrueHD
5663kbps
3
2
1
16
96kHz
2:36
MPEG4 AVC 1080i60
Selections in Dolby TrueHD: Ghost in the Shell 2: Innocence
10
Dolby TrueHD
4487kbps
3
2
1
24
48kHz
2:01
MPEG4 AVC 1080i60
Selections in Dolby TrueHD: Legends of Jazz with Ramsey Lewis: 'They Can't Take That Away from Me'
11
Dolby TrueHD
7071kbps
3
2
1
16
96kHz
1:33
MPEG4 AVC 1080i60
Selections in Dolby TrueHD: Sahara
12
Dolby TrueHD
3936kbps
3
2
1
24
48kHz
2:35
MPEG4 AVC 1080i60
Selections in Dolby TrueHD: Clouds
13
Dolby TrueHD
7982kbps
3
4
1
24
96kHz
1:51
MPEG4 AVC 1080p60
Selections in Dolby TrueHD: The Last Mimzy
14
Dolby TrueHD
3215kbps
3
2
1
24
48kHz
1:38
MPEG4 AVC 1080i60
Extras: Dolby City Redux Trailer
15
Dolby TrueHD
4496kbps
3
4
1
24
48kHz
0:24
MPEG4 AVC 1080i60
Extras: Dolby Digital Plus Trailer
16
Dolby Digital Plus
1664kbps
3
4
1
-
48kHz
0:11
MPEG4 AVC 1080i60
Extras: Dolby TrueHD Trailer
17
Dolby TrueHD
5015kbps
3
4
1
16
96kHz
0:12
MPEG4 AVC 1080i60
Extras: 7.1 Dolby Digital Plus Channel Check
18
Dolby Digital Plus
1664kbps
3
4
1
-
48kHz
1:34
MPEG4 AVC 1080i60
Extras: 5.1 Dolby TrueHD Channel Check
19
Dolby TrueHD
2335kbps
3
2
1
24
48kHz
1:15
MPEG4 AVC 1080i60
Extras: 7.1 Dolby TrueHD Channel Check
20
Dolby TrueHD
3304kbps
3
4
1
24
48kHz
1:34
MPEG4 AVC 1080i60
---
&copy 2002-2009, Stephen Dawson