Home Page | About Me | Home Entertainment | Home Entertainment Blog | Politics | Australian Libertarian Society Blog | Disclosures
---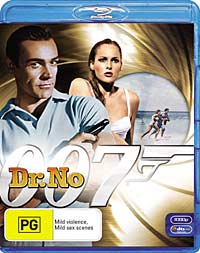 Originally published in Sound and Image, January 2009, v.22#03, Awards Special Issue
Last updated 21 April 2009
---
Dr. No
1962 - Twentieth Century Fox Home Entertainment South Pacific Pty Ltd
Director: Terence Young
Starring: Sean Connery, Ursula Andress, Joseph Wiseman, Jack Lord, Bernard Lee, Anthony Dawson, Zena Marshall, John Kitzmiller, Eunice Gayson and Lois Maxwell

Movie:

Picture:

Sound:

Extras:

---
For many years, film studios didn't fully realise the 2 carat gold that their film vaults contained. How were they to anticipate VHS, then DVD and now Blu-ray? So many older movies had their master copies worn out, simply in the production of daughter copies for display.

So the past few years have been a time of restoration. In the case of James Bond, the whole twenty-odd films were placed in the care of the Lowry restoration process, and the results for Dr. No, the first of the franchise, are amazing.

The picture is almost spooky. The colours tend just a little towards that older Technicolor brownness for skin tones, but otherwise it looks so incredibly modern. But the appearance of a youthful Sean Connery (then only 32) and certain stylistic markers make this modernity of appearance seem almost out of place. The only deficiency apparent in the picture were a couple of the night scenes as Bond was approaching Dr No's island: the night sky had a weird diagonal hatch effect.

We get the UK/European theatrical aspect ratio of 1.66:1 rather than the US 1.85:1. Narrow black bars appear on either side of the picture.

The sound, by contrast, is about what you'd expect. To the extent that any surround has been processed from the original mono mix on this DTS-HD Master Audio presentation, it is merely distracting. Dialogue is clear, bass and treble fail to exist.

As for the movie, it was almost as though the creators knew that this was the first of a never-ending franchise. James Bond does not appear in the opening scene. Instead, a crime is established. Then we are taken into an exclusive gambling club. We see only his hands, then his face, but in foreground out of focus from three quarters behind. At last we hear the voice, as he unashamedly opens a silver cigarette case. Finally, the camera looks him square in the face as a beauty asks his name. 'Bond,' he says, over the cigarette as he snaps closed his lighter, 'James Bond'. We are now eight minutes into the most successful movie franchise ever.

You get plenty of featurettes with the movie, along with a moderately interesting commentary track. The main thing though is this movie, and the stylishness and grittiness of the original Bond, James Bond.

Oh, and the appearance out of the ocean of the first Bond girl, Ursula Andress.
---
Facts
Running time: 110 minutes
Picture: 1.67:1 anamorphic, 1080p24, MPEG4 AVC @ 29.31Mbps
Sound: English: DTS-HD Master Audio, 3/2.1; German, French: DTS, 3/2.1 @ 768kbps; Spanish, Portuguese, Czech: Dolby Digital 3/2.1 @ 448kbps; Commentary: Dolby Digital 2/0.0 @ 224kbps
Subtitles: English, German, German (Text inserts), French, French (Text inserts), Spanish, Spanish (Text inserts), Portuguese, Portuguese (Text inserts), Czech, Czech (Text inserts), Dutch, Danish, Finnish, Norwegian, Swedish, Chinese, English (Commentary), German (Commentary), French (Commentary), Spanish (Commentary), Portuguese (Commentary), Dutch (Commentary)
Features: '007 Mission Control' (subject based links to various scenes in movie); Documentary: 'Inside Dr. No' (1080i, MPEG4 AVC - 42 mins); Theatrical Trailer (1080p24, MPEG4 AVC - 3 mins); 5 SD Featurettes (480i, MPEG2 - 44 mins); HD Featurette: 'Terrence Young: Bond Vivant' (1080i, MPEG4 AVC - 18 mins); 5 SD Trailers (480i, MPEG2 - 11 mins); 6 Radio advertisements (6 mins); Photo Gallery
Restrictions: Rated

(Australian rating); Region B Locked

This is the video bitrate graph for this movie, generated by BDInfo 0.5.2: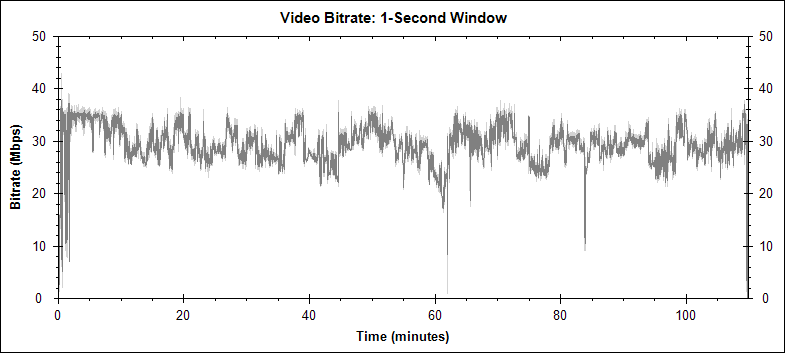 ---
Here are some comparisons between the PAL DVD and the Blu-ray version of this movie. At the top of each is the full frame (suitably shrunk down) used in the comparison, with a 250 pixel wide detail from the frame underneath. The left side is from the PAL DVD. The image was captured digitally from the disc, scaled up from its native 720 by 576 resolution to 1,024 by 576 (to present in the correct aspect ratio). Normally I would then scale it, in order for it to be comparable to the Blu-ray version, from that to 1,920 by 1,080. But in this case the DVD version of the movie had a slightly different aspect ratio and, more importantly, had been obviously cropped down over the years. So, to keep things comparable, I only scaled the DVD image to 1,081 pixels wide, rather than the full 1,920. This actually advantages the DVD a little.

The detail is from that last scaled version, and has not been rescaled again. The right side is from the Australian Blu-ray. This has not been scaled at all. Different applications were used to capture the two frames, so I am not comfortable comparing the colour between the two, merely the detail and sharpness. For those visitors from NTSC lands, generally the PAL DVD is just a touch sharper than the NTSC DVD.

This is the iconic scene in which Bond is first seen. If you were watching this on DVD, you may not notice that Bond is a somewhat hairy man, even including his hands: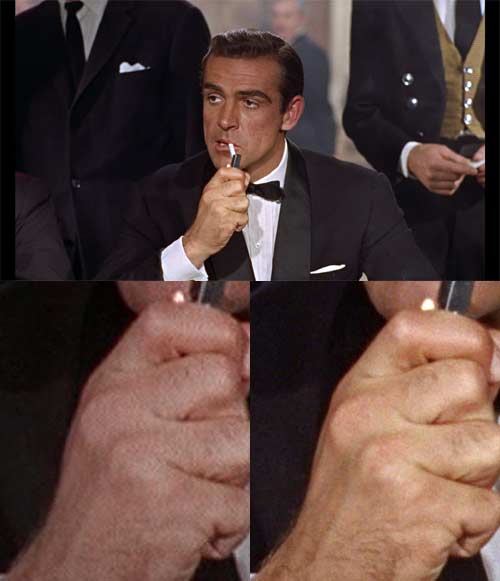 This is, of course, the appearance of Ms Andress. This is perhaps a dozen frames from when she first apppears as she is walking in to shore. Why not the first frame? Because my Blu-ray capture software is extraordinarily clunky, so I take whatever frames I can get.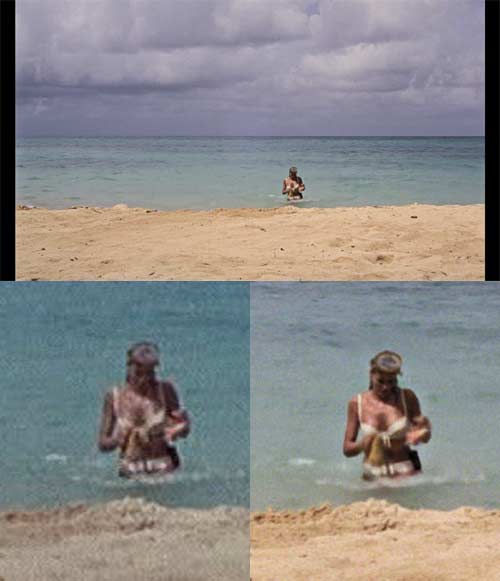 On DVD, I expect the dialogue runs something like: 'My name is Bond, Indistinct and Dotty Bond':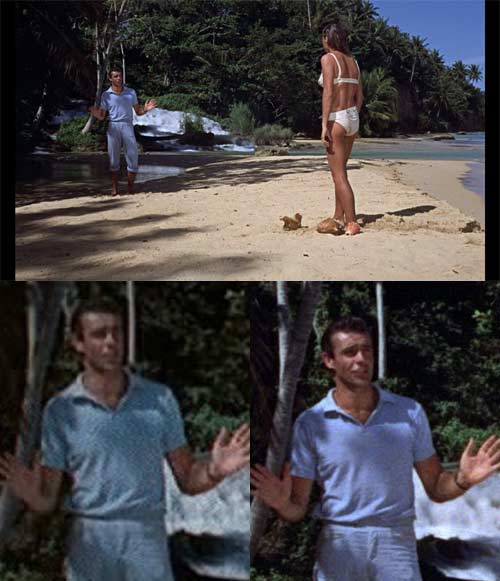 It isn't only sharp edges. The silken nature of this fabric is clearly more apparent from the blu-ray to the right: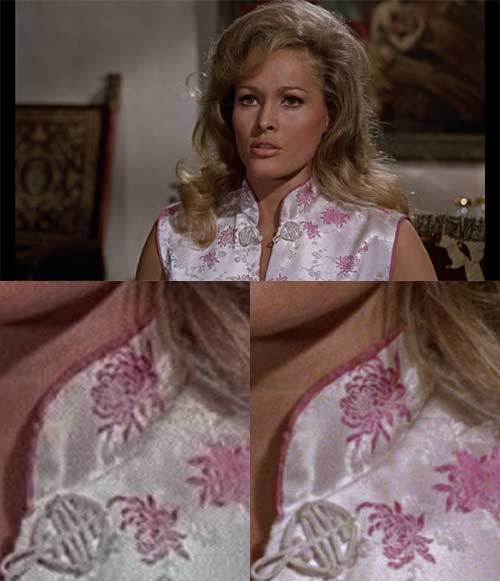 Our Blu-ray shot to the right is simply more real - and gives you half a chance to read the red text on the wall: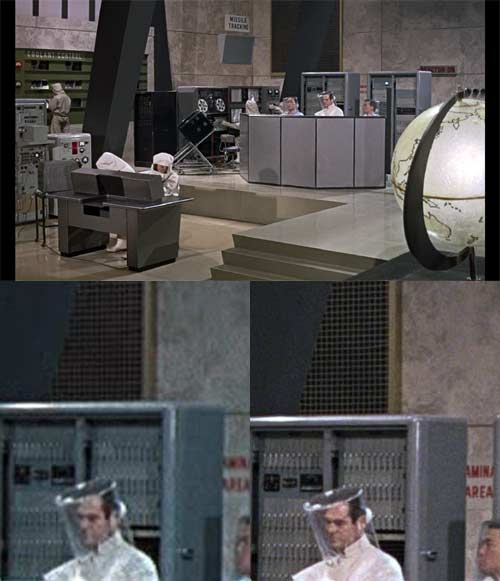 ---
&copy 2002-2009, Stephen Dawson