Home Page | About Me | Home Entertainment | Home Entertainment Blog | Politics | Australian Libertarian Society Blog | Disclosures
---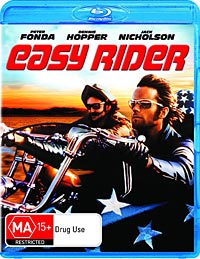 Originally published in Australian HI-FI, Mar/Apr 2011, v.42#2
Last updated 30 August 2011
---
Easy Rider
1969 - Sony Pictures Home Entertainment Australia
Director: Dennis Hopper
Starring: Peter Fonda, Dennis Hopper, Phil Spector, Luke Askew, Luana Anders, Sabrina Scharf, Jack Nicholson, Toni Basil and Karen Black

Movie:

Picture:

Sound:

Extras:

---
According to the special extra that accompanies the feature on Easy Rider, a script was developed for the movie. Well, there is a plot, but I'm not sure that a great deal of development was required. Most of it happens in the seven and a half minutes before the credits roll. Dennis Hopper and Peter Fonda buy some white powder from some Mexican-looking character and then sell it to Phil Spector (then a record producer making a foray into acting, now a resident of a California penitentiary for the crime of murder). They stuff the money into plastic tubes in the fuel tanks of their motorcycles (one heavily chopped) and Peter Fonda tosses away his wrist watch, as though shucking off the entire American rat race.

The rest of the movie is part road trip, part documentary style encounters between our two riders and various people along the way. Some of them are hippies, spouting angsty and pseudo profound stuff as Fonda's character burbles words like 'hip' and 'groovy' and Hopper's character insists that they must resume their trip to the New Orleans Mardi Gras. Others are small town stereotypical rednecks, who are dutifully presented in the worst possible light. There is ample weirdness. One of the encountered people is a drunken lawyer, played by Jack Nicholson. His turn is sheer brilliance.

The picture is presented in MPEG4 AVC at an ample bitrate of nearly 28Mbps. This delivers what looks like an extremely accurate representation of the film. The print from which this disc was taken was reasonably clean. There were the occasional speckles, but were tiny, and there was no recurring film damage. But the quality of the cinematography was quite variable. The very first scene (the drug purchase) seems to be little better than standard definition, and the cinematography is at times a little rudimentary. Apparently the Mardi Gras sequence was shot in 16mm, and it shows. In short, the Blu-ray delivers everything that the film has to offer.

But I'm pretty sure that no-one in 1969 experienced the sound like we can today from this Blu-ray. Presented in DTS-HD Master Audio 5.1, the original mono has somehow been given a bit of spread and depth. I'd guess that the original music tracks have been remixed back into the movie, since the original mono couldn't sound like this: pristine and reasonably modern recordings.

But it has all been done with considerable sensitivity, with gentle bleed to the surround channels.
---
Facts
Running time: 96 minutes
Picture: 1:85:1, 1080p24, MPEG4 AVC @ 27.81Mbps
Sound: English: Dolby TrueHD 20/24 3/2.1 @ 2464kbps (embedded: Dolby Digital 3/2.1 @ 640kbps); Italian: Dolby TrueHD 20/24 3/2.1 @ 2140kbps (embedded: Dolby Digital 3/2.1 @ 640kbps); Spanish: Dolby TrueHD 20/24 3/2.1 @ 2119kbps (embedded: Dolby Digital 3/2.1 @ 640kbps); Original English Mono, Commentary (Dennis Hopper): Dolby Digital 2/0.0 @ 192kbps
Subtitles: English, English for the Heariing Impaired, Italian, Spanish, Danish, Finnish, Hindi, Norwegian, Portuguese, Swedish, English (Commentary), Italian (Commentary), Spanish (Commentary)
Extras: Documentary (480i60 - 65 mins); 7669 Test Patterns (1080p24 - 1 min)
Restrictions: Rated

(Australian rating); Region Free

The following video bitrate graph was generated by BDInfo 0.5.7: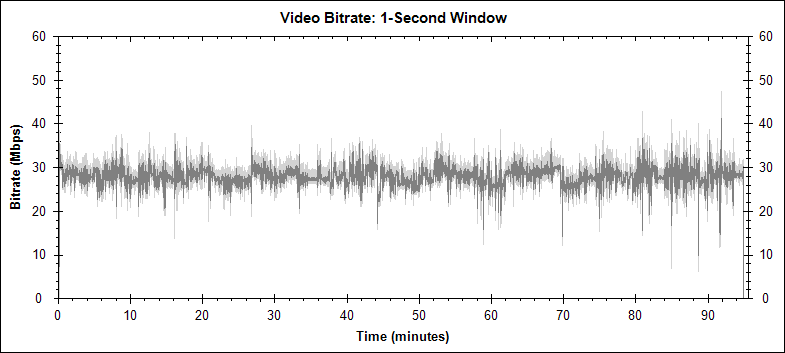 ---
Here are some comparisons between the Australian PAL DVD and the Australia Blu-ray version of this movie. The Blu-ray was supplied to me by Sony Pictures Home Entertainment. The PAL DVD was also provided to me some years ago by the same mob, then known as Columbia TriStar Home Entertainment.
At the top of each is the full frame (suitably shrunk down) used in the comparison, with a 250 pixel wide detail from the frame underneath. The left side is from the PAL DVD. The image was captured digitally from the disc, scaled up from its native 720 by 576 pixel resolution to 1,024 by 576 (to present in the correct aspect ratio) by the application. I then scaled it, in order for it to be comparable to the Blu-ray version, to 1,920 by 1,080 pixels.
The detail is from that last scaled version, and has not been rescaled again. The right side is from the Australian Blu-ray. This has not been scaled at all. Different applications were used to capture the two frames, so some caution should be exercised in judging colour and brightness.
For visitors from NTSC lands, generally the PAL DVD is just a touch sharper than the NTSC DVD.
As I mentioned above, the open part of the film is no exemplar of detail and sharpness. As you can see here, there is little to distinguish the DVD and the Blu-ray: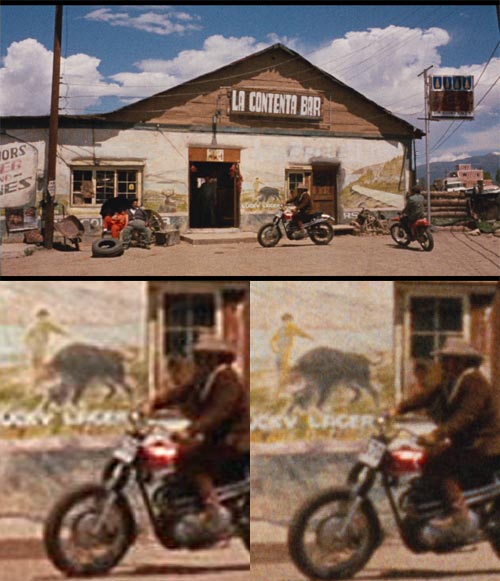 But ... from the same frame, we see that the imperfections of the film itself are better captured on the Blu-ray. See the film grain here, which is far more pleasant with its higher resolution than the uncertain blotches shown on the DVD: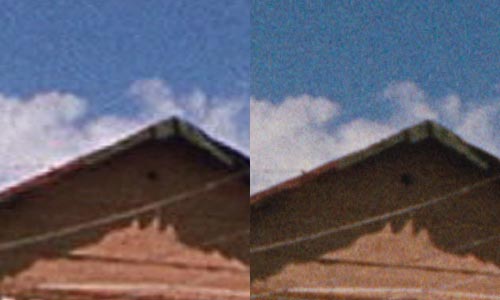 Of course, I had to include Phil Spector, his one and only film appearance. Notice the smoother edges and the lack of distortion around his ever-so-cool 1969 cap: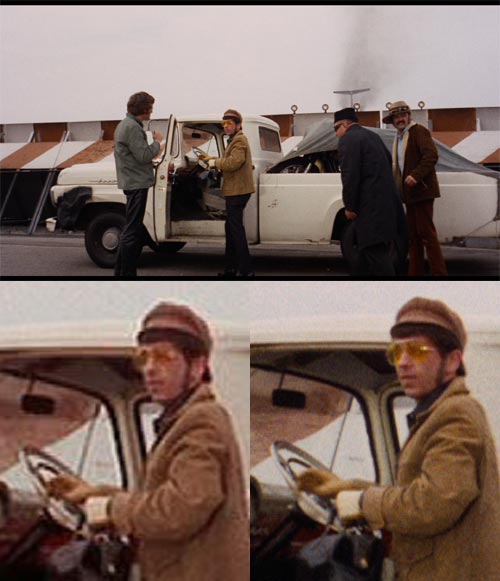 From here on, Blu-ray captures much more detail and provides more clarity than the DVD: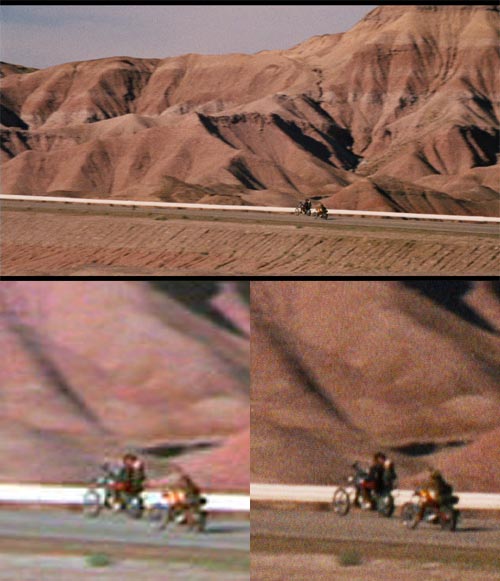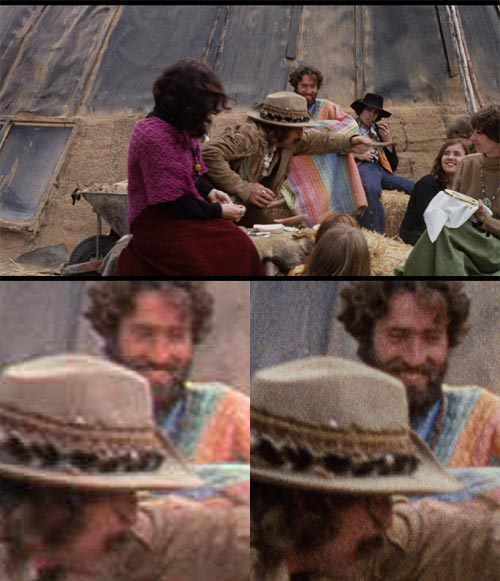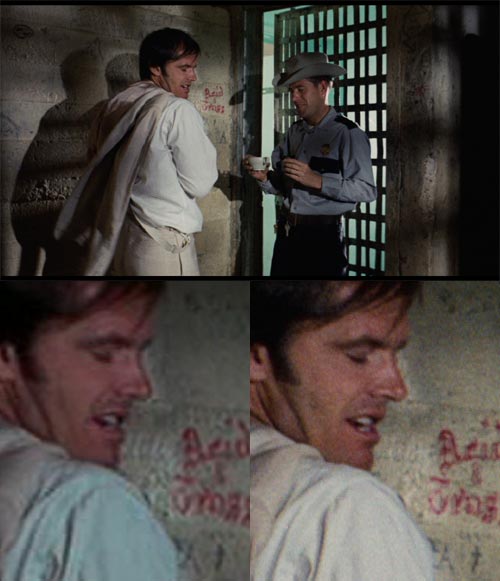 Although it is marginal in the 16mm New Orleans segment: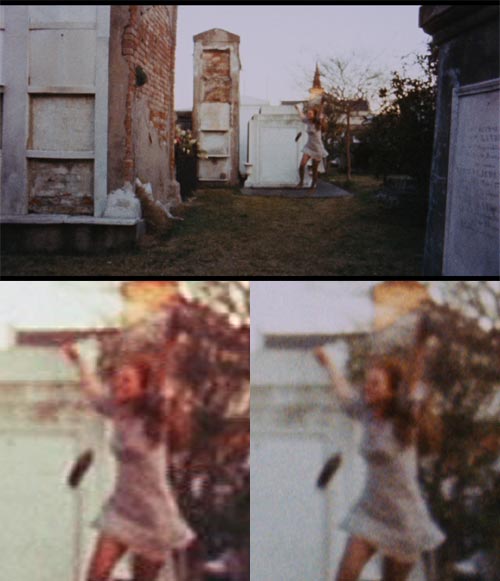 ---
&copy 2002-2011, Stephen Dawson