Home Page | About Me | Home Entertainment | Home Entertainment Blog | Politics | Australian Libertarian Society Blog | Disclosures
---
Originally published in Sound and Image, July/August 2008, v.21#8
Last updated 25 February 2013
Download scan of review (JPEG, right click, Save As)
---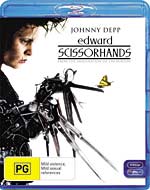 Edward Scissorhands
1990 - Twentieth Century Fox Home Entertainment South Pacific Pty Ltd
Director: Tim Burton
Starring: Johnny Depp, Winona Ryder, Dianne Wiest, Anthony Michael Hall, Kathy Baker, Robert Oliveri, Conchata Ferrell, Caroline Aaron, Vincent Price and Alan Arkin

Movie:

Picture:

Sound:

Extras:

---
Edward Scissorhands is, of course, one of the earliest of Tim Burton's dark fairy tales, but shot in live action rather than with stop-motion puppets. That doesn't mean that it isn't as stylised as any of his other movies, for it is.

The movie design is audacious, with all the homes painted in bold doll-house hues, and their occupants seemingly living an idealised 1950s/60s American sit-com world. She who brings the naive, but razor-edged, title character into her home sells Avon!

The sharpness of the Blu-ray picture presentation really brings this out. Much of the photography is in wide-angle, producing great depth of field and excellent sharpness. This is one movie where the DVD is miles behind the Blu-ray for clarity, sharpness and detail. One review I read mentioned a jitter in the picture, as though the telecine unit didn't hold all the elements entirely steadily. I checked, and yes there is some seemingly pointless movement noticable during static scenes. I didn't find this troubling, but then I like to watch ancient movies as well, all of which suffer from worse versions of this.

Ever since DVDs were introduced there has been confusion amongst many about precisely what Dolby Digital means. It does not necessarily means 5.1 channels. Ditto for DTS-HD Master Audio, which is the audio format Twentieth Century Fox routinely uses on Blu-ray. DTS-HD MA doesn't necessarily mean 7.1 or 5.1 channels, and in fact this disc scores 3/1.0 channels. That is, basically Dolby Pro Logic, except without the bandwidth limitations imposed by basic Pro Logic on the surround channel.
---
Facts
Running time: 105 minutes
Picture: 1.85:1 anamorphic, 1080p24, MPEG2 @ 17.88Mbps
Sound: English: DTS-HD Master Audio 24/48 3/1.0 @ 3013kbps (Core: DTS 24/48 3/1.0 @ 1536kbps); Commentary 1, Commentary 2: Dolby Digital 2/0.0 @ 224kbps
Subtitles: English, Danish, Finnish, Norwegian, Swedish, English (Commentary - Director), English (Commentary - Composer)
Extras: Making Of Featurette (1080p24, MPEG2, DD2.0 @ 224kbps - 5 mins); Two trailers (1080p24, MPEG2, DD2.0 @ 224kbps - 4 mins); Trailer for 'Night at the Museum' (1080p24, MPEG2, DD5.1 @ 640kbps - 2 mins)
Restrictions: Rated

(Australian rating); Region B Locked

The following video bitrate graph was generated by BDInfo 0.5.3: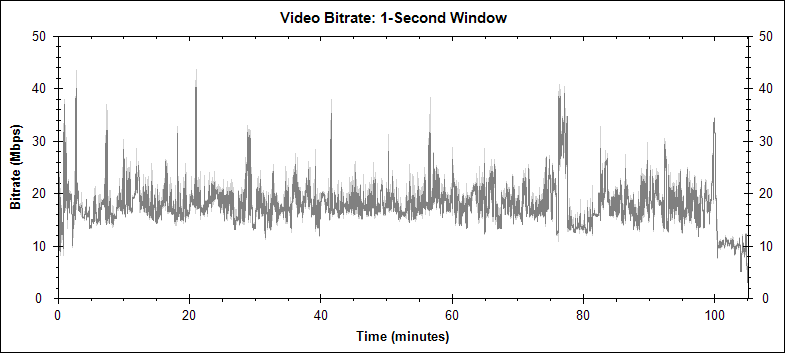 ---
Here are some comparisons between the PAL DVD and the Blu-ray version of this movie. At the top of each is the full frame (suitably shrunk down) used in the comparison, with a 250 pixel wide detail from the frame underneath. The left side is from the PAL DVD. The image was captured digitally from the disc, scaled up from its native 720 by 576 resolution to 1,024 by 576 (to present in the correct aspect ratio), and then, in order to be comparable to the Blu-ray version, from that to 1,920 by 1,080. The detail is from that last scaled version, and has not been rescaled again. The right side is from the Australian Blu-ray. This has not been scaled at all. Different applications were used to capture the two frames, so I am not comfortable comparing the colour between the two, merely the detail and sharpness. For those visitors from NTSC lands, generally the PAL DVD is just a touch sharper than the NTSC DVD.

Goodness only knows what happened to the colour of the DVD in this scene. Fortunately, the colour balance later in the movie is considerably improved.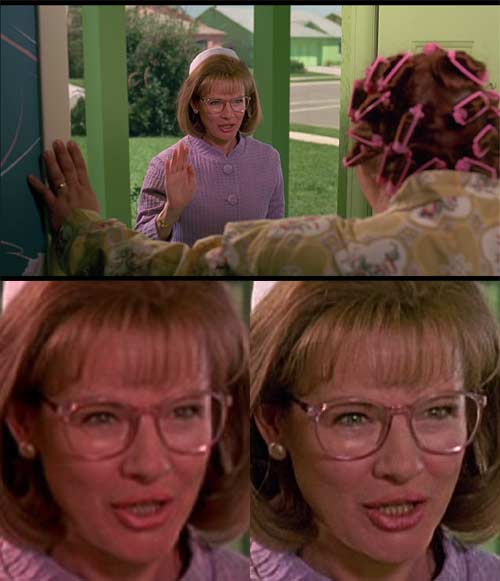 As usual, it looks like the DVD has washed the film grain out of the sky, while the Blu-ray keeps it: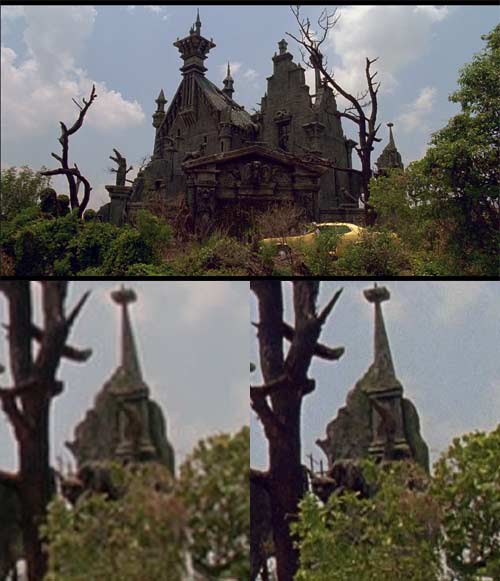 The pock mark on Edward's left cheek ... can you see it on the DVD at all?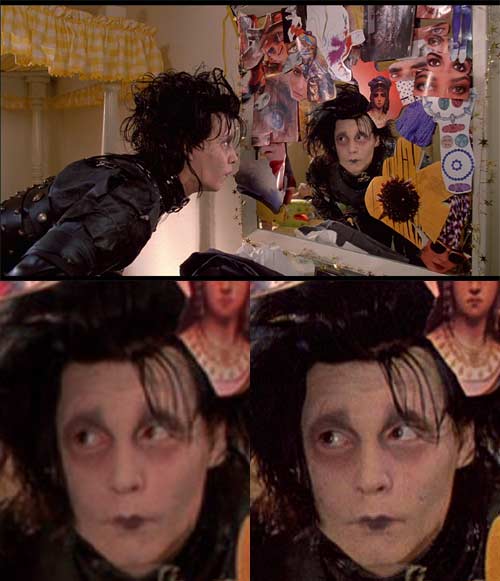 Note the pink letterbox on the right curb. If you were looking at the DVD you may well ask: what pink letterbox?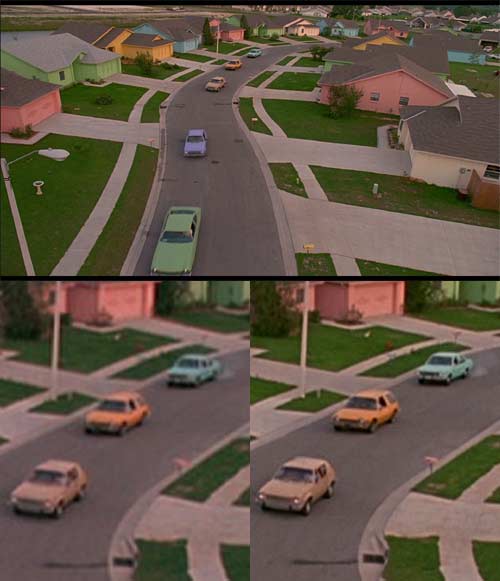 On Blu-ray you can see that Edward is concentrating on his work. On DVD, it's anybody's guess: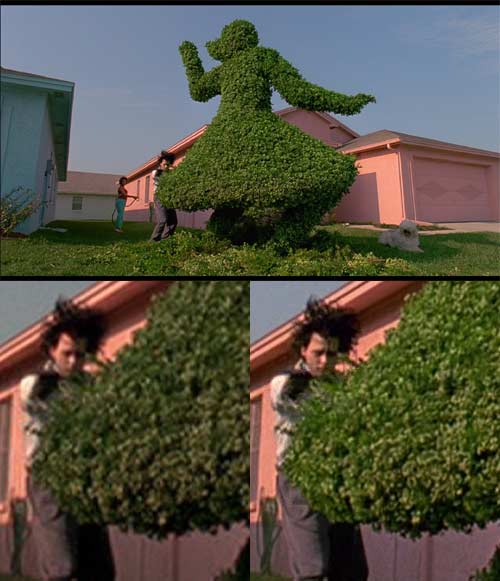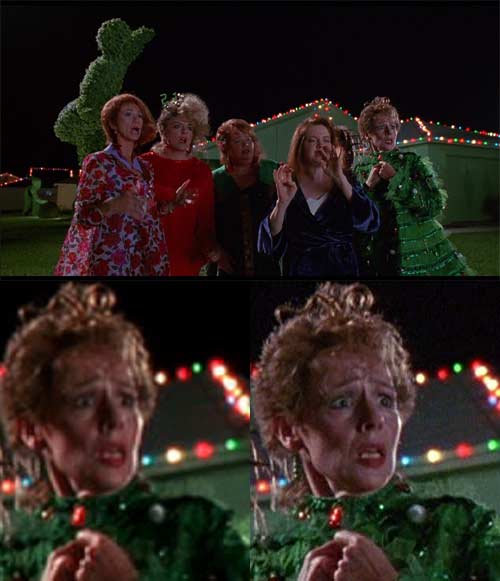 ---
&copy 2002-2008, Stephen Dawson