Home Page | About Me | Home Entertainment | Home Entertainment Blog | Politics | Australian Libertarian Society Blog | Disclosures
---
Not previously published
Last updated 14 December 2009
---
The Elephant Man
1980 - Universal Pictures (Australasia) Pty Ltd
Director: David Lynch
Starring: Anthony Hopkins, John Hurt, Anne Bancroft, John Gielgud, Wendy Hiller, Freddie Jones, Michael Elphick, Hannah Gordon, Helen Ryan, John Standing and Dexter Fletcher

Movie:

Picture: TBA Sound: TBA Extras:

---
NOTE: This disc comes in an attractive cardboard case with a nice little booklet about the movie. Unfortunately the knob in the middle which secures the disc in place is simply awful. It only releases the disc with great reluctance, after much flexing of the disc. That can't be good for it. I've put this case aside and keep the disc in a regular Blu-ray case.
---
Facts
Running time: 124 minutes
Picture: 2.35:1, 1080p24*, MPEG4 AVC @ 24.99Mbps
Sound: English: DTS-HD Master Audio 16/48 3/2.1 @ 1838kbps (core: DTS 16/48 3/2.1 @ 1509kbps); French, German, Spanish, Italian: DTS-HD Master Audio 16/48 2/0.0 @ 1638kbps-1739kbps (core: DTS 16/48 2/0.0 @ 1509kbps)
Subtitles: English, Spanish, Danish, French, German, Italian, Dutch, Norwegian, Finnish, Swedish, Japanese
Extras: Featurette: 'John Merrick: the Real Elephant Man' (480i60, MPEG2, LPCM2.0 @ 1536kbps - 20 minutes); Interviews (480i60, MPEG2, LPCM2.0 @ 1536kbps - 80 mins)
Restrictions: Rated

(Australian rating); Locked to Regions A & B

* '1080p24*' means that the video is recorded at an actual 24 frames per second, rather than the more common 23.976 (precisely 24/1001).

The following video bitrate graph was generated by BDInfo 0.5.3: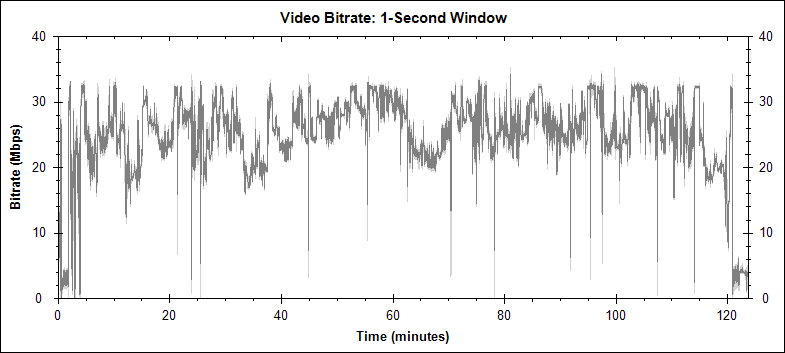 ---
Here are some comparisons between the Australian PAL DVD and the Blu-ray versions of this movie. I purchased the DVD some time back, while the Blu-ray version was supplied to me by Universal.

In the following examples, at the top of each is the full frame (suitably shrunk down) used in the comparison, with a 250 pixel wide detail from the frame underneath. The left side is from the PAL DVD. The image was captured digitally from the disc (using VideoReDo Plus), scaled up from its native 720 by 576 resolution to 1024 by 576 (to present in the 16:9 aspect ratio) by the application. Then, in order to be comparable to the Blu-ray version, I scaled it from that to 1,920 by 1,080 in Photoshop. The detail is from that last scaled version, and has not been rescaled again. The right side is from the Australian Blu-ray (captured using the command-line media player MPlayer). This has not been scaled at all.

Since different applications were used to capture the two frames, I am not normally comfortable comparing the brightness or colour between the two. For those visitors from NTSC lands, generally PAL DVDs are just a touch sharper than NTSC DVDs.

The first thing to notice is that there is a marked difference in framing of the two versions. The Blu-ray (top) shows significantly more of the right side of the frame than the DVD (bottom), but also shows rather less of the left side: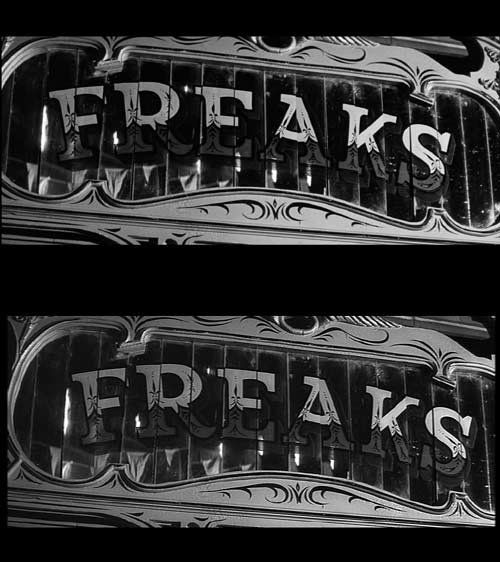 According to IMDB, this movie was shot on Eastman Plus-X 5231 black and white film. According to Kodak, its 'characteristics provide an excellent balance between the maximum desirable speed for general production work and a fine-grain negative for that speed. The speed of this panchromatic film permits the use of small apertures, thus allowing good depth of field.' Which suggests that the result ought to look pretty sharply focused on Blu-ray. But as we see here, the Blu-ray is cleaner and a little more detailed than the DVD, but not exactly sharp: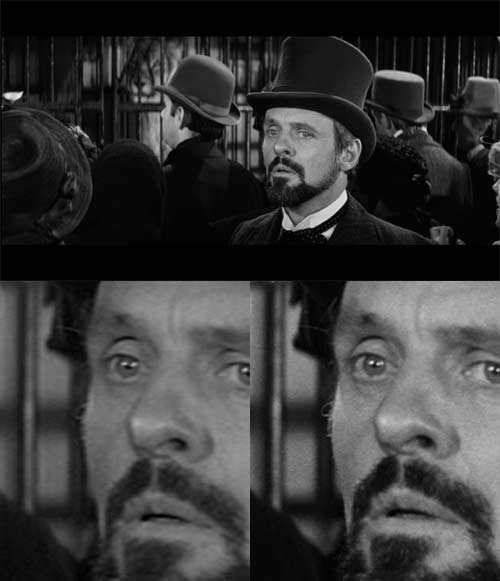 This scene offers a more significant difference: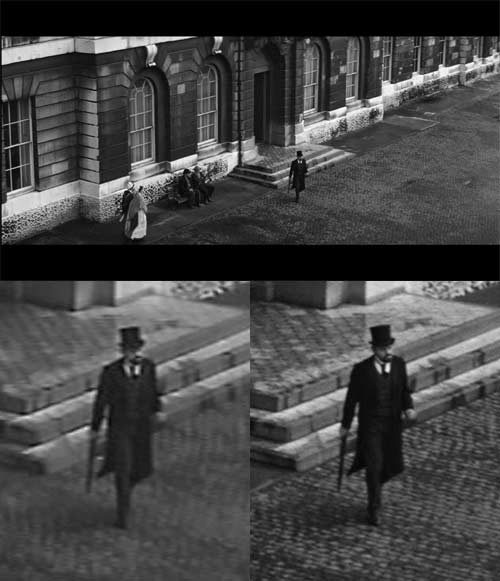 Here the Blu-ray offers a sharper outline on the dog, without the slight sense of edge enhancement that accompanies the DVD, and at the same time the detail and light differentiation of the ground gives a far more convincing sense of a wet surface: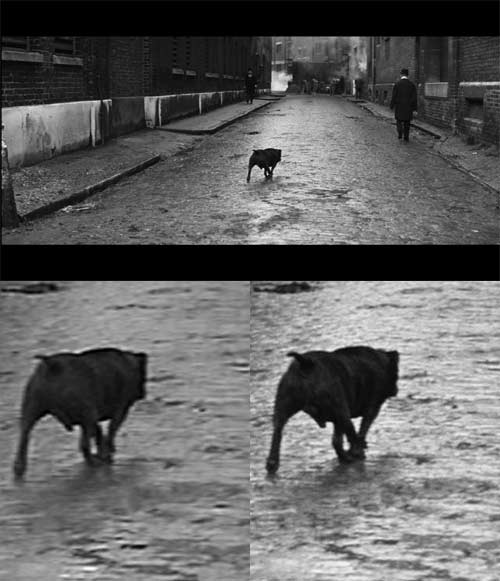 Once again, it seems that razor sharp focus was not a goal of the cinematography in this picture. Even so, the Blu-ray reveals the ribbing on the cap far better than the DVD: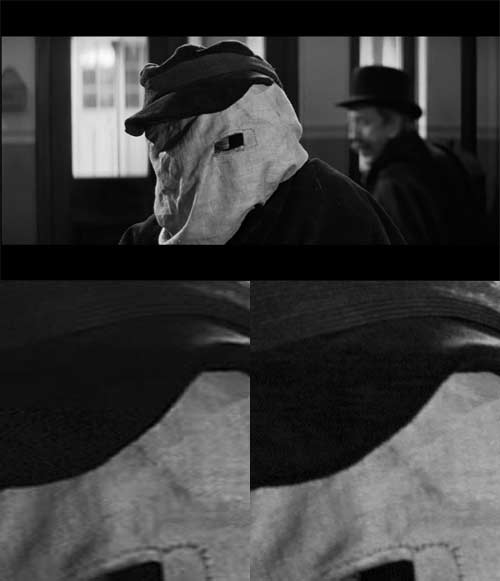 This character looks far cleaner and more natural in the Blu-ray, thanks to the relative lack of compression noise. Compare also the embroidery on her bodice and the pattern on the curtains, just to the left of her hair: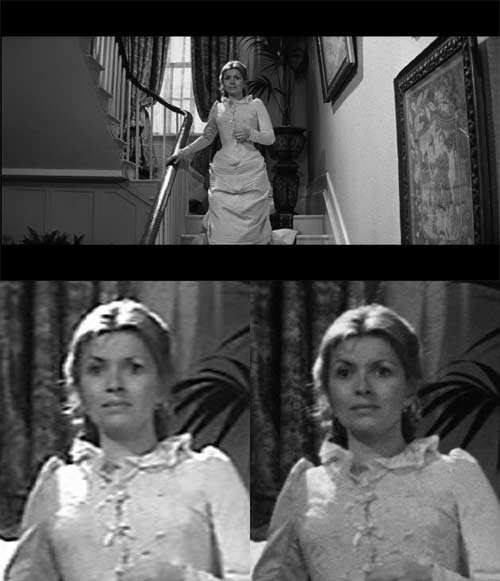 On Blu-ray, thanks to more detail, poor Mr Merrick seems even more horrific: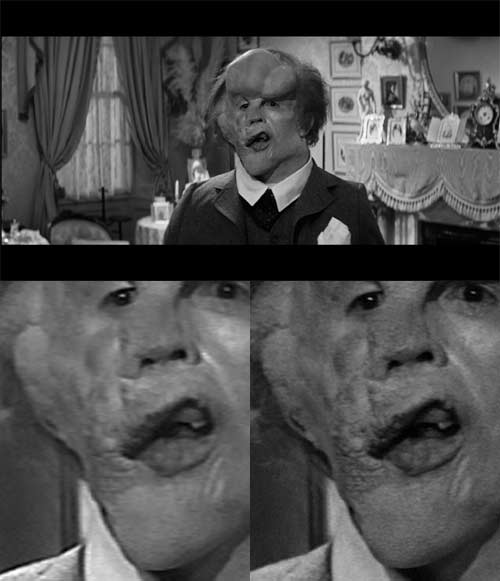 ---
&copy 2002-2009, Stephen Dawson