Home Page | About Me | Home Entertainment | Home Entertainment Blog | Politics | Australian Libertarian Society Blog | Disclosures
---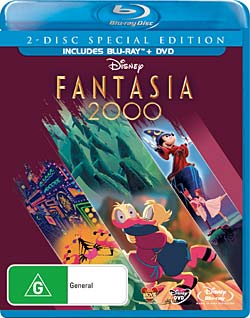 Originally published in Australian HI-FI, 2011
Last updated 21 August 2012
Download scan of review (JPEG, right click, Save As)
---
Fantasia/2000
1999 - Walt Disney Studios Home Entertainment
Director: James Algar/GaŽtan Brizzi/Paul Brizzi/Hendel Butoy/Francis Glebas/Eric Goldberg/Don Hahn/Pixote Hunt
Starring: Leopold Stokowski, Steve Martin, Itzhak Perlman, Quincy Jones, Bette Midler, James Earl Jones, Penn Jillette, Teller, James Levine and Angela Lansbury

Movie:

Picture:

Sound:

Extras:

---
I confess: I'm an originalist snob. Why, I thought, would anyone want to watch an obvious rip off of a classic, made sixty years later. Even if made by the same firm?

But when Disney sent me Fantasia they had tossed in Fantasia 2000. And here I am, writing now, on deadline, with an extreme shortage of music-related Blu-ray discs about which I have not yet written. So, with a beer for comfort, I resolved to do my duty.

And by now, in the third segment -- 'Rhapsody in Blue' -- I've decided that you can take your original, I'll stick with 2000. This, presumably is heresy. According to IMDB the original scores 7.8/10, while 2000 gets 7.2. Well, phooey I say!

Why? For one thing the animation has lost nothing in quality from the original. Indeed, the slightly cleaner picture for most segments, since most of the animation is new, looks much better on the big screen.

But the real improvement is in the sound. Most of the music appears to have been 1990s recording, with the enormously greater quality in comparison to the 1940-ish recording of the original.

Don't get me wrong: the new content is not an audiophile's delight, thanks largely to the mixing decisions the Disney sound engineers have made. They use a high bitrate, 24 bit 7.1 channel DTS-HD Master Audio encode which clearly could deliver true audiophile stuff, but the mix has an aggressive surround, with instruments appearing much of the time overhead and to the sides of the room, rather than across a front sound stage.

But the tonal balance was very accurate, the sound clean and free of distortion, and the dynamics of the music wonderfully uncompressed. This is worth turning up to whatever volume your system will support. Enjoy those unlimited crescendos.

The exception is the repeat of 'The Sorcerer's Apprentice' from the original. This sounds a little better than it's appearance in Fantasia, thanks to what seems to be a touch less gate-based hiss reduction. But it still was a little grating and piercing in parts.

Oh, one thing about your system: since the animation has been created as a superb rhythmic match to the music, make sure the lip sync of your system is properly adjusted to get the full impact.

In addition to the official extras, there is over three hours of interesting 'orphaned' SD material. That is, there is no menu access so it, but you may want watch the individual files on a computer.
---
Facts
Running time: 75 minutes
Picture: 1.78:1, 1080p24, MPEG4 AVC @ 30.01Mbps
Sound: English: DTS-HD Master Audio 24/48 3/4.1 @ 5972kbps (core: DTS 24/48 3/2.1 @ 1509kbps); Spanish, Dutch: DTS 24/48 3/2.1 @ 1509kbps; Portuguese, Flemish, Polish, Hebrew: Dolby Digital 3/2.1 @ 640kbps; 2 x Commentaries: Dolby Digital 2/0.0 @ 320kbps
Subtitles: English, English for the Hearing Impaired, Spanish, Portuguese, Dutch, Polish, Hebrew, Spanish (Commentary 1), Portuguese (Commentary 1), Dutch (Commentary 1), Polish (Commentary 1), Hebrew (Commentary 1), Spanish (Commentary 2), Portuguese (Commentary 2), Dutch (Commentary 2), Polish (Commentary 2), Hebrew (Commentary 2)
Extras: DVD version; Short film: 'Destino' (1080p24 - 7 mins); Documentary: 'Dali & Disney: A Date With Destino' (480i60 - 82 mins); Featurette (1080p24 - 9 mins)
Restrictions: Rated

(Australian rating); Region Free

The following video bitrate graph were generated by BDInfo 0.5.7. This is for the movie:
---
&copy 2002-2012, Stephen Dawson