Home Page | About Me | Home Entertainment | Home Entertainment Blog | Politics | Australian Libertarian Society Blog | Disclosures
---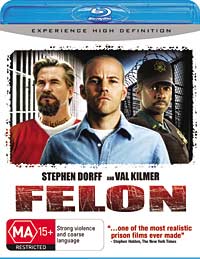 Originally published in Sound and Image, April 2009, v.22#5
Last updated 6 April 2010
---
Felon
2008 - Sony Pictures Home Entertainment Australia
Director: Ric Roman Waugh
Starring: Stephen Dorff, Marisol Nichols, Vincent Miller, Anne Archer, Larnell Stovall, Val Kilmer, Sam Shepard, Johnny Lewis, Harold Perrineau and Nate Parker

Movie:

Picture:

Sound:

Extras:

---
I do wonder what possesses film companies. This little low-budget movie is a thoroughly frightening, convincing and moving piece of work that scores 7.9 out of 10 on the Internet Movie Database. It appears that it was only ever released in a few cinemas in the US, and nowhere else.

So now it has made its way to DVD and Blu-ray, and you can see this harrowing, and all too believable, account of how a decent man can find himself in prison, and be brought down almost to the level of those around him.

Another 2008 movie, another one with mostly hand-held cinematography and washed out colour. The MPEG4 AVC transfer conveys this faithfully, which is all you can ask of any home video format. The only really colourful and sharp segment is Val Kilmer's memory of his family in a video flashback. Still, a glossy and colourful finish to this movie would not have worked. That's why they reserved colour, back in its expensive Technicolor days, for musicals and historical sagas and kept noir films black and white.

The sound is clean and there is lots of atmospheric bass, but nothing especially involving as surround sound. Sony provides useful persistent bookmarking, and a less useful BD-Live facility, which is primarily for trailers of Sony Blu-ray releases.
---
Facts
Running time: 104 minutes
Picture: 2.35:1, 1080p24, MPEG4 AVC @ 25.22Mbps
Sound: English: Dolby TrueHD 16/48, 3/2.1 @ 1551kbps (Core: Dolby Digital 3/2.1 @ 640kbps); Spanish: Dolby TrueHD 16/48, 3/2.1 @ 1414kbps (Core: Dolby Digital 3/2.1 @ 448kbps); German: Dolby TrueHD 16/48, 3/2.1 @ 1504kbps (Core: Dolby Digital 3/2.1 @ 448kbps); Czech, Russian: Dolby Digital 3/2.1 @ 448kbps
Subtitles: English, English-SDH, German, Spanish, Czech, Arabic, Bulgarian, Chinese simplified, Chinese Traditional, Croation, Danish, Dutch, Estonian, Finnish, Greek, Hindi, Icelandic, Indonesian, Korean, Norwegian, Portuguese, Romanian, Slovak, Slovenian, Swedish, Turkish, Russian (Titles)
Extras: Bookmarks; Five Trailers (1080p24, MPEG2, DD 5.1 @ 640kbps - 11 mins); Trailer:'Zombie Strippers' (4:3, 480i60, MPEG2, DD 2.0 @ 192kbps - 2 mins); Featurette: 'The Shark Tank: An Inside Look at "Felon"' (1080p24, MPEG2, DD 2.0 @ 192kbps - 13 mins); BD-Live trailer downloads
Restrictions: Rated

(Australian rating); Region Free

The following video bitrate graph was generated by BDInfo 0.5.3: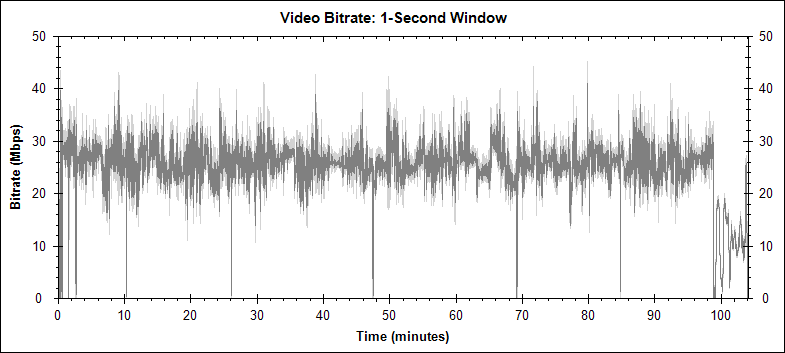 ---
&copy 2002-2010, Stephen Dawson