Home Page | About Me | Home Entertainment | Home Entertainment Blog | Politics | Australian Libertarian Society Blog | Disclosures
---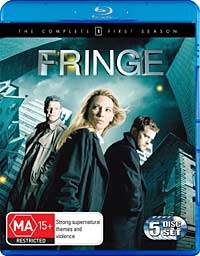 Blu-ray Reviews: Fringe (The Complete First Season)
Originally published in Sound and Image, Nov/Dec 2009, v.23#02
Last updated 25 February 2013
Download scan of review (JPEG, right click, Save As)
---
Fringe (The Complete First Season)
2008 - Warner Bros Entertainment Australia Pty Ltd
Created: J.J. Abrams, Alex Kurtzman and Roberto Orci
Starring: Anna Torv, Joshua Jackson, Lance Reddick, Blair Brown, John Noble, Kirk Acevedo, Jasika Nicole, Michael Cerveris and Mark Valley

Movie:

Picture:

Sound:

Extras:

---
It is one's duty as a writer on these matters to bemoan the state of modern television. You hear it time and time again. But I refuse to accept that duty. As far as I'm concerned, television has been on an upwards trend ever since its invention, and is better now than it has ever been.

In fact, the major problem with TV is finding enough time to actually watch all the great stuff that's available. So perhaps it isn't surprising that I was quite unaware of 'Fringe', until the five disc, 20 episode, first season arrived from Warner Bros on Blu-ray.

Created by a dream team of J.J. Abrams, Alex Kurtzman and Roberto Orci, between them responsible for such things as the 'Alias' and 'Lost' TV shows, the Transformers movies along with the latest Star Trek, it isn't surprising that it is an action, thriller, science fiction mix. The 'science' requires a stern exercise in the suspension of disbelief, but if you can pull that off you will enjoy it.

The first few episodes seemed to be basically standalone stories, and then threads began to be raised without resolution. But as I proceeded, I found these threads were taken up again in later episodes, while other background mysteries were deepened. Its looking a lot like I'm soon in for some major revelations.

I say that because at this point I have watched twelve of the 50-ish minute episodes, and have eight to go, and my need to see them is starting to get pretty urgent. IMDB informs me that the 'User Rating' of the final episode for the season is a season-high 9.1/10. Note: Season 2 started showing last month in the United States.

Two further things of note about the show. First, it features two Australians (playing Americans): lead Anna Torv (playing an FBI agent), and John Noble, playing the mad scientist. Second, its location titles are beautifully rendered 3D inserted into the panning camera shots. Lovely!

The picture, as is Warner Bros practice, receives a relatively low bitrate VC1 encode, averaging under 20Mbps. But it is artefact free, and sharply shot with excellent detail. The whole 16:9 screen is used and at 24 frames per second, motion is smooth.

Warner Bros has again flirted with the derision of the enthusiasts, this time primarily for providing only Dolby Digital 5.1 for the sound. Some insist that everything should these days be lossless: ie. Dolby TrueHD or DTS-HD Master Audio.

I'm not so sure. For me, the most disappointing thing about the sound on TV shows is that it is too often assumed that it will only ever be heard on TV speakers.

Okay, this show does receive some of those TV compromises: in particular the dialogue is recorded at a considerably higher level than would be the case with similar movie, and the dynamic range of the show is quite constrained, once again, compared to a movie.

But what is provided is an excellent surround mix, and some extraordinarily deep and powerful low frequency effects. If the Dolby Digital compression (at the highest possible bitrate of 640kbps) damages it significantly, it wasn't apparent to me.
---
Facts
Running time: 1027 minutes
Picture: 1.78:1, 1080p24, VC1 @ 19.30Mbps
Sound: English: Dolby Digital 3/2.1 @ 640kbps; Commentary (3 episodes): Dolby Digital Surround 2/0.0 @ 192kbps
Subtitles: English for the Hearing Impaired
Extras: 8 Deleted Scenes (4:3, 480i60, VC1, DPL2.0 @ 192kbps - 12 mins); 6 'Fringe Pattern Analysis' Featurettes (1080p24, VC1, DPL2.0 @ 192kbps - 25 mins); 29 Featurettes (480i60, VC1, DPL2.0 @ 192kbps - 113 mins)
Restrictions: Rated

(Australian rating); Region Free

The following video bitrate graphs were generated by BDInfo 0.5.2. They are for each of the five discs, in disc order: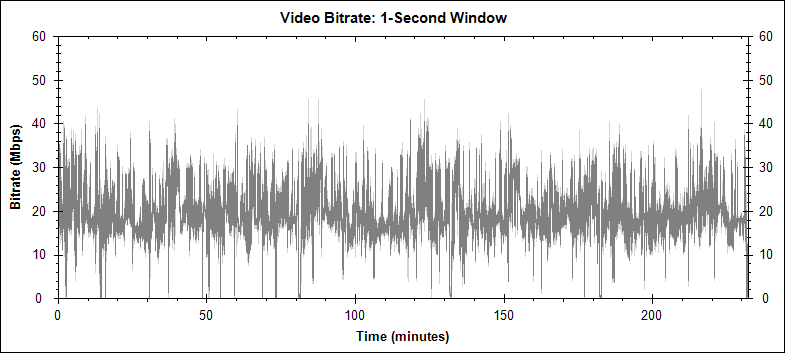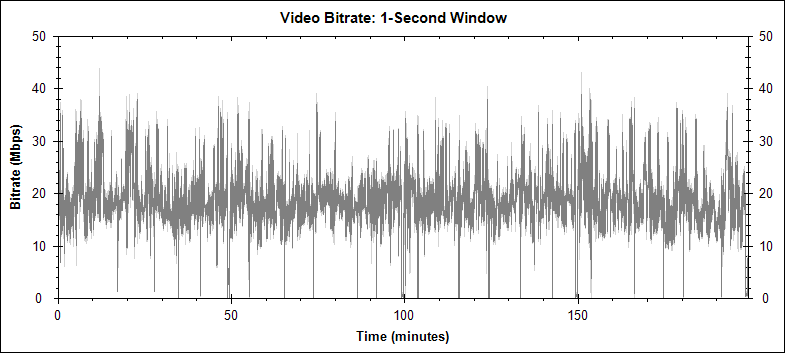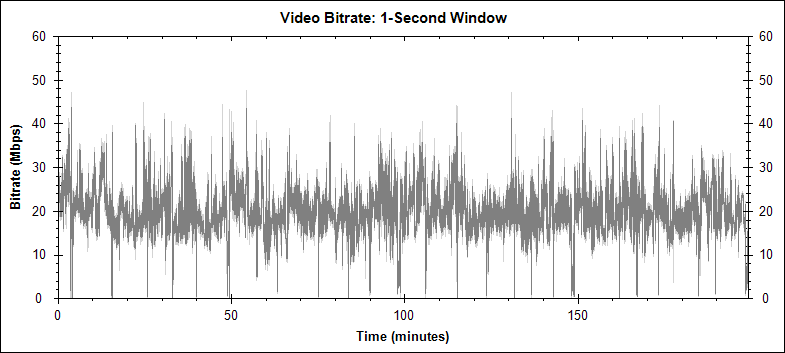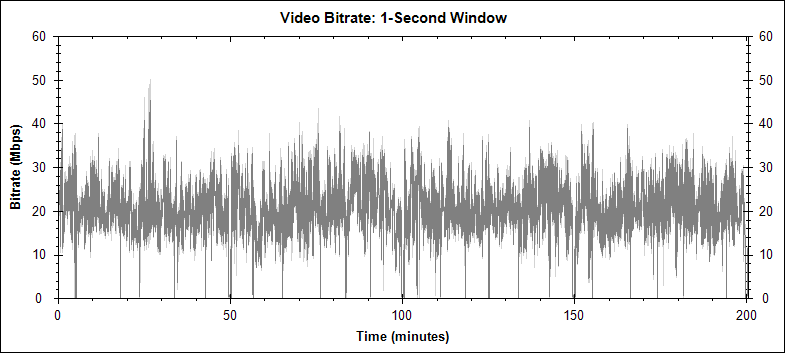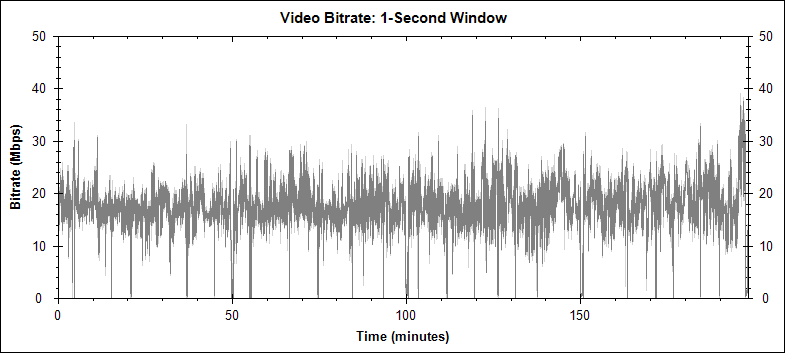 ---
&copy 2002-2009, Stephen Dawson