Home Page | About Me | Home Entertainment | Home Entertainment Blog | Politics | Australian Libertarian Society Blog | Disclosures
---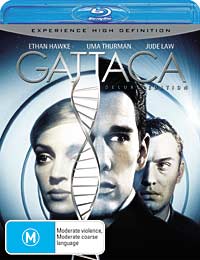 Originally published in Sound and Image, May/June 2009, v.22#6
Last updated 6 April 2010
---
Gattaca
1997 - Sony Pictures Home Entertainment Australia
Director: Andrew Niccol
Starring: Ethan Hawke, Uma Thurman, Gore Vidal, Xander Berkeley, Jayne Brook, Elias Koteas, Blair Underwood, Ernest Borgnine, Tony Shalhoub, Jude Law, Alan Arkin and Loren Dean

Movie:

Picture:

Sound:

Extras:

---
1997 must have been a good year for antipodeans, with New Zealander Andrew Niccol directing this hard core science fiction morality tale. By hard core, I mean the ideas, not the special effects, which were quite eschewed.

Originally released on a single layer, double sided DVD (it has pan and scan on the flip side), I've enjoyed it over the years on a Superbit DVD with a fairly high bitrate. But with the big screen up, this release absolutely kills the DVD. The movie makes frequent use of bronzes and browns, which are delivered with lusciousness by the MPEG4 AVC transfer on this disc, with a higher-than-average bitrate. It is not always the sharpest of pictures, but it is sharp enough, and totally free of unfortunate artefacts.

The sound is delivered in 24 bit Dolby TrueHD in two languages, and a mere 16 bits in a third. It is not action packed surround sound, but atmospheric and nicely immersive.

The extras include six deleted scenes, a single outtake that is well worthwhile watching and some SD documentaries. Being a Sony disc, it also has four high definition video test patterns, lasting one minute. On the main menu, key in 7669. That is, of course, the numeric keypad code for SONY.
---
Facts
Running time: 106 minutes
Video: 2.35:1 anamorphic, 1080p24, MPEG4 AVC @ 26.14Mbps
Sound: English: Dolby TrueHD 24/48, 3/2.1 @ 2594kbps (core: Dolby Digital 3/2.1 @ 448kbps); Italian: Dolby TrueHD 24/48, 3/2.1 @ 2443kbps (core: Dolby Digital 3/2.1 @ 448kbps); Spanish: Dolby TrueHD 16/48, 3/2.1 @ 1565kbps (core: Dolby Digital 3/2.1 @ 448kbps); Russian: Dolby Digital 3/2.1 @ 640kbps
Subtitles: English, English for the Hearing Impaired, Italian, Portuguese, Spanish, Arabic, Bulgarian, Coratian, Czech, Danish, Dutch, Finnish, Hebrew, Hindi, Hungarian, Icelandic, Norwegian, Polish, Romanian, Slovak, Slovene, Swedish, Turkish
Extras: Trailer for 'Close Encounters of the Third Kind' (1080p24, MPEG2, DD2.0 @ 448kbps - 2 min); Outtake: 'Substance Test' (4:3, 480i60, MPEG2, DD2.0 @ 192kbps - 1 min); Two Featurettes (4:3, 480i60, MPEG2, DD2.0 @ 192kbps - 22 mins); Featurette: 'Welcome to Gattaca' (1080p24, MPEG2, DD2.0 @ 192kbps - 22mins); Six deleted Scenes (4:3, 480i60, MPEG2, DD2.0 @ 192kbps - 11mins); 7669 Test Patterns (1080p24, MPEG2, No audio - 1 min)
Restrictions: Rated

(Australian rating); Region Free

The following video bitrate graph was generated by BDInfo 0.5.3: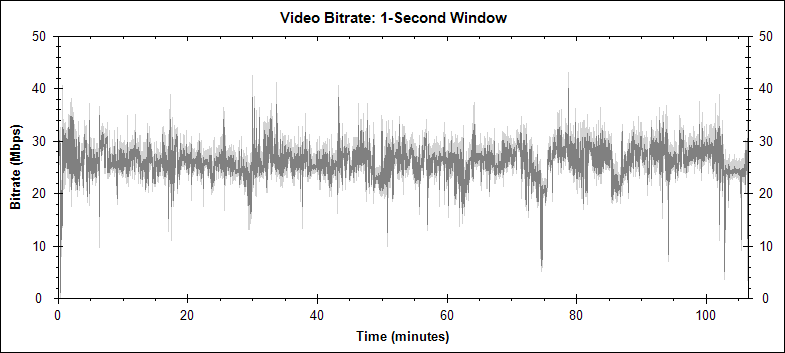 ---
Here are some comparisons between the Australian PAL DVD and the Australia Blu-ray version of this movie. I used the 'Superbit' version of DVD, which provides slightly better picture quality than the standard release.

At the top of each is the full frame (suitably shrunk down) used in the comparison, with a 250 pixel wide detail from the frame underneath. The left side is from the PAL DVD. The image was captured digitally from the disc, scaled up from its native 720 by 576 resolution to 768 by 576 (to present in the correct aspect ratio). I then scaled it, in order for it to be comparable to the Blu-ray version, to 1,920 pixels wide.

The detail is from that last scaled version, and has not been rescaled again. The right side is from the Australian Blu-ray. This has not been scaled at all. Different applications were used to capture the two frames, so I am not comfortable comparing the colour between the two, merely the detail and sharpness. For visitors from NTSC lands, generally the PAL DVD is just a touch sharper than the NTSC DVD.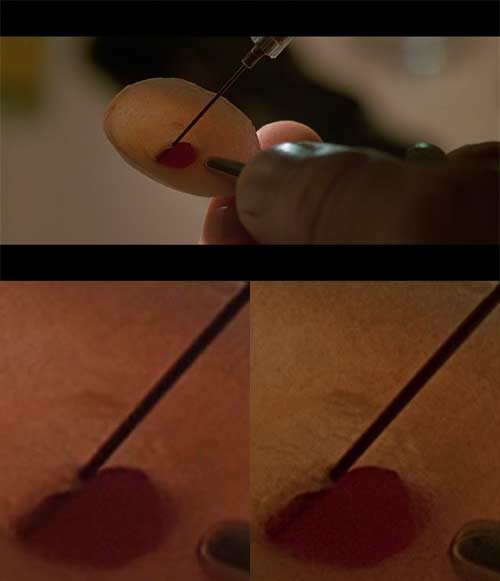 It turns out, as you can see from the Blu-ray, that Uma Thurman has some texture in her lips. Also, the apparent dot or defect on the inner part of her left eye isn't really there, as seen in the Blu-ray: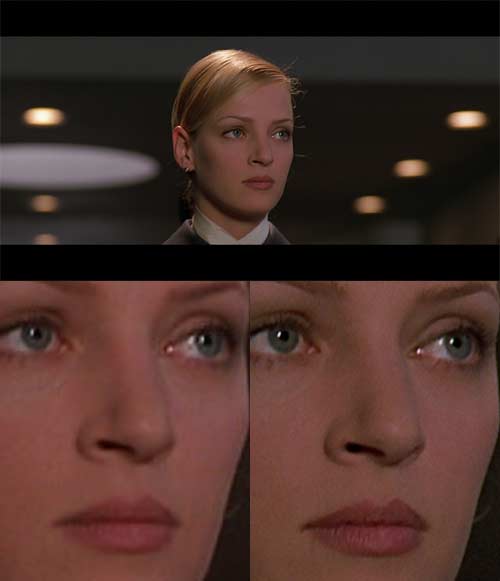 As usual, Blu-ray particularly shines when it comes to a lot of fussy detail. You can't even see the blood sampler on the top of the pedestal in the DVD version of this scene: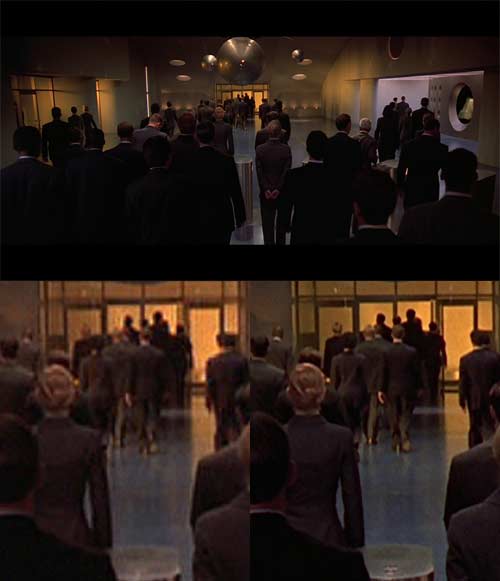 Golly. This scene is almost like VHS vs DVD: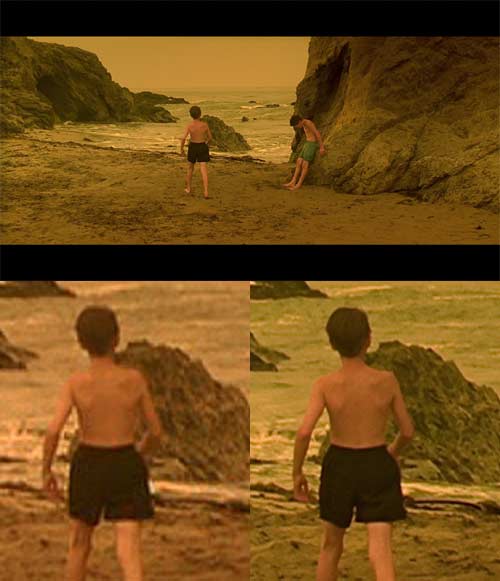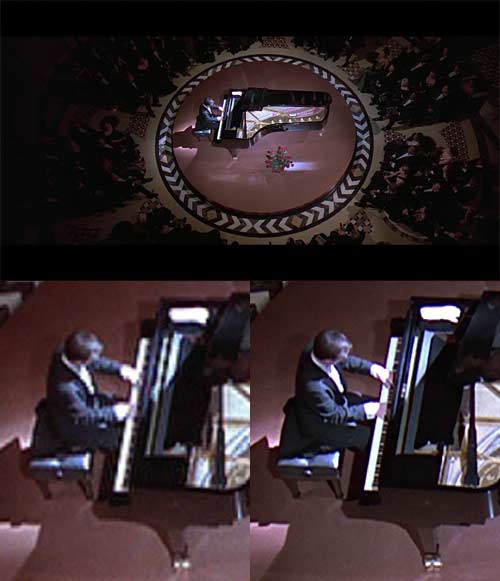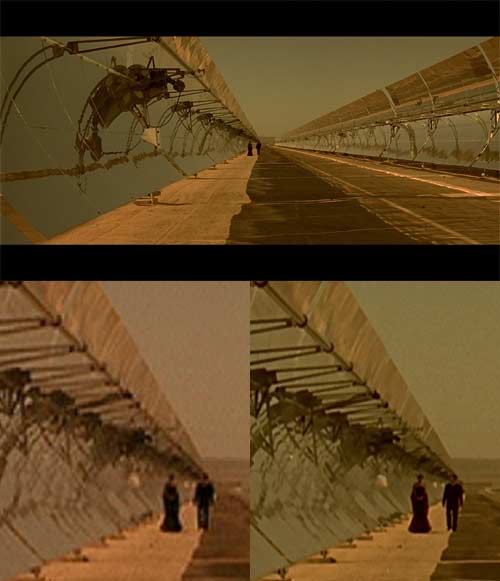 ---
&copy 2002-2010, Stephen Dawson