Home Page | About Me | Home Entertainment | Home Entertainment Blog | Politics | Australian Libertarian Society Blog | Disclosures
---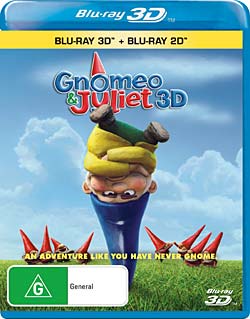 Blu-ray Reviews: Gnomeo and Juliet - Blu-ray 3D
Originally published in Sound and Image, 2011
Last updated 20 August 2012
Download scan of review (JPEG, right click, Save As)
---
Gnomeo and Juliet
2011 - Walt Disney Studios Home Entertainment
Director: Kelly Asbury
Starring: James McAvoy, Emily Blunt, Michael Caine, Maggie Smith, Jason Statham, Ozzy Osbourne, Stephen Merchant, Patrick Stewart, Julie Walters and Hulk Hogan

Movie:

Picture:

Sound:

Extras:

---
I'm not entirely sure why this movie has been so harshly judged. Perhaps it's the predictability of the story. But let's put that aside for the moment and consider some of the virtues.

First, the animation is beautiful. The gnomes, and pretty much everything else, are all magnificently textured. The gnomes all have score marks from the wear and tear of garden life, and the tools of their imagined creation. The older gnomes are weathered and faded in a surprisingly realistic way, with patterns of moss marking many of the secondary characters. All this was beautifully conveyed with a top notch encode. The 2D disc gives you 30.00Mbps, which is plenty to faithfully capture every nuance of the computer-generated artistry. With 3D you get a very healthy 26.00Mbps for the left eye, and 17.29Mbps for the right (the lower right-eye bitrate is because it carries only differences from the left eye view).

Then there was quite a bit of music, mostly Elton John material. You can have a lot of fun just working out which hit Elton song was the basis for the various sections of incidental music.

And the overall sound design was solid, with the added highlight of the movie makers recognising that these are, after all, garden gnomes. When they touch they clink, as ceramics do.

The movie was also one hell of a lot more clever than I had expected, with lots of little Shakespeare references, such as the Rosencratz and Guildenstern removalists.

But there was one major problem. How do you convert a Shakespearean tragedy which ends with a stage liberally strewn with corpses into a G-rated kid's movie? The necessary divergence, I'm happy to report, wasn't merely overlooked, but dealt with in a conversation between Gnomeo and a statue of good old Will himself.

So while I had forced myself to watch this movie out of a sense of duty and because it was one of the few Blu-ray 3D films available, I found myself scoring it 7 out of 10, rather than the 5.9 it gets on the Internet Movie Database. Perhaps its major failing is that it is a bit too cheesy for the mid-teens. Adults secure in themselves can enjoy it, as can younger children lacking the acute social hypersensitivity of their older siblings.

Incidentally, the Blu-ray 3D disc is not playable in a 2D system. You have to play the 2D disc instead. In addition, there appears to be a 3D trailer for Pixar's Cars 2 on the 3D disc, but I could find no way to play it. If it is accessible by some Easter Egg code or technique, the Internet remains oblivious.

I hate Easter Eggs!
---
Facts
Running time: 84 minutes
Picture: 1.85:1, 1080p24, MPEG4 AVC/MVC @ 26.00Mbps/17.29Mbps (30.00Mbps for 2D version)
Sound: DTS-HD Master Audio 24/48 3/4.1 @ 5080kbps (core: DTS 24/48 3/2.1 @ 1509kbps); Spanish (3D version), Greek (2D version): Dolby Digital 3/2.1 @ 640kbps; French (2D version): DTS-HD High Resolution 24/48 @ 2046kbps (core: DTS 24/48 3/2.1 @ 1509kbps); Dutch (2D version): DTS 24/48 3/2.1 @ 1509kbps
Subtitles: English (2D/3D version), English for the Hearing Impaired (2D/3D version), Spanish (3D version), French (2D version), Dutch (2D version), Greek (2D version)
Extras: 2D and 3D versions of movies; 3 Featurettes (1080p24 - 9 mins); 10 Deleted and Alternate Scenes with intros (480i60 - 47 mins); Music Videos (1080p24 - 2 mins)
Restrictions: Rated

(Australian rating); Region free

The following video bitrate graphs were generated by BDInfo 0.5.7. This is for the main stream of the 3D version: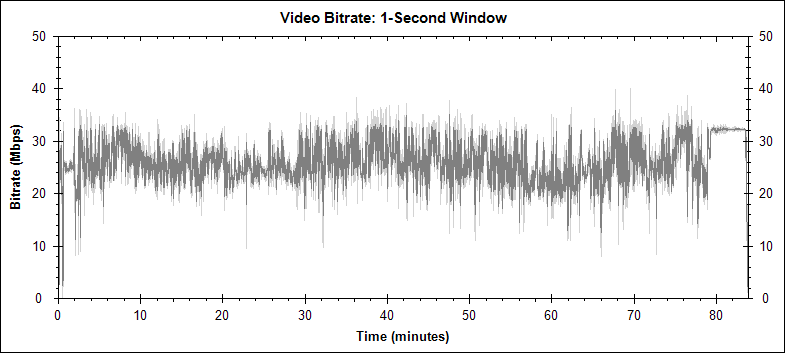 This is for the MVC 3D video stream: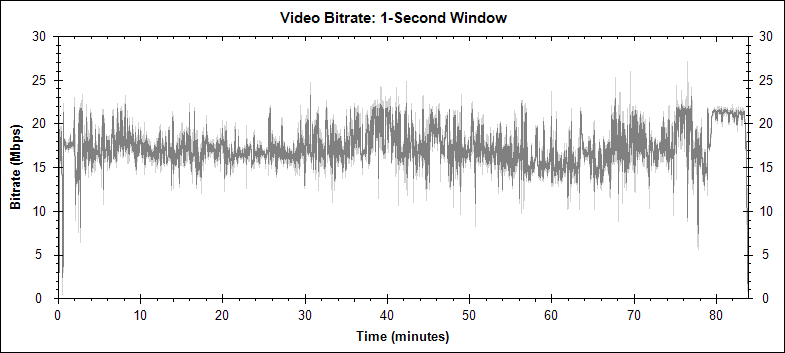 This is for the 2D version: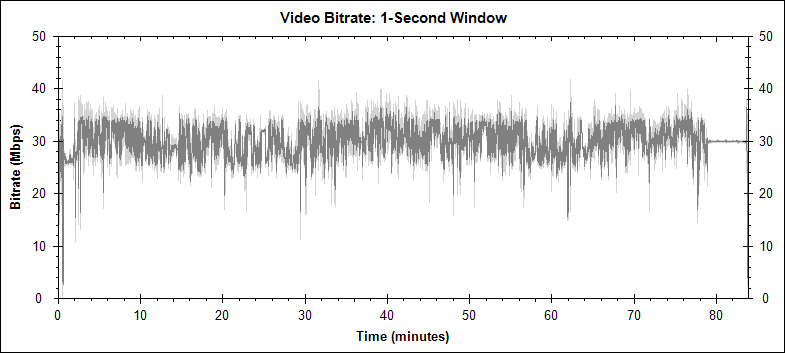 ---
&copy 2002-2012, Stephen Dawson