Home Page | About Me | Home Entertainment | Home Entertainment Blog | Politics | Australian Libertarian Society Blog | Disclosures
---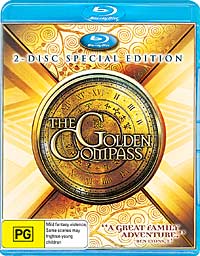 Originally published in Sound and Image, Nov/Dec 2008, v.22#2
Last updated 21 April 2009
---
The Golden Compass
2007 - Roadshow Entertainment
Director: Chris Weitz
Starring: Nicole Kidman, Daniel Craig, Dakota Blue Richards, Ben Walker, Freddie Highmore, Ian McKellen and Eva Green

Movie:

Picture:

Sound:

Extras:

---
Fantasy movies with top-notch special effects seem to be the order of the day, and The Golden Compass fits rather nicely into the genre. Apparently the fans of the novels upon which the movie is based didn't like it all that much. I didn't mind it at all, and if you're interested in political philosophy, you can even draw out a nice anti-government theme.

I got all excited for a moment when I looked at the back of the box. There it said 'Enhanced Visual Commentary'. I got excited not because I wanted to necessarily look at the movie's director while he explained what he did, but because I thought this might be another BonusView title I could add to my small collection. I need these to test out Blu-ray players.

But there were limitations on this commentary. In particular, the mighty 7.1 channel DTS-HD Master Audio soundtrack didn't seem to be available. The sound instead was standard DTS at 1,536kbps. So I whacked the disc into my computer and checked what PowerDVD had to say. As far as it was concerned there was no secondary video or audio. So I explored further.

The dual layer disc is large, containing 44.8GB of data. But most of the extensive special extras -- including lots of photos galleries and nearly three hours of high definition featurettes -- are on the second disc. The movie is only 113 minutes long, and VC1 encoded video couldn't seem to use this much data, even with that mighty sound track (this dawdles along at between four and seven megabits per second normally, and peaks over nine during some of the loud bits!) And it doesn't use that much data. Roadshow, in view of the existence of Grace Period Blu-ray players, has actually placed the movie on the disc twice. The regular movie resides in the file named 00004.m2ts which is some 24.1GB in size, while the 'Enhanced Visual Commentary' version is in file 00000.m2ts and comes to 20.0GB (presumably thanks to the reduced audio data load). The other 0.7GB is menus, the Roadshow logo, and such.
---
Facts
Running time: 113 minutes
Picture: 2.35:1 anamorphic, 1080p24, VC1 @ 22.36Mbps (plain version, 22.56Mbps for 'Enhanced Visual Commentary' version)
Sound: English: DTS-HD Master Audio 24/48 3/4.1 @ 5984kbps (Core: DTS 24/48 @ 1536kbps); Commentary: DTS 2/0.0 @ 255kbps
Subtitles: English
Extras: Movie with Enhanced Visual Commentary; Eleven featurettes (1080i60, VC1, DTS 2.0 24/48 @ 256kbps - 168 mins); Three trailers (1080p24, VC1, DTS 3/2.1 24/24 @ 1536kbps - 7 mins); Interactive photo galleries
Restrictions: Rated

(Australian rating); Region B Locked

This is the video bitrate graph for this movie, generated by BDInfo 0.5.2: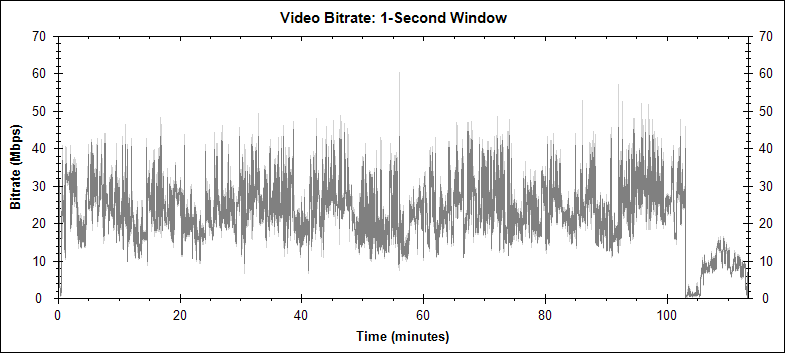 And here is the video bitrate graph for the Enhanced Visual Commentary version of this movie: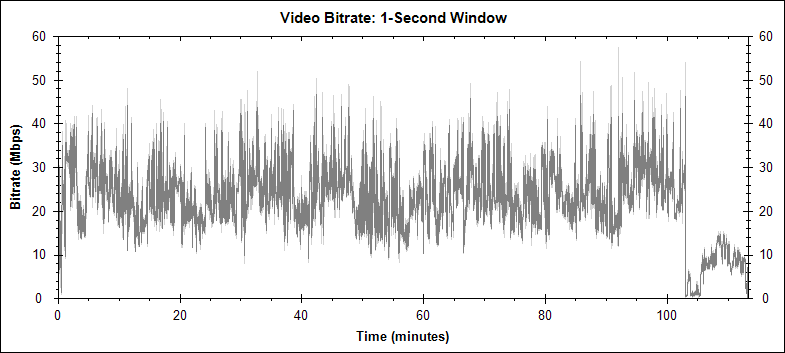 ---
&copy 2002-2009, Stephen Dawson