Home Page | About Me | Home Entertainment | Home Entertainment Blog | Politics | Australian Libertarian Society Blog | Disclosures
---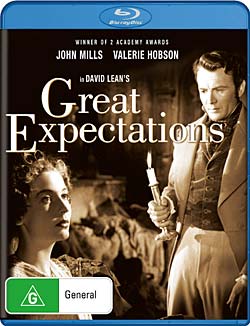 Not previously published
Last updated 12 December 2010
---
Great Expectations
1946 - Beyond Home Entertainment
Director: David Lean
Starring: John Mills, Tony Wager, Valerie Hobson, Jean Simmons, Bernard Miles, Francis L. Sullivan, Finlay Currie, Martita Hunt and Alec Guinness

Movie:

Picture: TBA Sound: TBA Extras: Nil
---
No review as yet.
---
Facts
Running time: 118 minutes
Picture: 1.37:1 (pillarboxes on 16:9 frame), 1080p24*, VC1 @ 22.00Mbps
Sound: English: Dolby Digital 2/0.0 @ 640kbps
Subtitles: English
Extras: Nil
Restrictions: Rated

(Australian rating); Locked to Region B

The following video bitrate graph was generated by BDInfo 0.5.6: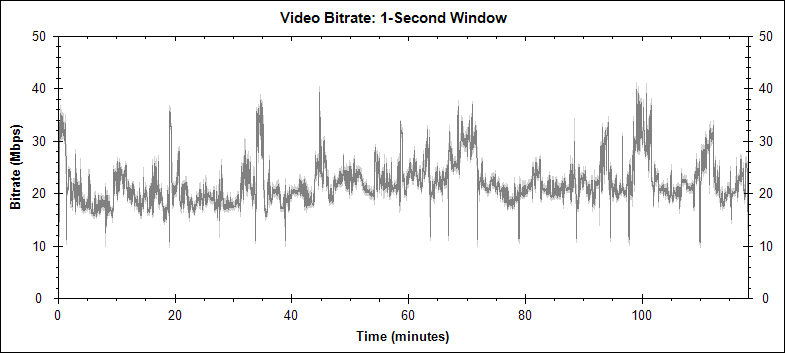 ---
Here are some comparisons between the Australian PAL DVD and the Australia Blu-ray version of this movie. The Blu-ray was supplied to me by Beyond Home Entertainment. The PAL DVD is the Magna Pacific Pty Ltd version, purchased by me in 2007.
At the top of each is the full frame (suitably shrunk down) used in the comparison, with a 250 pixel wide detail from the frame underneath. The left side is from the PAL DVD. The image was captured digitally from the disc, scaled up from its native 720 by 576 pixel resolution to 768 by 576 (to present in the correct aspect ratio) by the application. I then scaled it, in order for it to be comparable to the Blu-ray version, to 1,440 by 1,080 pixels.
The detail is from that last scaled version, and has not been rescaled again. The right side is from the Australian Blu-ray. This has not been scaled at all. Different applications were used to capture the two frames, so some caution should be exercised in judging colour and brightness.
For visitors from NTSC lands, generally the PAL DVD is just a touch sharper than the NTSC DVD.
I like text because it gives you a very clear sense of the differences, as we can see here: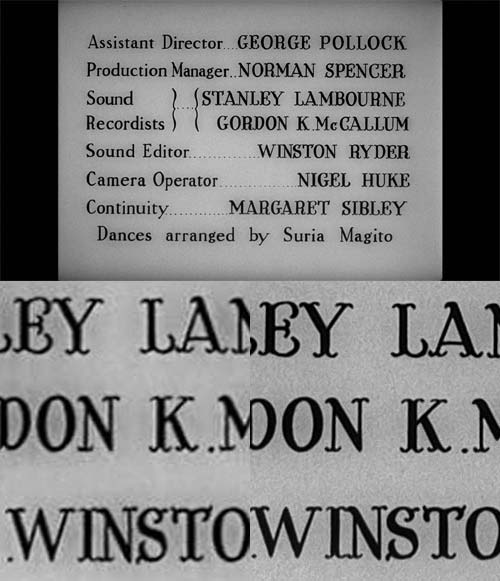 Despite it being obvious that the print from which the Blu-ray was taken included a couple of defects (a scratch and a speck), the detail on the boy's face is still mighty impressive in the new format.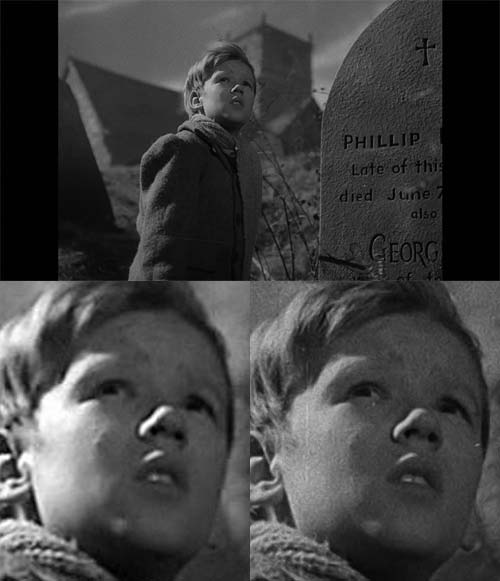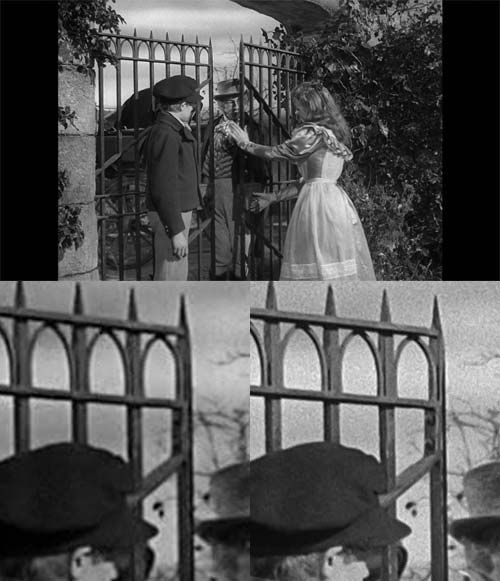 Here's another detail from the same frame, showing how much more natural the foilage is on Blu-ray: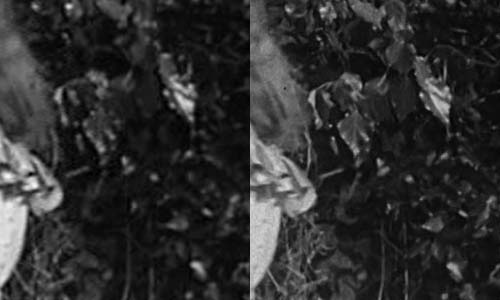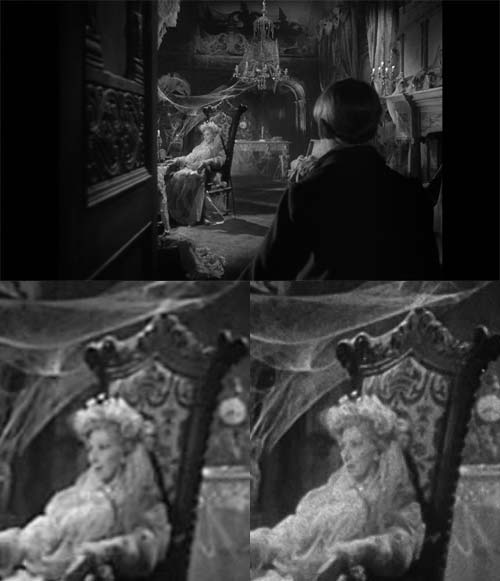 ---
&copy 2002-2010, Stephen Dawson