Home Page | About Me | Home Entertainment | Home Entertainment Blog | Politics | Australian Libertarian Society Blog | Disclosures
---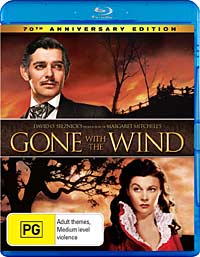 Originally published in Sound and Image, May 2010, v.23#06
Last updated 20 August 2010
---
Gone With the Wind (Ultimate Collector's Edition)
1939 - Warner Bros Entertainment Australia Pty Ltd
Director: Victor Fleming
Starring: Thomas Mitchell, Barbara O'Neil, Vivien Leigh, Hattie McDaniel, Oscar Polk, Butterfly McQueen, Leslie Howard, Olivia de Havilland, Rand Brooks, Carroll Nye and Clark Gable

Movie:

Picture:

Sound:

Extras:

---
For me there is one aspect of Gone with the Wind that has threatened to derail my enjoyment: Leslie Howard. The obsession of the initially 16 year old Scarlett for the languid 46 year old harshly challenged my ability to suspend disbelief. Fortunately the casting of everyone else was perfect, especially Vivien Leigh as Scarlett and Clarke Gable as Rhett. Hattie McDaniel, who played Scarlett's slave (later servant) received the first Academy Award for an African American.

All this in a story that encompasses about ten years across the most tearing of national times in the US, starting on the eve of the Civil War. Of course it doesn't touch at all on the issue of slavery, and takes a largely pro-South view, but it is primarily about several individuals throughout that time.

If you haven't seen it, and a historical romance doesn't pique your interest, consider giving it a go anyway. I didn't even notice the nearly four hours passing, except for the intermission after a hundred or so minutes. It was engrossing.

And it was in colour, in a day when that was very rare. The full 3-strip Technicolor process had only been around for a few years and it cost a fortune to use. This movie used it to the fullest, allegedly employing all seven Technicolor cameras then in Hollywood to shoot the huge fire scene.

The movie has been extensively restored using a Warner Bros developed process which involves making an 8K digital scan (Blu-ray is slightly less than 2K) and then digitally re-aligning the three Technicolor strips to account not only for shrinkage and warping over the last seven decades, but also for the slight inaccuracies in the original registration at the time of shooting. Basically the picture looks glorious, if not quite as sharp as a modern CGI-enhanced production. The Technicolor 'look' is definitely there, with that company's own idea as to what constitutes accurate colour.

Importantly, the blacks are strong without appearing to have had near-blacks crushed into them. In general the picture stability is excellent too, with very little frame wobble. But occasionally a frame has been lost -- whether in the original production or since is unclear. For example, at 12:45 two frames are missing a couple of seconds apart, and even in the emotionally intense scene of the Scarlett/Ashley interaction at 2:07:17, either several frames have been dropped, or a mid-scene cut was made. At ten minutes into the movie one shot of several seconds is badly out of focus, which is likely to have been due to the original footage.

See how picky I have to be just to find something to complain about? Because, as a rule, this movie is lovely. It is presented at an adequate 18.4Mbps in the VC1 format, and the original 1.37:1 aspect ratio is preserved by putting black bars to either side of it in the 16:9 frame.

Apparently the sound source was original recordings that some studio executive ordered destroyed decades ago, but which an employee hid away instead. The audio is clean, and the Dolby TrueHD presentation suggests that every bit of resolution available from the source is delivered on this disc. However we are talking 1938/39 recording here, so it remains bandwidth constrained. Some minimal surround has been added to give 5.1 channels, but there is little to them and they don't detract, leaving the dialogue perfectly clear, even if the orchestral score sounds totally unrealistic. For the purist, there's also a Dolby Digital 1.0 track in the original mono at a respectable 192kbps.

In this Ultimate Collector's Edition version there are a huge number of extras, enough to warrant them receiving four out of five stars despite them all lamentably being in standard definition. All reside on the second disc. That there are a lot of them is suggested by the use of 27GB of a dual layer Blu-ray disc to hold them (the movie disc is 41.2GB in size, nearly all of which is consumed by the movie).

You get six hours of documentaries, nearly an hour of mini-featurettes and a couple of contemporary (with the movie making, not the setting!) film clips. Plus a 1980 TV movie about the struggle between the leading actresses of the time to get the Scarlett role (not Katherine Hepburn, though, who apparently refused to submit to a screen test).

Note, all the Extras shown below are for the Ultimate Collector's Edition, and all of them are on Disc 2. Disc 1 contains only the feature (with a commentary).
---
Facts
Running time: 233 minutes
Picture: 1.37:1, 1080p24, VC1 @ 18.40Mbps
Sound: English: Dolby TrueHD 16/48 3/2.1 @ 1251kbps (core: Dolby Digital 3/2.1 @ 640kbps); French, German, Italian, Spanish: Dolby Digital 3/2.1 @ 384kbps; Spanish, Portuguese, Japanese, English: Dolby Digital 1/0.0 @ 192kbps; Commentary: Dolby Digital Surround 2/0.0 @ 192kbps
Subtitles: English, French, German, Italian, Italian for the Hearing Impaired, Spanish, Dutch, Spanish, Portuguese, Norwegian, Danish, Finnish, Swedish, Japanese
Extras: 6 Documentaries (480i60, VC1, DPL2.0 @ 192kbps - 374 mins); 2 Scenes of Additional Footage (480i60, VC1, DPL2.0 @ 192kbps - 4 mins); 18 Featurettes (480i60, VC1, DPL2.0 @ 192kbps - 50 mins); Historical Theatrical Short: 'The Old South' (480i60, VC1, DPL2.0 @ 192kbps - 11 mins); Newsreel excerpt: 'Dixie Hails Gone with the Wind' (480i60, VC1, DPL2.0 @ 192kbps - 4 mins); TV Movie: 'The Scarlett O'Hara War' - 1980 (480i60, VC1, DPL2.0 @ 192kbps - 97 mins); 5 Trailers (480i60, VC1, DPL2.0 @ 192kbps - 14 mins)
Restrictions: Rated

(Australian rating); Region Free

The following video bitrate graph was generated by BDInfo 0.5.3: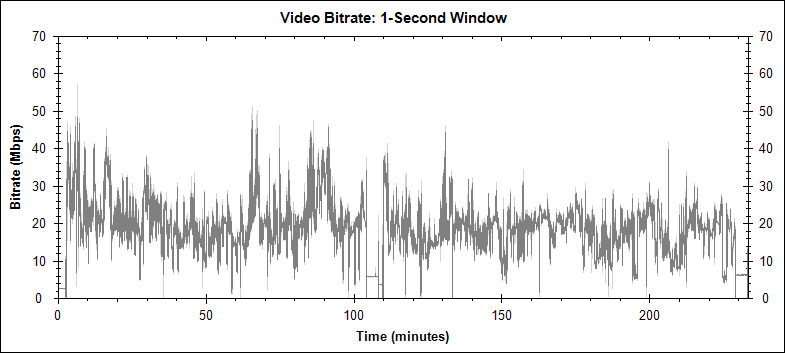 ---
Here are some comparisons between the Australian PAL DVD and the Australia Blu-ray version of this movie. The Blu-ray was supplied to me by Warner Bros in 2009, while the PAL DVD was supplied to me by Warner Bros way back in December 2000.

At the top of each is the full frame (suitably shrunk down) used in the comparison, with a 250 pixel wide detail from the frame underneath. The left side is from the PAL DVD. The image was captured digitally from the disc, scaled up from its native 720 by 576 resolution to 768 by 576 (to present in the correct aspect ratio) by the application. I then scaled it, in order for it to be comparable to the Blu-ray version, to 1,440 pixels wide (1,080 pixels high) to match the Blu-ray.

The detail is from that last scaled version, and has not been rescaled again. The right side is from the Australian Blu-ray. This has not been scaled at all. Different applications were used to capture the two frames, however in general encodes taken from the same master do tend to look largely similar. In this comparison there are clear differences in the colour cast between the two versions, and the brightness levels.

For visitors from NTSC lands, generally the PAL DVD is just a touch sharper than the NTSC DVD.

Before getting the comparison, let's look briefly at two interesting frames from this movie. The first is not representative of the movie, but apparently the movie makers felt that they could get away with it at the cinemas of 1939. It is where Scarlett meets her father near the start, and there's a brief long shot as she runs to greet him on the river bank. Talk about soft. This is clearly the way it was shot (full frame to the left, unscaled detail to the right):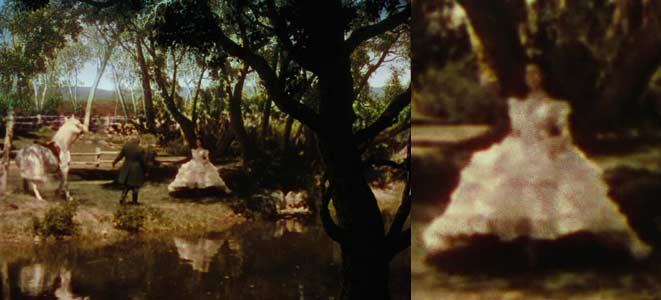 There there are the interestingly rudimentary special effects used -- only once that I noticed. Want a shot of the carriages approaching a stately home, but can't get permission to use it? Well, why not just double expose the frames. The result may appear ghostly, but it will do: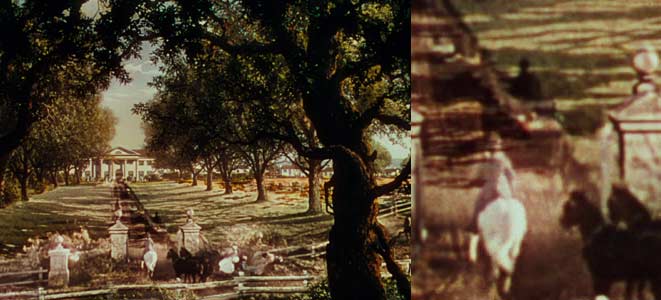 Massive amounts of detail, if a little grain. Notwithstanding the above, in some places it can be hard to believe it was filmed more than seventy years ago: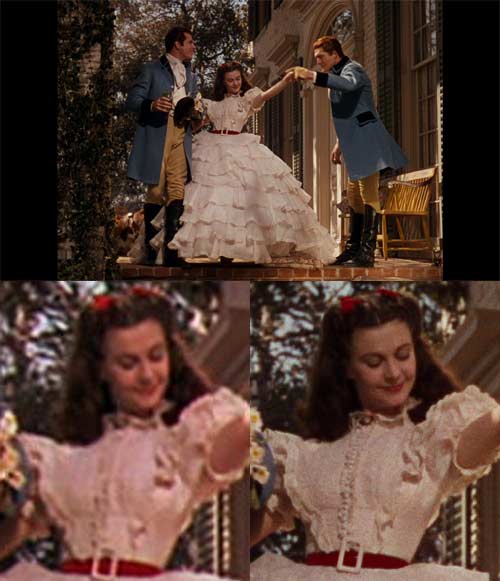 Here Mammy (Hattie McDaniel) doesn't benefit quite so much from increased detail and sharpness, and there is quite a bit more grain, but the lack of low level compression noise make the whole thing look much more natural: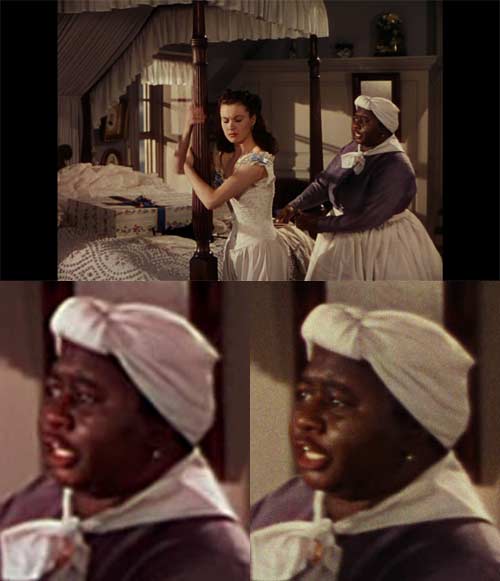 Rhett's first appearance. Hard to see how super cool he is, or the check on his tie, from the DVD:
This is one of the killer Civil War scenes of the movie, giving some sense of the losses involved, but most of it blues into indistinctness on the DVD, while detail is retained by the Blu-ray: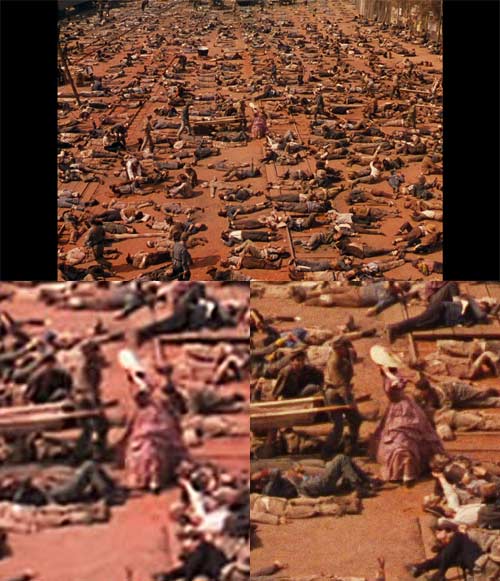 There's a little edge enhancement on the DVD that rather detracts from the image: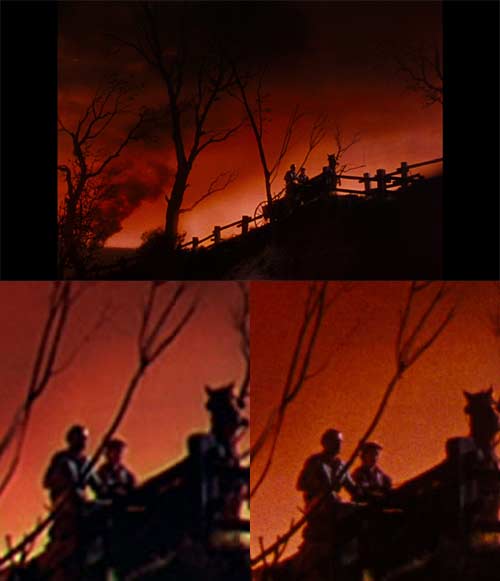 Mammy is finally starting to realise that he mistress is a grade A bitch, but I wanted to focus on this glorious crochet. Really, does anything more need to be said: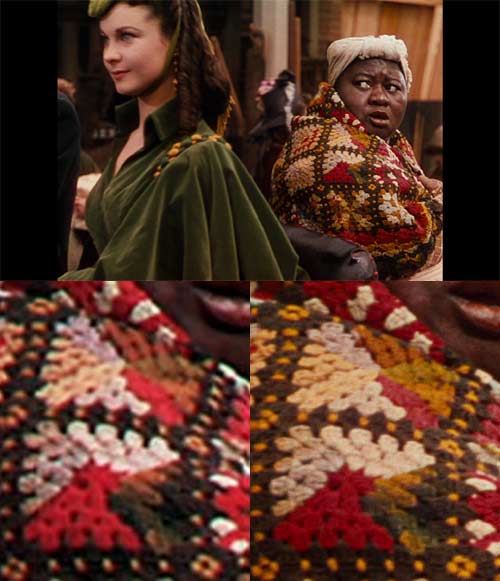 ---
&copy 2002-2010, Stephen Dawson