Home Page | About Me | Home Entertainment | Home Entertainment Blog | Politics | Australian Libertarian Society Blog | Disclosures
---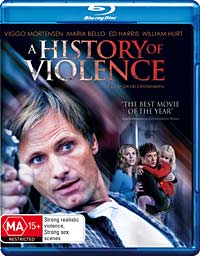 Originally published in Sound and Image, Nov/Dec 2009, v.23#02
Last updated 25 February 2013
Download scan of review (JPEG, right click, Save As)
---
A History of Violence
2005 - Roadshow Entertainment
Director: David Cronenberg
Starring: Viggo Mortensen, Maria Bello, Ed Harris, William Hurt, Ashton Holmes, Stephen McHattie and Greg Bryk

Movie:

Picture:

Sound:

Extras:

---
Viggo Mortensen seems the perfect actor for this tale of drama and violence. He takes the role Tom Stall, family man, forced to defend himself and his family, and makes it real.

Meanwhile his identity is under question, and Mortensen is perfect for that as well.

And so we have a marvellously intense movie from a director -- Cronenberg -- who seems to specialise in intensity. If you haven't seen this movie, you're lucky because you still have the experience ahead of you to enjoy.

Now let's talk Blu-ray. This release is from Roadshow Entertainment which, unlike most of the others, doesn't really have a single 'house style' for its Blu-ray presentations. That's because its movies tend to come under a number of different contractual arrangements. The company distributes The Matrix, for instance, under an agreement with Warner Bros, and the Blu-ray version provided in Australia seems to be identical to the US version provided by Warner Bros, even down to the lack of region coding.

This movie was produced by New Line Cinema, though, and Roadshow's distributions of that company's titles are more tailored to Roadshow's own needs. Thus this title receives a Region B lock, and the disc opens with Roadshow Entertainment's own video logo.

I don't normally remark on such things as company logos, but this one is what you get when a US company is charged with delivering Australian content. Roadshow clearly provided a 50 hertz source tape. It is delivered on this disc in 1080i60 format, and judders and jerks horribly.

No matter, that's only 14 seconds.

What's more interesting is that the disc is presented in the Warner Bros style: no main menu, and jumping automatically into the movie after the preliminaries (eg. company logos) have been completed. At the end you get a menu with the special extras listed.

New Line Cinema is owned by Warner Bros, and apparently uses the same authoring house for its Blu-ray releases, thus the Warner look.

And some other Warner characteristics, such as wasting space. The movie actually looks quite good, despite the 18.41Mbps VC1 encode. If space were a problem I could understand this, but there is 5GB of unused space on the surface of this single layer disc. And some of the space that is used is wasted on a completely redundant 640kbps Dolby Digital audio track.

As a matter of principle, most viewers should instead select the Dolby TrueHD track. As well as being at least theoretically better, it actually has a Dolby Digital 5.1 track at 640kbps contained within it. The standalone Dolby Digital track is simply an unnecessary repetition of this 'core'.

And to add an additional layer of irritation, the disc defaults to the standalone Dolby Digital track. Since there is no pause at a main menu, you have to use the pop-up menu as the disc is starting to find and select the TrueHD option.

But enough of the rant, for the movie makes these troubles worth overcoming. The sound is good, although as is commonly the case, the gunshots are underwhelming. There isn't a whole lot of surround action (which is why the TrueHD average bitrate is only 1212kbps). You get some interesting featurettes, unfortunately at 480i60, the most intereresting of which shows the slight reductions in blood and exposure that were necessary for the US version to achieve a specific censorship rating in America.
---
Facts
Running time: 96 minutes
Picture: 1.85:1, 1080p24, VC1 @ 18.41Mbps
Sound: English: Dolby TrueHD 16/48 3/2.1 @ 1212kbps (core: Dolby Digital 3/2.1 @ 640kbps); English: Dolby Digital 3/2.1 @ 640kbps; Commentary: Dolby Digital 2/0.0 @ 224kbps
Subtitles: English for the Hearing Impaired
Extras: 11 Featurettes (480i60, VC1, DPL2.0 @ 192kbps - 84 mins); Deleted Scene with Optional Commentary (1080p24, VC1, 2 x DPL2.0 @ 192kbps - 3 mins); Trailer (480i60, VC1, DPL2.0 @ 192kbps - 2 mins)
Restrictions: Rated

(Australian rating); Region Free

The following video bitrate graph was generated by BDInfo 0.5.2: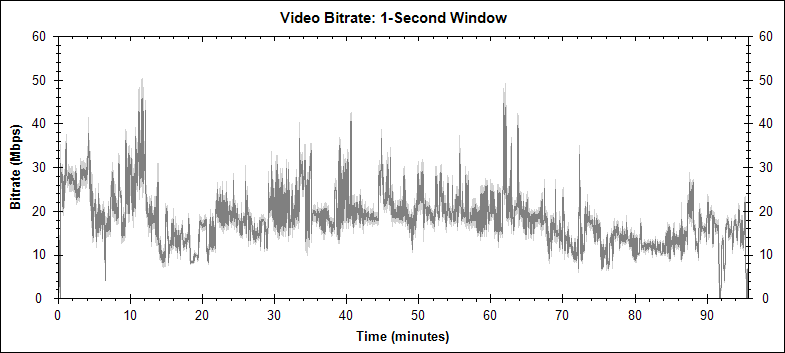 ---
Here are some comparisons between the Australian PAL DVD and the Blu-ray versions of this movie. The DVD version was one I had previously purchased, while the Blu-ray version was a commercial copy supplied by Roadshow Entertainment.

In the following examples, at the top of each is the full frame (suitably shrunk down) used in the comparison, with a 250 pixel wide detail from the frame underneath. The left side is from the PAL DVD. The image was captured digitally from the disc (using VideoReDo Plus), scaled up from its native 720 by 576 resolution to 1,024 by 576 (to present in the 16:9 aspect ratio), and then, in order to be comparable to the Blu-ray version, from that to 1,920 by 1,080. The detail is from that last scaled version, and has not been rescaled again. The right side is from the Australian Blu-ray (captured using the command-line media player MPplayer). This has not been scaled at all.

Since different applications were used to capture the two frames, I am not normally comfortable comparing the brightness or colour between the two. For those visitors from NTSC lands, generally PAL DVDs are just a touch sharper than NTSC DVDs.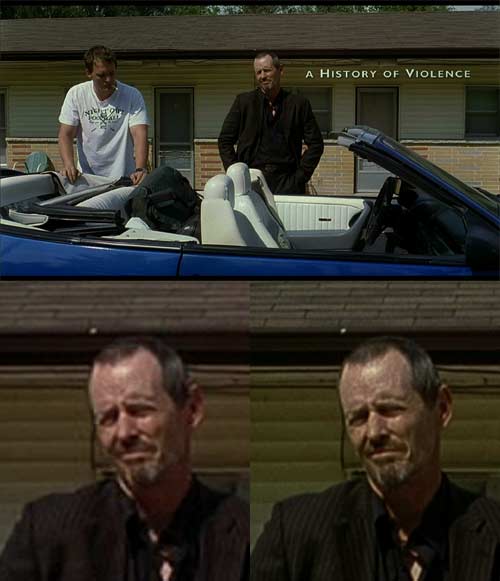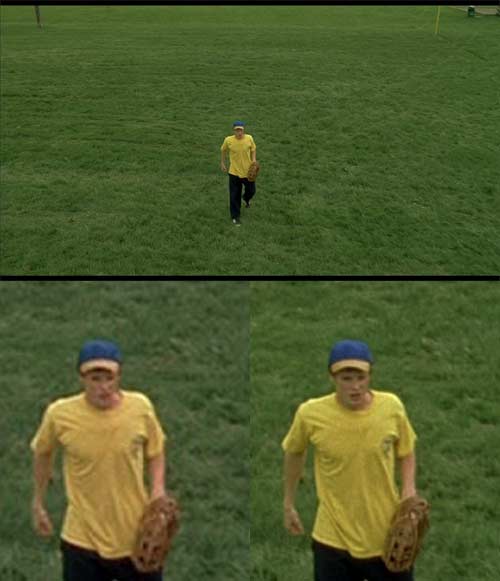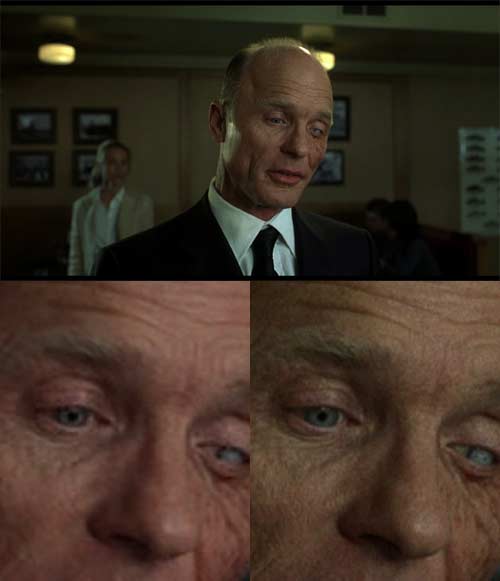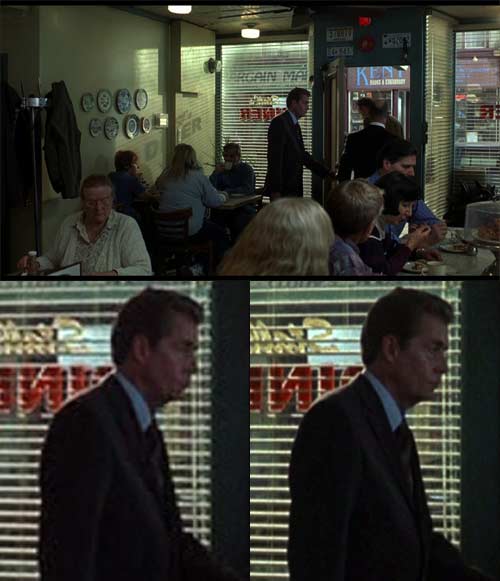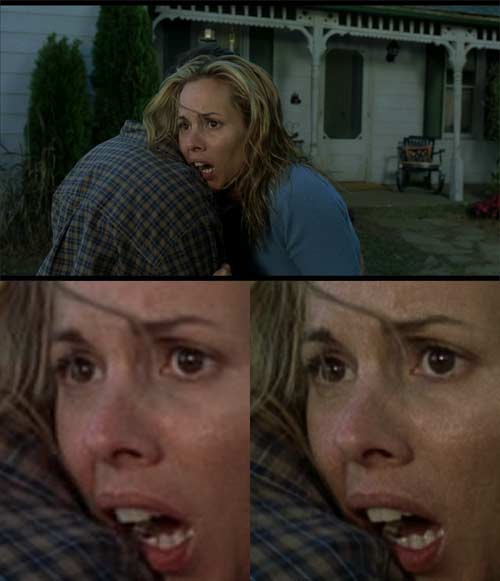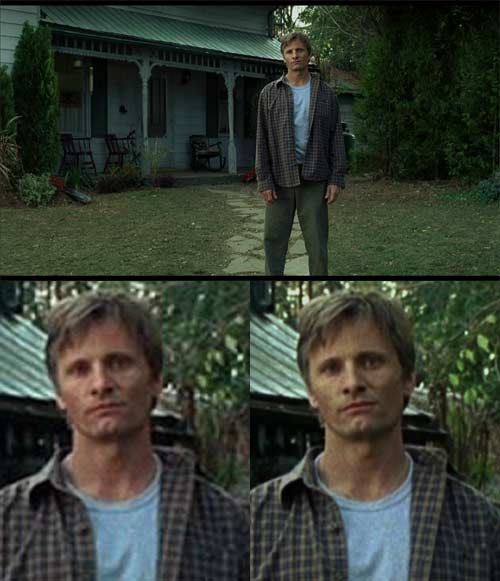 ---
&copy 2002-2009, Stephen Dawson