Home Page | About Me | Home Entertainment | Home Entertainment Blog | Politics | Australian Libertarian Society Blog | Disclosures
---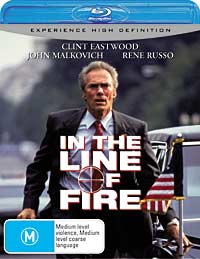 Not previously published
Last updated 7 April 2010
---
In the Line of Fire
1993 - Sony Pictures Home Entertainment Australia
Director: Wolfgang Petersen
Starring: Clint Eastwood, John Malkovich, Rene Russo, Dylan McDermott, Gary Cole and Fred Dalton Thompson

Movie:

Picture:

Sound:

Extras:

---
No review as yet.
---
Facts
Running time: 129 minutes
Picture: 2.35:1, 1080p24, MPEG4 AVC @ 24.95Mbps
Sound: English: Dolby TrueHD 16/48 3/2.1 @ 1435kbps (Core: Dolby Digital 3/2.1 @ 640kbps); Spanish: Dolby TrueHD 16/48 3/2.1 @ 1454kbps (Core: Dolby Digital 3/2.1 @ 640kbps); Russian: Dolby Digital 3/2.1 @ 640kbps; Commentary: Dolby Digital (Pro Logic flag) 2/0.0 @ 192kbps
Subtitles: English, English-SDH, Spanish, Arabic, Bulgarian, Croation, Czech, Danish, Dutch, Finnish, Greek, Hebrew, Hindi, Hungarian, Icelandic, Norwegian, Polish, Portuguese, Romanian, Slovene, Swedish, Turkish, English (Commentary), Spanish (Commentary)
Extras: Four Featurettes (4:3, 480i, MPEG2, DD2.0 @ 192kbps - 53 mins); Deleted Scenes (4:3, 2.35:1 letterboxed, 480i, MPEG2, DD2.0 @ 192kbps - 5 mins); Four Trailers for other movies (1080p24, MPEG2, DD5.1 @ 640kbps - 9 mins); 7669 Test Patterns (1080p24, MPEG2 - 1 min)
Restrictions: Rated

(Australian rating); Region Free

The following video bitrate graph was generated by BDInfo 0.5.3: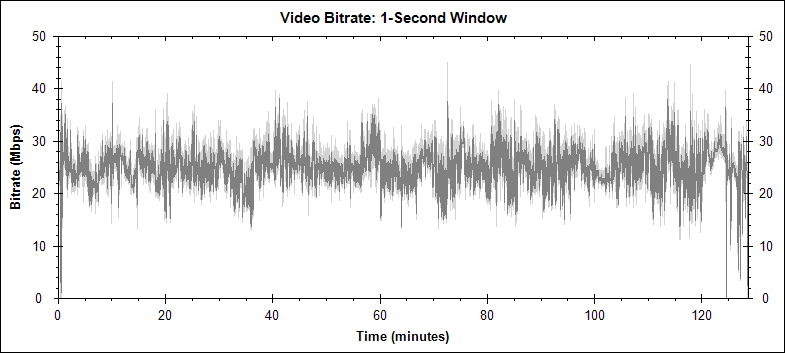 ---
Here are some comparisons between the PAL DVD and the Blu-ray version of this movie.

The DVD is the 'Collector's Edition' DVD. This movie was issued very early on a previous DVD which had almost no special extras and carried the audio in MPEG2 format in addition to Dolby Digital. The Collector's Edition, released in 2001, dropped the MPEG2 audio, added extras and replaced the earlier one.

The video quality of this DVD was generally well reviewed, such as here, which gave it four out of five stars overall, noting that 'no MPEG artefacts' were noticed. That review was written in 2001. How things have come along!

I reviewed that DVD in 2007 for Australian HI-FI and stated:
Unfortunately, this fine movie is presented on a DVD that makes it difficult to watch, unless you have a small screen so the defects aren't apparent. The review DVD was the 'Collector's Edition' version, which has two fairly lengthy documentaries and several shorter pieces. In total, they amount to around 70 minutes of running time. Since the movie itself goes for 123 minutes, around two and a quarter hours of material has to be packed into this dual layer DVD. Include the one megabit per second of the four audio tracks, and there isn't much room left to devote to the DVD's video. In fact, it ends up with an average bitrate of just 4.00Mbps, which is truly poor.

For comparison, the first DVD release of this movie was on a single layer disc, with both MPEG multichannel and Dolby Digital 5.1 audio, and still it managed a 3.70Mbps average video bitrate.

The result: obvious MPEG artefacts in the form of mottled fine details (especially in backgrounds), made worse by artificial sharpening. Not nice.
The difference a modern display makes! Happily, things are much better for the Blu-ray.

In the following examples, at the top of each is the full frame (suitably shrunk down) used in the comparison, with a 250 pixel wide detail from the frame underneath. The left side is from the PAL DVD. The image was captured digitally from the disc, scaled up from its native 720 by 576 resolution to 1,024 by 576 (to present in the 16:9 aspect ratio), and then, in order to be comparable to the Blu-ray version, from that to 1,920 by 1,080. The detail is from that last scaled version, and has not been rescaled again. The right side is from the Australian Blu-ray. This has not been scaled at all.

Different applications were used to capture the two frames, so I am not normally comfortable comparing the colour between the two, merely the detail and sharpness. For those visitors from NTSC lands, generally the PAL DVD is just a touch sharper than the NTSC DVD.

This Blu-ray is not particularly sharp, whether that be due to the original cinematography, subsequent treatment of the film, or the transfer. Nonetheless, it is a pleasure to watch because it is extremely natural looking, and of course lacks the mottled noise and distortion of the DVD: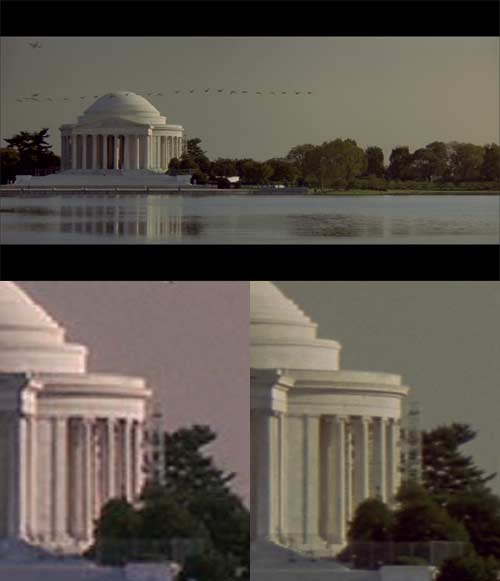 Despite what I said about the colour above, the DVD did tend towards pink. Notice also how the chrome rail actually looks metallic in the Blu-ray, but not the DVD: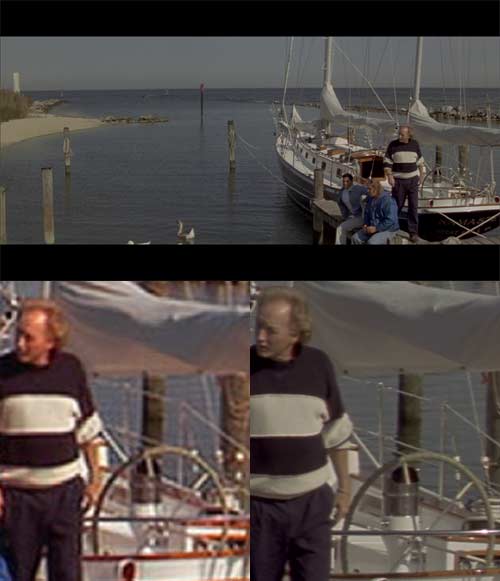 Yes, that is Clint running alongside the President's limo, a fact apparent only from the Blu-ray: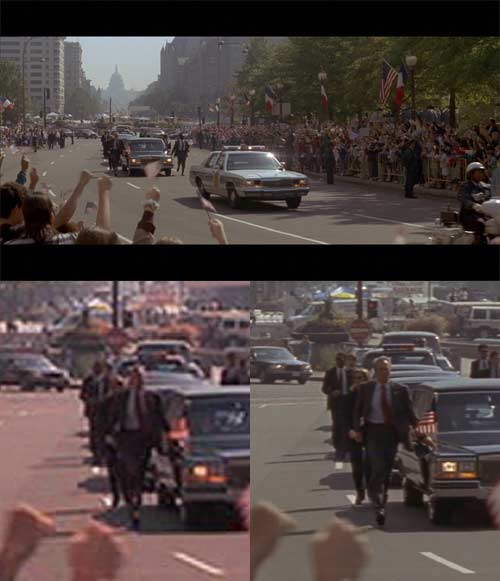 This makes it clear what I meant about mottled backgrounds: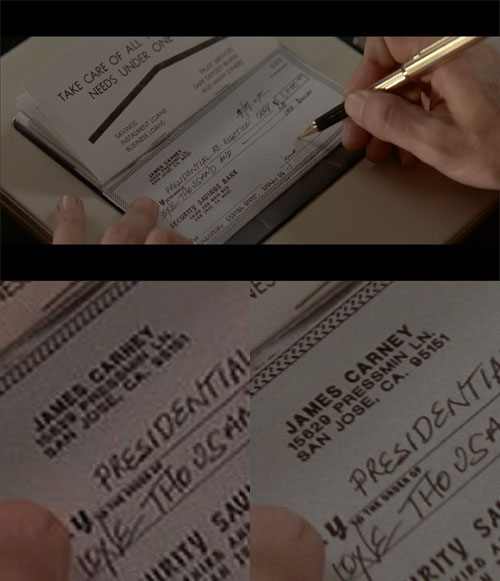 Count the losses in the DVD: accurate colour, the weave of the brass-bound box, the wrinkles of the cushion, the stripes on the couch. Note also the addition: a ghost to the sides of the candlestick: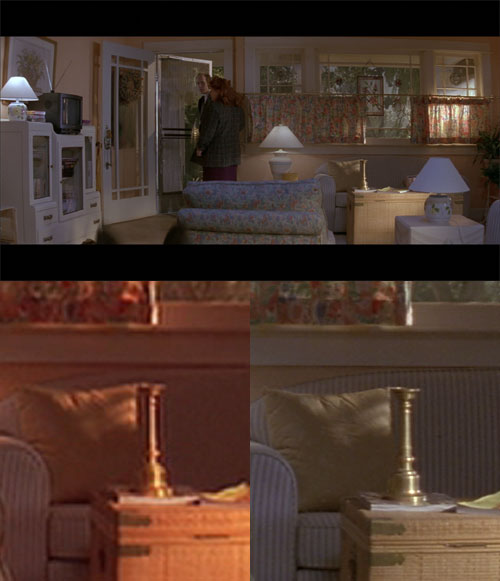 So little detail in the DVD, it is unclear where someone would stand on this landing: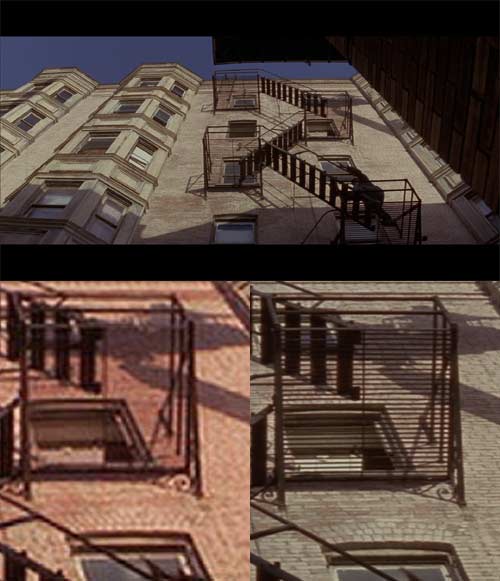 ---
&copy 2002-2010, Stephen Dawson