Home Page | About Me | Home Entertainment | Home Entertainment Blog | Politics | Australian Libertarian Society Blog | Disclosures
---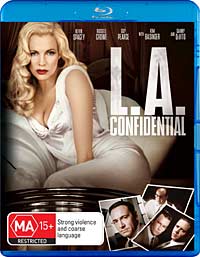 Originally published in Sound and Image, May/June 2009, v.22#6
Last updated 7 April 2010
---
L.A. Confidential
1997 - Warner Bros Entertainment Australia Pty Ltd
Director: Curtis Hanson
Starring: Kevin Spacey, Russell Crowe, Guy Pearce, James Cromwell, Kim Basinger, Danny DeVito, David Strathairn and Ron Rifkin

Movie:

Picture:

Sound:

Extras:

---
If you are planning a movie marathon and wish to include L.A. Confidential, make it the last one. For it will charge you up with the greatness of the cinematic arts and make you want to watch another movie. And then you will despair, as you realise that after this movie, nearly all others must disappoint.

This movie weaves a tale of 1950s Los Angeles police in the days before the Miranda rights. Starting with three policeman, each of whom is pretty disgusting in his own way, the characters actually develop in unexpected ways. Two of them were also vehicles for introducing Russell Crowe and Guy Pearce to the wider movie world.

L.A. Confidential was an early DVD release. In fact, my copy is in one of the unlamented 'Snapper' cases from the late 1990s. I was happy enough with it on the old CRT TVs, but a couple of years ago when I went to rewatch it with one of the kids, it was appalling. The reason was the use of a front projector and a large screen.

The video, it soon become clear, had received a tremendous amoung of edge enhancement. That also generates a lot of spurious noise and colour patches which made the image very hard to look at on a large screen.

So I was awaiting the Blu-ray release with some anticipation. Especially as another of my children was now old enough to watch it. Things couldn't be better. I saw, through the course of this movie, not one single instance of compression noise or nastiness. I saw just one brief flick of dust or noise on one film frame, and that was it.

Instead, I enjoyed an excellent smooth image and wonderful detail. What first impressed me the most was a closeup of James Cromwell. Every pore and line on his face and neck was visible. But it was the colour that got me. His aging man's face, with patches of pinks and skin browns, was utterly convincing.

The sound is delivered in English as both Dolby Digital and Dolby TrueHD. I don't understand why, since the former is also included as a core in the latter. Other brands make do with the TrueHD alone. I listened to the TrueHD as a bitstream to my receiver and for the most part the sound was merely adequate. The front was used and if there was any surround, it was barely noticable.

Until the end, that was. At the climax it is not just gunfire all around, but even the crunch of the ground under footsteps, delivered with superb precision down the left side of the room, was positively creepy.

There are no fancy new Blu-ray extras, nor even any high definition extra material, but there is over an hour and a half of standard definition featurettes. If you want to know went on in making this movie, why antipodean actors were used (including Tasmanian Simon Baker in a supporting part), you will find all the answers in these.
---
Facts
Running time: 138 minutes
Picture: 2.35:1, 1080p24, VC1 @ 22.91Mbps
Sound: English: Dolby TrueHD 3/2.1 @ 1464kbps (core: Dolby Digital 3/2.1 @ 640kbps); English, French (x 2), German, Italian, Spanish, Music Only: Dolby Digital 3/2.1 @ 640kbps; Spanish, Commentary: Dolby Digital 2/0.0 @ 192kbps
Subtitles: English, French, German, Italian, Italian for the Hearing Impaired, Spanish, Dutch, Chinese, Spanish, Danish, Finnish, Norwegian, Portuguese, Swedish, Chinese, English (Naming commentators)
Extras: Four featurettes (480i, VC1, DD2.0 @ 192kbps - 96 mins); Two featurettes (4:3, 480i, VC1, DD2.0 @ 192kbps - 29 mins); 2003 TV Pilot: L.A. Confidential (4:3, 480i, VC1, DD2.0 @ 192kbps - 46 mins); Three TV Trailers (4:3, 480i, VC1, DD2.0 @ 192kbps - 2 mins); Theatrical Trailer (480p, VC1, DD2.0 @ 192kbps - 2 mins); Soundtrack Promo (4:3, 480i, VC1, DD2.0 @ 192kbps - 1 min); 'The L.A. of L.A. Confidential' map and fifteen video snippets (480i, VC1, DD2.0 @ 192kbps - 5 mins)
Restrictions: Rated

(Australian rating); Region Free

The following video bitrate graph was generated by BDInfo 0.5.3: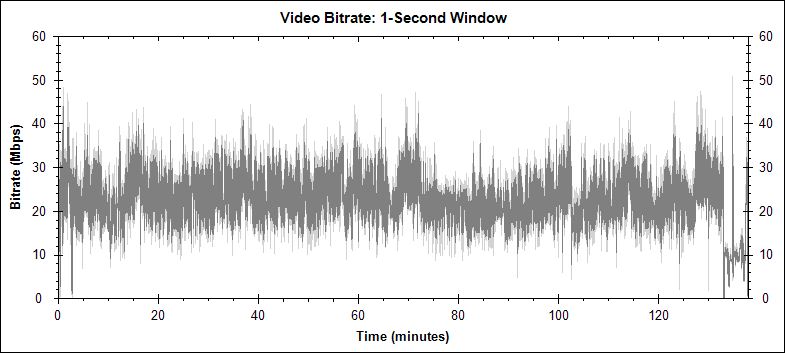 ---
Here are some comparisons between the Warner Bros 'Special Edition' PAL DVD and the Blu-ray version of this movie.

At the top of each is the full frame (suitably shrunk down) used in the comparison, with a 250 pixel wide detail from the frame underneath. The left side is from the PAL DVD. The image was captured digitally from the disc, scaled up from its native 720 by 576 resolution to 1,024 by 576 (to present in the correct aspect ratio), and then, in order to be comparable to the Blu-ray version, from that to 1,920 by 1,080. The detail is from that last scaled version, and has not been rescaled again. The right side is from the Australian Blu-ray. This has not been scaled at all.

Different applications were used to capture the two frames, so I am not normally comfortable comparing the colour between the two, merely the detail and sharpness. For those visitors from NTSC lands, generally the PAL DVD is just a touch sharper than the NTSC DVD.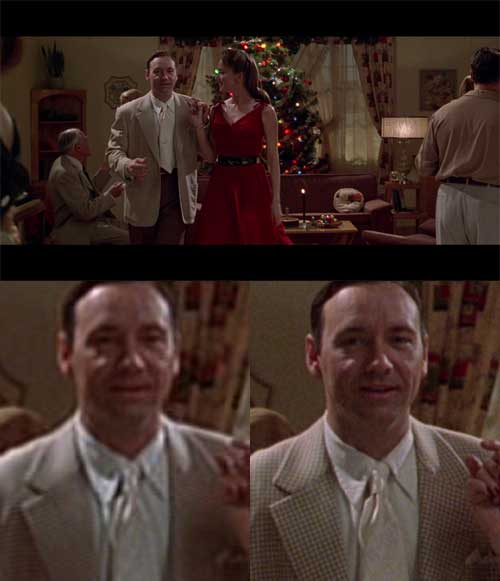 Going through the thumbnails of the ten thousand or so frames I ripped from the Blu-ray (don't ask!), I noticed that even more than the average movie, this one is mostly composed of people in conversation, with the camera switching from face view to face view. So massively improving the clarity, definition and believability of faces is valuable, as seen here: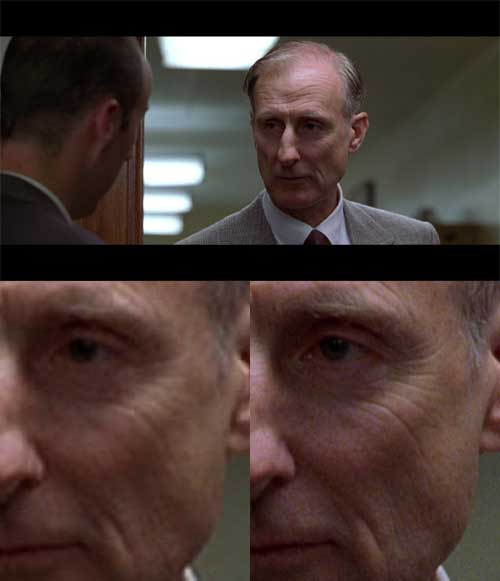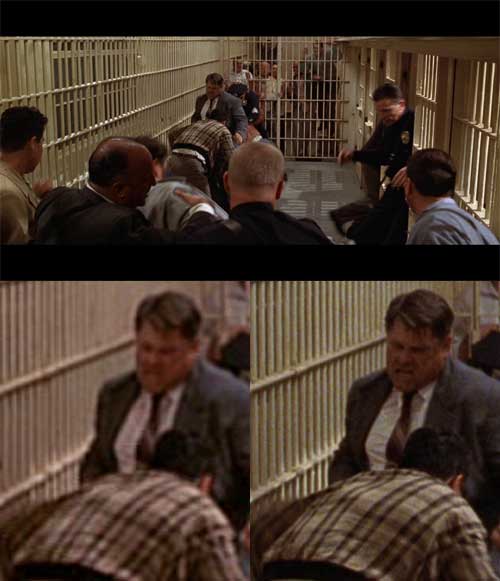 Good luck trying to notice the presence of Dick Stensland from the DVD: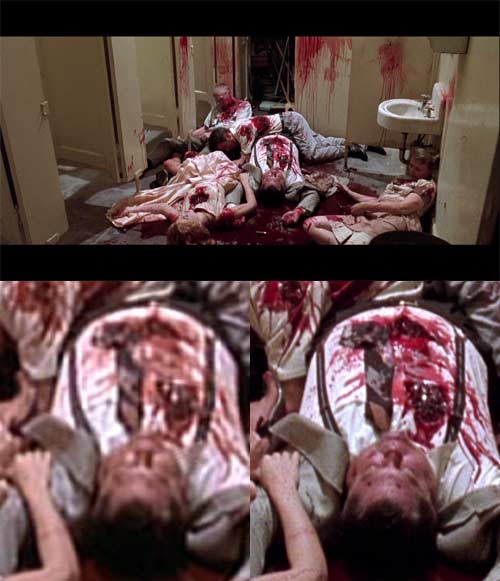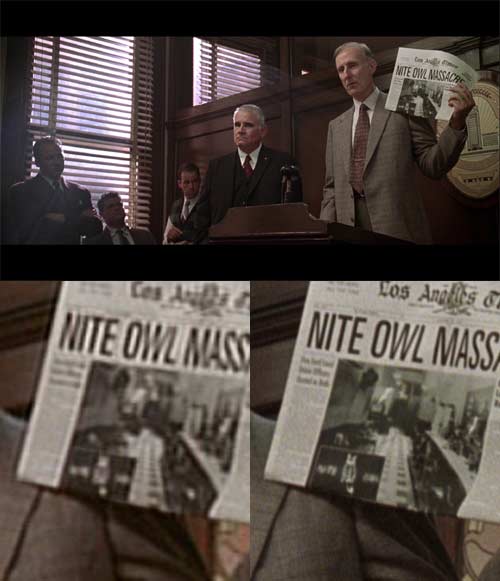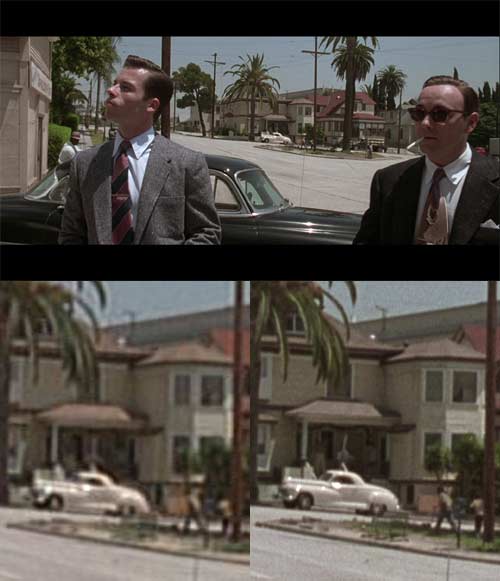 ---
&copy 2002-2010, Stephen Dawson