Home Page | About Me | Home Entertainment | Home Entertainment Blog | Politics | Australian Libertarian Society Blog | Disclosures
---
Originally published in Sound and Image, v.24#01
Last updated 22 May 2011
---
Law Abiding Citizen
2009 - Roadshow Entertainment
Director: F. Gary Gray
Starring: Jamie Foxx, Gerard Butler, Colm Meaney, Bruce McGill, Leslie Bibb, Michael Irby, Gregory Itzin, Regina Hall and Emerald-Angel Young

Movie:

Picture:

Sound:

Extras:

---
Gerard Butler seems to be a very busy man these days. Ably disguising his native Scots accent, he is doing leading roles in three, four even five movies a year. Sometimes he's the boy in a romantic comedy, sometimes he's the voice behind an animated character. But in this one he's a man of action who is trying to right the wrongs he has suffered.

In Law Abiding Citizen Butler is widowed (and also loses his child) at the hands of a criminal, and is ill-served by the justice system. As it happens, his character possesses a skill set that could help him do something about it.

This movie is genuinely intriguing, and pretty much no-holds-barred. The story is internally self-consistent, which is vital for this kind of thing, thanks to the script by Kurt Wimmer. Butler displays considerable range, including the times he seems to be almost channeling Russell Crowe.

The audio is full and, where necessary, encompassing and precise in its surround sound. A respectable bitrate is provided for the MPEG4 AVC transfer. You get several featurettes with the Director's Cut on the first disc, and the Theatrical version on the second disc, with a commentary track.
---
Facts
Running time: 118 minutes (109 for Theatrical version)
Picture: 2.35:1, 1080p24, MPEG4 AVC @ 27.95Mbps (27.96Mbps for Theatrical version)
Sound: English, Dolby TrueHD 24/48 3/2.1 @ 3345kbps (3214kbps for Theatrical version) (embedded: Dolby Digital 3/2.1 @ 640kbps); French (Theatrical only): Dolby Digital 3/2.1 @ 640kbps; Commentary (Foster & Siegel - Theatrical only): Dolby Digital Surround 2/0.0 @ 192kbps
Subtitles: English, Spanish
Extras: 7 Featurettes (1080i60, MPEG2, DD2.0 @ 192kbps - 28 mins); Theatrical Trailer (1080p24, MPEG2, DPL2.0 @ 192kbps - 2 mins); Trailer Mashup (1080i60, MPEG2, DD2.0 @ 192kbps - 1 min)
Restrictions: Rated

(Australian rating); Locked to Region B

The following video bitrate graph was generated by BDInfo. This is the graph for the theatrical cut: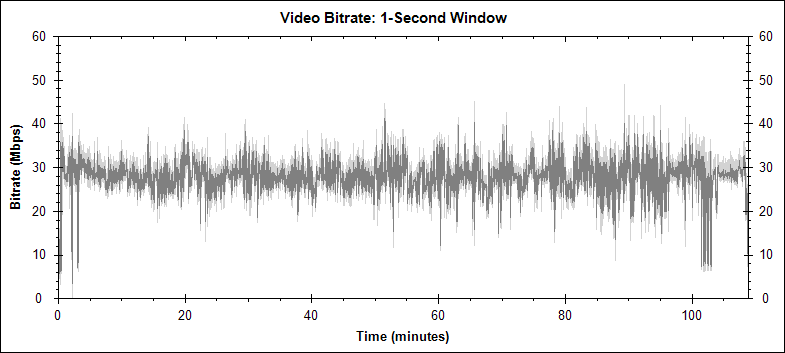 This is the graph for the Director's Cut: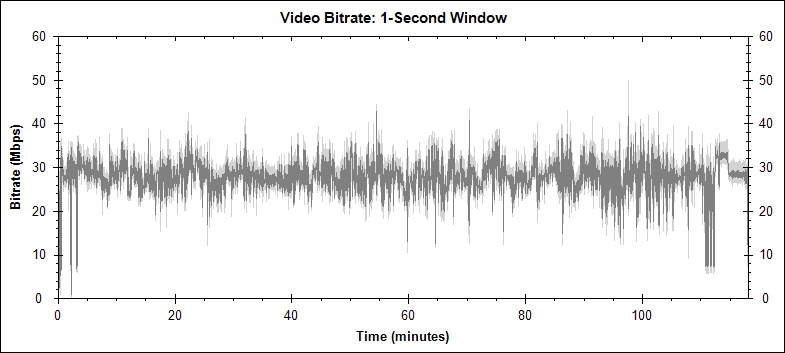 ---
&copy 2002-2011, Stephen Dawson