Home Page | About Me | Home Entertainment | Home Entertainment Blog | Politics | Australian Libertarian Society Blog | Disclosures
---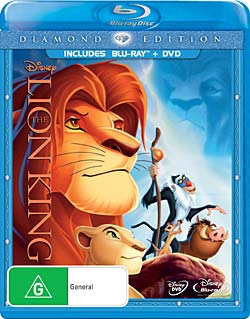 Originally published in Australian HI-FI, 2011
Last updated 21 August 2012
Download scan of review (JPEG, right click, Save As)
---
The Lion King
1994 - Walt Disney Studios Home Entertainment
Director: Roger Allers/Rob Minkoff
Starring: Matthew Broderick, Niketa Calame, Jim Cummings, James Earl Jones, Nathan Lane, Ernie Sabella, Jeremy Irons, Robert Guillaume, Rowan Atkinson, Moira Kelly, Whoopi Goldberg and Jonathan Taylor Thomas

Movie:

Picture:

Sound:

Extras:

---
You gotta love the ability of Disney to present primogeniture as an admirable way to run a polity. And its ready adoption of other unjust reputations: the younger brother of the King is of course a cunning, cynical usurper. The carnivorous and carrion-eating hyena is naturally the villainous henchman, while the carnivorous and carrion-eating lion is noble.

The lion's dietary habits are a vital part of the 'circle of life', while those of the hyenas lead to environmental disaster.

Nevertheless, this movie is a triumph of the film makers in that all this strikes with a possibly irrational emotional truth. The outcast child, held responsible for an act of which he is innocent, the tragedy, and the redemption, are all beautifully presented.

There is only one jarring note the emotional perfection of this movie: Matthew Broderick is an inappropriate choice to voice the adult Simba. He sounds childish, even when he should be commanding authority, in comparison to his father, voiced by James Earl Jones.

As you'd expect from such a recent animation, the picture quality is beautiful. It scores a respectable 28Mbps, so there are no compression artefacts. The animation is largely naive 2D -- with outlines -- for the characters, and softer, textured finishes for the backgrounds. I'm not sure to what extent Disney used computer assistance in creating this movie, but it certain implemented the look of multiple plate photography, allowing foregrounds and backgrounds to be out of focus with respect to the plane of action. The animation appears temporally rich as though mostly animated at the full 24fps, rather than the 12fps frequently used in movie animation.

This movie was part of the early 90s Disney renaissance, bringing rich stories to the screen, richly presented. By 1994 we had both Dolby Digital and DTS, so this movie was created with surround digital sound in mind. With songs by Elton John and Tim Rice, and the rest of the score by Hans Zimmer, it sounds very good, if perhaps a little recessed in the upper bass, in keeping with the pop sensibilities of the time. There is plenty of deep bass extension. The stampede scene can be positively room shaking if your subwoofer's up to the task.

One of the audio tracks is Zulu (stereo only, though). I don't think that this is some kind of affectation because the US version does not come with it, even though there's room. Perhaps our disc is the same as the version sold in southern Africa.
---
Facts
Running time: 88 minutes
Picture: 1.78:1, 1080p24, MPEG4 AVC @ 27.93Mbps
Sound: English: DTS-HD Master Audio 24/48 3/4.1 @ 5647kbps (core: DTS 24/48 3/2.1 @ 1509kbps); Spanish, Dutch: DTS 24/48 3/2.1 @ 1509kbps; Portuguese: Dolby Digital 3/2.1 @ 640kbps; Zulu: Dolby Digital 2/0.0 @ 320kbps; Commentary: Dolby Digital 2/0.0 @ 192kbps
Subtitles: English, English for the Hearing Impaired, Spanish, Portuguese, Dutch, English (Sing-a-long), Spanish (Sing-a-long), Portuguese (Sing-a-long), Dutch (Sing-a-long), Spanish (Commentary), Portuguese (Commentary)
Extras: DVD version; Interactive Art Gallery (414 stills, 1080p24); Bloopers and Outtakes (1080p24 - 4 mins); 2 Documentaries (1080i60 - 58 mins); 5 Deleted Scenes with Introductions (1080p24 - 15 mins); 1 Extended scene (1080p24 - 3 mins)
Restrictions: Rated

(Australian rating); Region Free

The following video bitrate graph were generated by BDInfo 0.5.7. This is for the movie: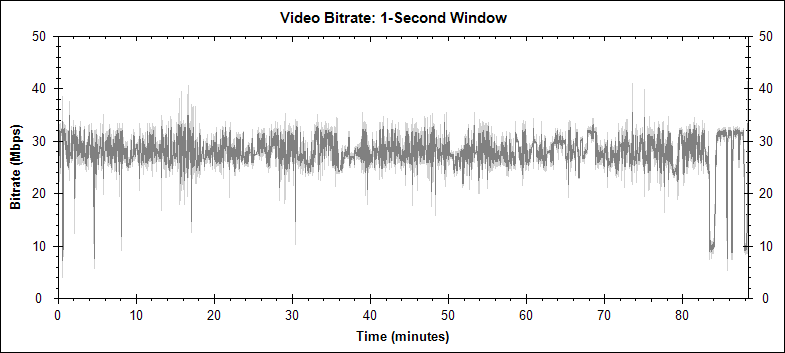 ---
&copy 2002-2012, Stephen Dawson