Home Page | About Me | Home Entertainment | Home Entertainment Blog | Politics | Australian Libertarian Society Blog | Disclosures
---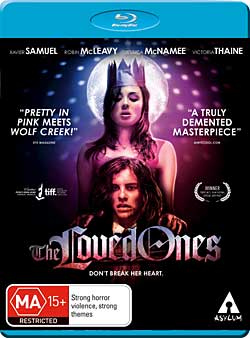 Originally published in Sound and Image, 2011
Last updated 18 August 2012
Download scan of review (JPEG, right click, Save As)
---
The Loved Ones
2009 - Madman Entertainment Pty Ltd
Director: Sean Byrne
Starring: Xavier Samuel, Robin McLeavy, John Brumpton, Richard Wilson and Victoria Thaine

Movie:

Picture:

Sound:

Extras:

---
Deciding to watch an Australian movie can be quite a risk. Unless you are already familiar with it, you may well end up wasting two hours of your life with a boring arthouse project, differentiated from the others only by the Australian accents.

Having thus trashed any chance of developing a reputation as a quality movie reviewer, let me go on to recommend this Australian one: The Loved Ones.

Think Carrie crossed with Wolf Creek. Young Lola ('Princess' to her Daddy) has bit of a crush on Brent, who is the dark brooding type. She asks him to the school social, but he's already going with his girlfriend.

No matter, Lola's Daddy will make sure he keeps his date with her. He has a hammer and nails to help with that.

All the performances were good, especially Robin McLeavy as Lola the cruel. Her father is played by John Brumpton who has that ineffectual comb-over look that contrasts nicely with what he actually gets up to. I'm looking forward to seeing Xavier Samuel (Brent) again in his next project, Bait, of which someone on IMDB commented 'Forget Snakes On a Plane, we have Sharks in A Supermarket!'

The movie is presented nicely in terms of video (at an actual 24fps, rather than the more common 23.976fps) and sound. Oddly, Madman has lately taken to using multichannel LPCM for its releases. This is okay if you have modern gear, but if your receiver won't accept HDMI audio, then you will be stuck with two downmixed channels.

There are plenty of featurettes (these amount to nearly the run time of the movie) and two short films (presented on 720p) previously made by the director. These are both interesting and worth a watch in their own right.
---
Facts
Running time: 84 minutes
Picture: 2.35:1, 1080p24*, MPEG4 AVC @ 32.41Mbps
Sound: LPCM 16/48 3/2.1 @ 4608kbps; Commentary: LPCM 24/48 2/0.0 @ 2304kbps
Subtitles: English
Extras: 2 Short Films by director (720p24 - 28 mins); Seven cast and crew interviews (720p24 - 53 mins); 3 Featurettes (720p24 - 74 mins); 2 Picture Galleries (1080p24 - 15 mins); Trailer (1080p24 - 2 mins); 2 Trailers (720p24 - 2 mins)
Restrictions: Rated

(Australian rating); Locked to Region B

The following video bitrate graph was generated by BDInfo 0.5.7: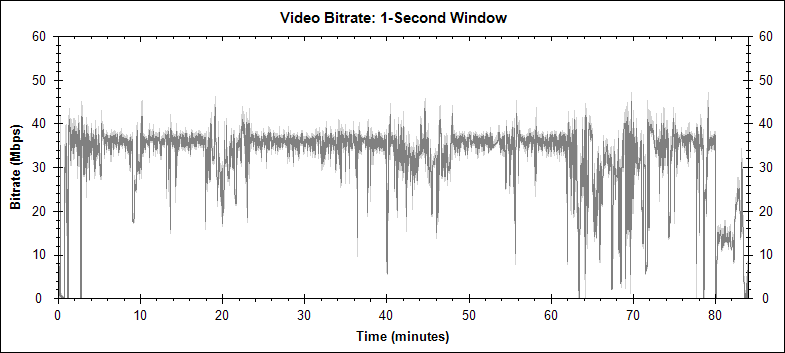 ---
&copy 2002-2012, Stephen Dawson