Home Page | About Me | Home Entertainment | Home Entertainment Blog | Politics | Australian Libertarian Society Blog | Disclosures
---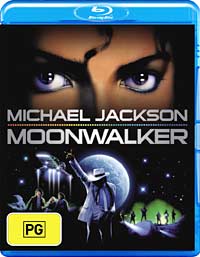 Originally published in Australian HI-FI, July/Aug 2010, v.41#4
Last updated 20 August 2010
---
Moonwalker
1988 - Warner Bros Entertainment Australia Pty Ltd
Director: Jerry Kramer/Jim Blashfield/Colin Chilvers
Starring: Michael Jackson, Joe Pesci, Sean Lennon, Kellie Parker and Brandon Quintin Adams

Movie:

Picture:

Sound:

Extras:

---
It's a bit hard to work out quite what to make of Michael Jackson's Moonwalker. It appears to be mostly a celebration of his career, and indeed starts off in a way fitting for a filmed obituary. After a fine live rendition of 'Man in the Middle' there's a lengthy medley formed from snippets of many of the hits sung by Jackson, first with The Jackson 5 then scooting through some of the contents of Off the Wall, and, disappointingly, Thriller.

All this seems to be to get us to the album Bad, released around the same time as the movie, and the promotion of which this movie was presumably intended. But when we get there, a surprising twist has the album's title song lip-synched and danced by bunch of eight year olds.

This takes us to the twenty minute mark, and then the whole movie collapses in a heap. At this point we move for no reason at all into a sequence of Jackson being chased through a movie lot by a bunch of claymation figures, inserted poorly into filmed backgrounds. These eventually get us to the song 'Speed Demon', but the mood has been thoroughly destroyed well before then.

More songs from Bad are delivered, generally over the top of similarly goofy stories, including an embarrassing and long one about hero Jackson saving kids from the evil drug dealing gangster, Joe Pesci, who has somehow been induced to deliver kindergarten-level acting.

The picture is delivered at a middling 21Mbps, which seems to have been plenty to accurately convey a clean but generally unremarkable print.

In an unusual departure from the norm for Warner Bros, the sound is presented in DTS-HD Master Audio, 5.1 channels and 24 bits of resolution (the sampling is 48kHz). Warner normally uses Dolby TrueHD as its lossless format, but the reason for the change may have been to provide better sound for those purchasers lacking the most modern equipment. DTS-HD carries a standard DTS core (in this case running at the full 1,509kbps). While there should be no difference at all between DTS-HD Master Audio and Dolby TrueHD, similarly specified, many swear that given the choice of their fall-backs of DTS at 1,509kbps or Dolby Digital at 640kbps, the former is far preferable, especially for music.

The music mix is biased towards the front, but has excellent body and not too much of the 1980s midrange prominence.

Hey, if you like Michael Jackson of this period, you aren't going to hear any better. Just spend some time working out which 'dramatic' and 'comedy' bits you need to skip.
---
Facts
Running time: 93 minutes
Picture: 1.78:1, 1080p24, VC1 @ 21.18Mbps
Sound: English: DTS-HD Master Audio 24/48 3/2.1 @ 4340kbps (core: DTS 24/48 3/2.1 @ 1509kbps); French, German, Italian, Spanish, Russian: Dolby Digital 2/0.0 @ 192kbps
Subtitles: Japanese (hidden), English for the Hearing Impaired, French, German for the Hearing Impaired, Italian for the Hearing Impaired, Spanish, Chinese, Korean, Spanish (LA), Portuguese (Brazil), Bulgarian, Chinese, Croation, Czech, Danish, Finnish, Greek, Hebrew, Icelandic, Norwegian, Portuguese, Romanian, Russian, Slovenian, Swedish, Thai
Extras: 16 page booklet; Trailer (480i60, VC1, DPLD2.0 @ 192kbps - 2 mins)
Restrictions: Rated

(Australian rating); Region Free

The following video bitrate graph was generated by BDInfo 0.5.3: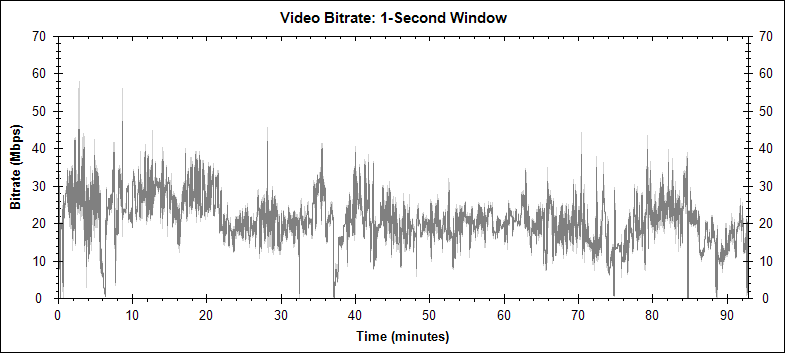 ---
&copy 2002-2010, Stephen Dawson