Home Page | About Me | Home Entertainment | Home Entertainment Blog | Politics | Australian Libertarian Society Blog | Disclosures
---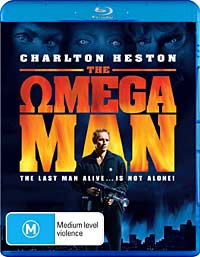 Originally published in Sound and Image, Feb/March 2009, v.22#4
Last updated 26 June 2009
---
The Omega Man
1971 - Warner Bros Entertainment Australia Pty Ltd
Director: Boris Sagal
Starring: Charlton Heston, Anthony Zerbe, Rosalind Cash, Paul Koslo, Eric Laneuville, Lincoln Kilpatrick, Jill Giraldi, Anna Aries and Brian Tochi

Movie:

Picture:

Sound:

Extras:

---
I love Planet of the Apes (1968) and I love Soylent Green (1973). Surely, I thought, a third Charlton Heston dystopian SF movie from the period would also be just the thing for me. Especially as 1971's The Omega Man was based on the same Richard Matheson story as the recent I Am Legend.

Unfortunately the movie has dated very badly. I am not talking about picture quality, which is okay, but story line. The replacement of the zombie/vampires with be-robed and mentally disturbed followers of a new religion of the sick was beyond my ability to suspend disbelief.

Still, the opening scenes of Heston cruising around a deserted Los Angeles are okay. The picture quality is okay, too. I give it a 4 because I think it captures very nicely what this picture would have been like to see in a decent cinema back in 1971. It is a little flat and grainy, but that was how it was shot.

The sound, also, no doubt captures what was originally presented at the pictures. But the original mono sound so fails to do anything other than convey basic information it cannot be rated highly.

Still, that is always going to be the case with older releases, and I thank Warner Bros for being so quick to delve into its back catalogue.
---
Facts
Running time: 98 minutes
Picture: 2.35:1 and 1.78:1 anamorphic, 1080p24, VC1 @ 19.98Mbps
Sound: English, French, German, Italian, Spanish (x 2): Dolby Digital 1/0.0 @ 192kbps
Subtitles: English, English for the Hearing Impaired, French, German, German for the Hearing Impaired, Italian, Italian for the Hearing Impaired, Spanish, Dutch, Korean, Portuguese (Brazil), Danish, Finnish, Norwegian, Portuguese, Swedish
Extras: Introduction (480i60, MPEG2, DD 2.0 @ 192kbps - 4 mins); Featurette: 'The Last Man Alive - The Omega Man' (480i60, MPEG2, DD 2.0 @ 192kbps - 10 mins); Trailer (480i60, MPEG2, DD 2.0 @ 192kbps - 3 mins)
Restrictions: Rated

(Australian rating); Region Free

This is the video bitrate graph for this movie, generated by BDInfo 0.5.2: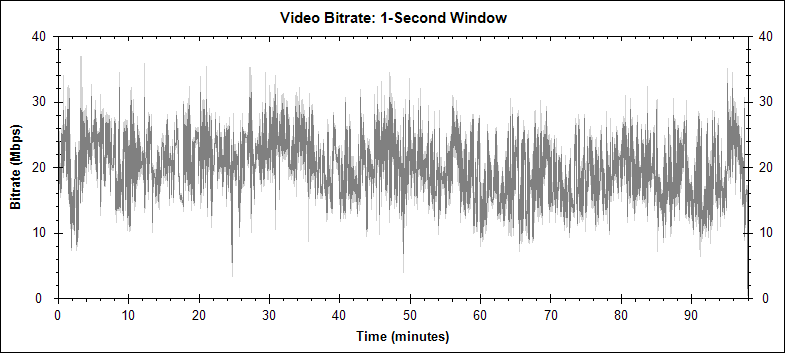 ---
&copy 2002-2009, Stephen Dawson