Home Page | About Me | Home Entertainment | Home Entertainment Blog | Politics | Australian Libertarian Society Blog | Disclosures
---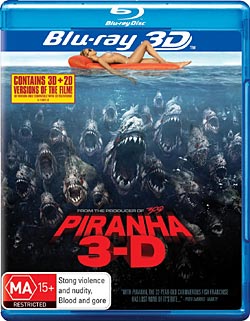 Originally published in Sound and Image, May/June 2011 - v.24#06
Last updated 25 February 2012
---
Piranha 3D - Blu-ray 3D
2010 - Roadshow Entertainment
Director: Alexandre Aja
Starring: Richard Dreyfuss, Ving Rhames, Elisabeth Shue, Christopher Lloyd, Eli Roth, Jerry O'Connell and Steven R. McQueen

Movie:

Picture:

Sound:

Extras:

---
Much of Blu-ray 3D at the moment is firmly for the kids, or firmly for the adults. Piranha 3D is most definitely only for the adults. It ought to be quite awful, but I thought it was pretty entertaining, even though it was clear early on for the most part who would end up as fish meal and who would survive. The pleasure was more in 'when are they going to get it'.

I was mighty impressed with the 3D effects. Once again, it was resistant to crosstalk, and there was depth -- sometimes considerable -- in virtually every scene. In some shots with middle-distance subjects against a distant background there was a touch of the cardboard cutout look, but that was my sole objection.

So I was surprised to discover that this wasn't shot with a 3D rig, but converted to 3D afterwards. However it was planned to be 3D from the beginning, so that may have helped. In fact, it may have made it better, since instead of whatever 3D effect a dual camera rig threw up, they could choose their own. Remember, the 3D of movies is highly artificial, and works by tricking your brain to apply one form of 3D perception to material that is best suited to another form.

But do take care. This is a movie full of tits, blood-reddened water, highly mutilated bodies and even a severed male member.
---
Facts
Running time: 88 minutes
Picture: 2.35:1, 1080p24, 3D MPEG4 AVC/MVC @ 21.86/10.58Mbps
Sound: English: DTS-HD Master Audio 16/48 3/2.1 @ 2376kbps (core: DTS 16/48 3/2.1 @ 1509kbps); English: LPCM 16/48 2/0.0 @ 1536kbps; Commentary, English Audio Descriptive: Dolby Digital 2/0.0 @ 256kbps
Subtitles: English
Extras: Documentary (576i50 - 129 mins); 7 Deleted Scenes (576i50 - 7 mins); Trailer (576i50 - 2 mins)
Restrictions: Rated

(Australian rating); Region free

The following video bitrate graphs were generated by BDInfo. This is the graph for the main movie stream: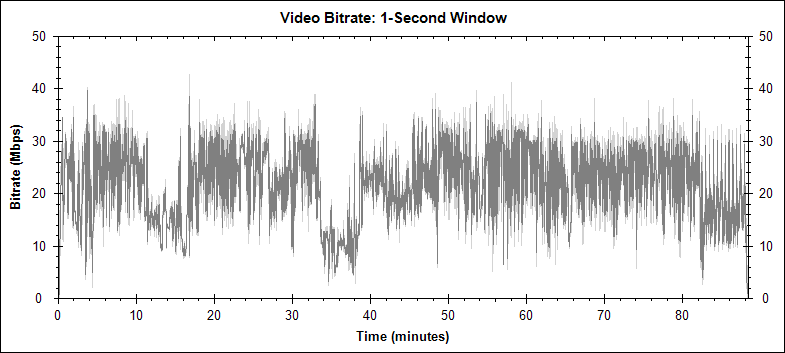 This is the MVC file bitrate graph, which records differences to the master eye: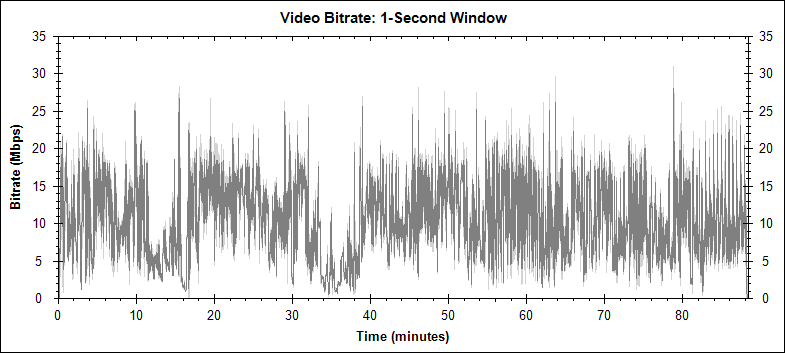 ---
&copy 2002-2012, Stephen Dawson