Home Page | About Me | Home Entertainment | Home Entertainment Blog | Politics | Australian Libertarian Society Blog | Disclosures
---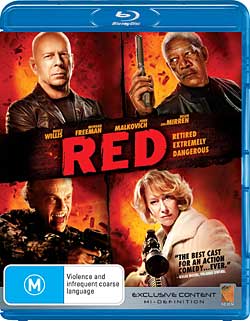 Originally published in Sound and Image, 2011
Last updated 19 August 2012
Download scan of review (JPEG, right click, Save As)
---
Red
2010 - Icon Film Distribution Pty Ltd
Director: Robert Schwentke
Starring: Bruce Willis, Mary-Louise Parker, Helen Mirren, Karl Urban, Morgan Freeman, Rebecca Pidgeon, Ernest Borgnine, John Malkovich, Richard Dreyfuss, Julian McMahon and Brian Cox

Movie:

Picture:

Sound:

Extras:

---
The action codger has been in the cinema quite a bit lately, with Rambo, The Expendables and the like. But Red is perhaps the best of this kind. A bunch of retired spies are forced into action when one of their number, played by Bruce Willis, is subject to an attempt at a more permanent retirement.

Why he, and some of the others as well, are being targeted is a mystery to be worked out, while avoiding the various SWAT teams that keep getting thrown at them. Most of the action is choreographed to a cut above the average.

What really lifts this movie is that it is full of charm and likeable characters, occasionally broken by moments of startling ruthlessness.

The picture quality is excellent, as good at it gets, with strong cinematography and the transfer was clearly generated from the digital intermediate used during production. It's flawless. The sound is very nearly as good.

For special extras you get deleted scenes and, more importantly, a BonusView PIP track. This has the usual windowed making-of stuff, along with an occasional commentary by the retired CIA field agent Robert Baer.

Get this one and have a good hundred minutes of pure, enjoyable escapism.
---
Facts
Running time: 111 minutes
Picture: 2.35:1, 1080p24, MPEG4 AVC @ 28.02Mbps
Sound: English: DTS-HD Master Audio 24/48 3/2.1 @ 3999kbps (core: DTS 24/48 3/2.1 @ 1509kbps); English: LPCM 24/48 2/0.0 @ 2304kbps; Commentary: Dolby Digital 2/0.0 @ 192kbps; BonusView PIP: DTS Express 24/48 2/0.0
Subtitles: English
Extras: 'Access Red' BonusView PIP; 10 Deleted Scenes (1080p24 - 9 mins); 'Access Red' Trivia track
Restrictions: Rated

(Australian rating); Locked to Region B

The following video bitrate graph was generated by BDInfo 0.5.7: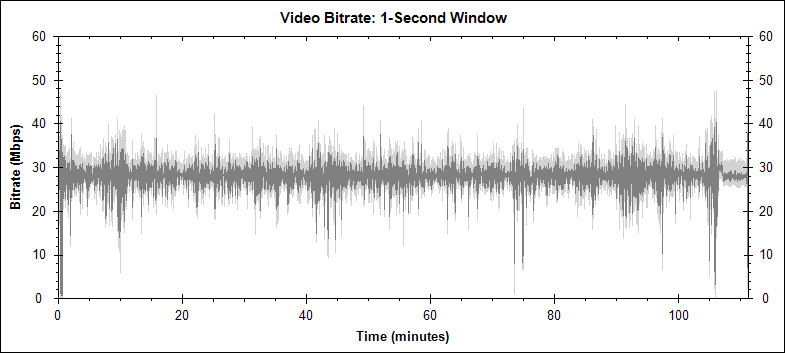 The following video bitrate graph is for the BonusView PIP track: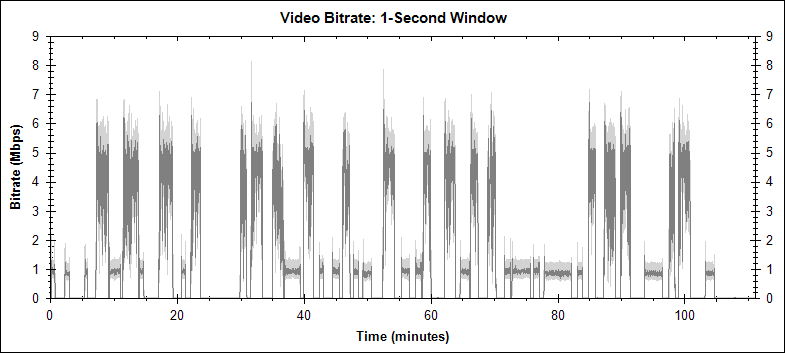 ---
&copy 2002-2012, Stephen Dawson