Home Page | About Me | Home Entertainment | Home Entertainment Blog | Politics | Australian Libertarian Society Blog | Disclosures
---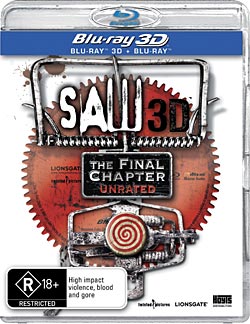 Blu-ray Reviews: Saw 3D - Blu-ray 3D - aka Saw: The Final Chapter
Originally published in Sound and Image, May/June 2011 - v.24#06
Last updated 25 February 2012
---
Saw 3D - Blu-ray 3D
2010 - Sony Pictures Home Entertainment Australia
Director: Kevin Greutert
Starring: Tobin Bell, Costas Mandylor, Betsy Russell, Cary Elwes, Sean Patrick Flanery, Chad Donella, Gina Holden and Laurence Anthony

Movie:

Picture:

Sound:

Extras:

---
Okay, I'll admit I was reluctant to watch this one. I, er, saw the first Saw some years ago, and that has been it for me. Still, movie-wise, this wasn't too bad. It had bit of a story to hang together the many extremely gruesome highlights, and even these were so overdone as to moderate their effect.

But we're here for 3D, and I'm happy to report that this was shot in real 3D using dual high definition video cameras rather than converted from 2D. Despite this, the sense of depth isn't as obvious as it is with some other movies simply because so much is shot in confined and darker spaces. But it does open with a, ahem, splash, with the store window scene bright, colourful and offering enormous 'stage depth', to borrow a word from stereo audio reviews.

This live action material was virtually immune to crosstalk in the displays I used.
---
Facts
Running time: 90 minutes
Picture: 1.78:1, 1080p24, 3D MPEG4 AVC/MVC @ 27.00/14.00Mbps
Sound: English: DTS-HD Master Audio 24/48 3/4.1 @ 5550kbps (core: DTS 24/48 3/2.1 @ 1509kbps); French (in French language players only): Dolby Digital 3/2.1 @ 640kbps; 2 x Commentary: Dolby Digital 2/0.0 @ 224kbps
Subtitles: English, English for the Hearing Impaired, Spanish (in Spanish language players only)
Extras: 6 deleted scenes (1080p24 - 14 mins); 5 Music Videos (1080p24 - 21 mins); Featurette (1080p24 - 14 mins); Theatrical Trailer (1080p24 - 1 min)
Restrictions: Rated

(Australian rating); Locked to Region B

The following video bitrate graphs were generated by BDInfo. This is the graph for the main movie stream: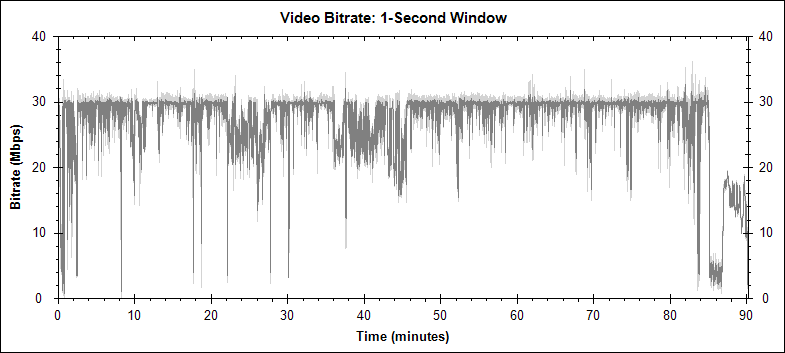 This is the MVC file bitrate graph, which records differences to the master eye:
---
&copy 2002-2012, Stephen Dawson