Home Page | About Me | Home Entertainment | Home Entertainment Blog | Politics | Australian Libertarian Society Blog | Disclosures
---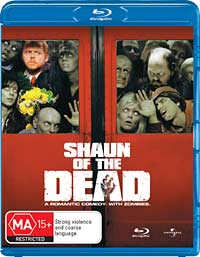 Originally published in Sound and Image, June 2010, v.23#07
Last updated 20 August 2010
---
Shaun of the Dead
2004 - Universal Pictures (Australasia) Pty Ltd
Director: Edgar Wright
Starring: Simon Pegg, Kate Ashfield, Nick Frost, Lucy Davis, Dylan Moran, Nicola Cunningham, Bill Nighy and Jessica Hynes

Movie:

Picture:

Sound:

Extras:

---
(The following review was published as part of a combined review with
Zombieland
.)
Far better than Vampire Romance ...
... is Zombie Comedy. Especially on Blu-ray. From the right side of the Atlantic we have the classic Shaun of the Dead, and from the left side the almost as good Zombieland.
Both are very similar in some ways: loser in real life becomes a leader, or at least a rare survivor, after the Zombie apocalypse. Both movies have the necessary hordes of zombies. Both feature slowish zombies. In Shaun they are traditional shuffling ones. In Zombieland they look a bit more purposeful and can run about as fast as the still alive, but without any of that 28 Days Later turbocharging.
Shaun's loser is, well, Shaun, played by Simon Pegg. A thirtyish shop assistant, sometimes acting manager of an electrical retailer, who has commitment issues in that he prefers to drink with his uncouth friend rather spend quality time with his girlfriend. Zombieland's loser is Columbus, a mid-20s post grad student who has commitment issues, in that he has never gotten a girl to commit to the point of even a friendly cuddle.
Shaun has a slow build, with creepy hints of what is to come, to which the characters remain blind, while Zombieland starts at a point soon after civilisation has come to an end. Mixed in with the casual violence of the latter is Columbus' patter, explaining in an instructional tone his rules for surviving.
But when it comes to graphic violence, the later movie is the leader. Indeed, after a short introduction, a credits section is played over several very slow motion clips of zombies chasing humans. Extremely slow motion: I estimate about a 35:1 ratio.
These two discs are jam-packed with extras. Both have at least one commentary (Shaun has four!) Both have at least one BonusView PIP (Shaun has two!) The two Shaun ones don't actually need to use this facility. Neither has sound. One is simply for flashing up storyboards in a window, while the other is a slightly animated 'Zomb-O-Meter' trivia track. Both could have been done using Presentation Graphics layers (these are graphical stills that overlay the video; their most common application is for subtitles).
The Zombieland PIP is a real one, and better than many. It has various people involved in the movie talking about things relevant to the present point of the movie, storyboards and animations, and the original shoots against green screen.
Picture wise, Shaun is actually a touch more life-like than Zombieland, despite the passage of five years between the two. No effort has been made to use processing or colour changes to evoke anything: it is all just extremely naturalistic, nicely detailed. Zombieland has a rather more forced look to the film, bringing out some grain. Strangely, that tends to be more apparent in the outdoor shots than indoors.
In both cases, the encode allocates more than ample numbers of bits to record the picture extremely accurately. Both use MPEG4 AVC and average between 25 and 30Mbps.
Both also use overkill for the sound, with a full 24 bits encoded into the 5.1 channel DTS-HD Master Audio tracks. Shaun has the more obvious surround use, especially towards the end as they are holed up in the Winchester pub, and there is this constant insect-like scratching a full 360 degrees around the room, denoting the efforts of the zombies to make their way in.
Both discs have their fair share of extras. The bulk of it is standard definition for Shaun, and high definition for Zombieland. Also hidden on the latter, and without any apparent way to access them using a normal Blu-ray player, are eight slow motion clips of the kind that were used in the opening credits. Amounting to 23 minutes, these appear to be playable only by explicitly playing their .m2ts files in a suitable player on a computer. If you want to check them out, their file names are 005017.mst2 to 005024.m2ts.
---
Facts
Running time: 99 minutes
Picture: 2.35:1, 1080p24, MPEG4 AVC @ 29.64Mbps
Sound: English: DTS-HD Master Audio 24/48 3/2.1 @ 4251kbps (core: DTS 24/48 3/2.1 @ 1509kbps); French, Italian, German, Spanish: DTS 24/48 3/2.1 @ 768kbps); 4 x Commentary: Dolby Digital Surround 2/0.0 @ 192kbps
Subtitles: English, French, Italian, German, Spanish, Dutch
Extras: 15 Extended Scenes with Optional Commentary (480i60, MPEG2, 2 x DD2.0 @ 192kbps - 13 mins); 15 Featurettes and Shorts (480i60, MPEG2, DD2.0 @ 192kbps - 69 mins); My Scenes; U-Control: 'Zomb-O-Meter' trivia track & Storyboards (both BonusView PIP, 480p24 @ 0.726Mbps & 1.058Mbps); Photo Gallery (43 stills, 1080p24, MPEG2); Comic Strip: '2000 AD' (7 still panels with zoom, 1080p24, MPEG2); Poster Gallery (10 stills, 1080p24, MPEG2); 6 Trailers (480i60, MPEG2, DD2.0 @ 192kbps - 8 mins)
Restrictions: Rated

(Australian rating); Region Free

The following video bitrate graphs were generated by BDInfo 0.5.3. This one is for the main feature: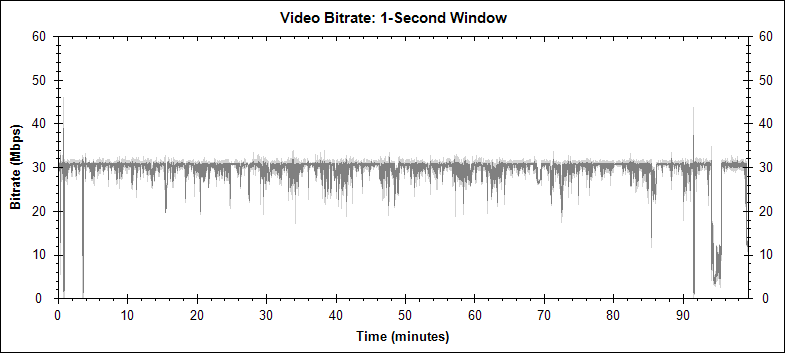 These two are for the two PIP streams within the 2D version: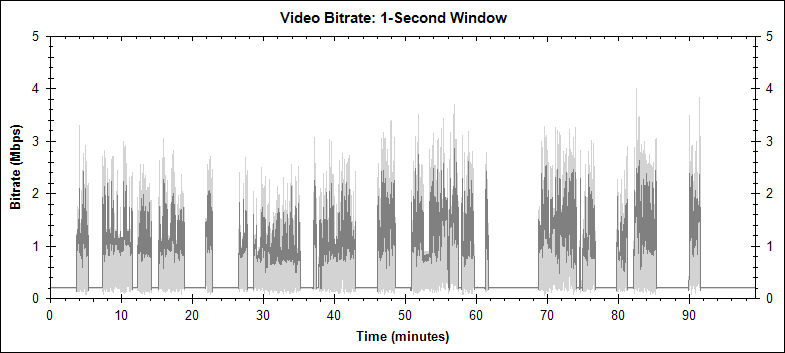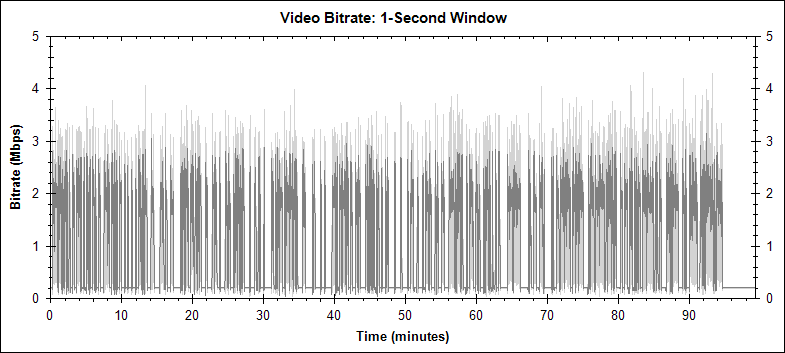 ---
&copy 2002-2010, Stephen Dawson