Home Page | About Me | Home Entertainment | Home Entertainment Blog | Politics | Australian Libertarian Society Blog | Disclosures
---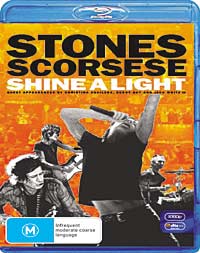 Originally published in Australian HI-FI, Jan/Feb 2009, v.40#1
Last updated 26 June 2009
---
Shine a Light
2008 - Twentieth Century Fox Home Entertainment South Pacific Pty Ltd
Director: Martin Scorsese
Starring: Mick Jagger, Keith Richards, Charlie Watts, Ron Wood, Christina Aguilera, Buddy Guy, Jack White, Darryl Jones, Chuck Leavell and Bobby Keys

Movie:

Picture:

Sound:

Extras:

---
Shine a Light is labelled a 'documentary', but it is really a live Rolling Stones concert with a few fig-leaves of old TV interviews and before-the-concert footage tossed in. If you are looking for an understanding of the Stones' career, this is not a good place to start.

If, however, you enjoy their music and performance, this is a wonderful place. Filmed in 2006, some 42 years after the three surviving members of the original line-up first got together, it is hard to believe that they could be this good. Mick Jagger has changed only in the face. Keith Richard -- clearly the inspiration for Johnny Depp in the Pirates of the Caribbean movies -- seems determined to show that you can still smoke (tobacco I assume) as a sexagenarian.

I confess, my thumb hovered over the Skip key when Ronnie Wood was revealed behind an Emmons pedal steel guitar, and a sickening country twanging started. Fortunately the song -- 'Far Away Eyes' -- was sufficiently amusing to avoid disaster.

Martin Scorsese, being a film director, used various movie techniques for video capture. A lot of them, including HD digital video and traditional 16mm and 35mm film. The result is that our TVs and Blu-ray players don't have to muck around with 1080i deinterlacing. This Blu-ray uses good old 1080p video at 24 frames per second. Martin Scorsese, being very good at what he does, managed to produce an eavesdropper's view of the concert. There were seemingly lots of cameras deployed to do the filming, yet it was rare for one to appear within a shot.

For sound you get a choice from two lossless varieties -- Dolby TrueHD and DTS-HD Master Audio -- in 5.1 channels, with 48kHz sampling and a claimed 24 bits of resolution. The sound quality in either format was absolutely brilliant, and the capture of the musical performance excellent.

As for extras, there's a trivia game, four bonus songs, and four songs from the movie but with five different viewing angles, allowing you to better follow your favourite band member. The disc is BD-Live enabled, but this feature is used solely for ordering songs from iTunes. At the time of writing it didn't work, presumably because the disc hadn't yet been launched to the public. This should work from mid to late January 2009.

At the time of creating this Web version, the Blu-ray player I was using -- a Panasonic DMP-BD80 -- delivered a message saying that the 'content certificate' on my test disc was not valid, so it wouldn't connect to the Internet, even when I disabled the player's content checking. Likewise, the Playstation 3 reported that the disc couldn't be authenticated and consequently refused to permit a network connection. Since this was a test sample disc, this isn't surprising I suppose. I imagine purchased discs work properly.
---
Facts
Running time: 122 minutes
Picture: 1.85:1, 1080p24, MPEG4 AVC @ 18.02Mbps
Sound: English: DTS-HD Master Audio 24/48 3/2.1 @ 5021kbps (Core: DTS 24/48 3/2.1 @ 1536kbps); English: Dolby TrueHD 24/48 3/2.1 (Core: Dolby Digital 3/2.1 @ 448kbps); English Descriptive Audio: Dolby Digital 3/2.1 @ 448kbps
Subtitles: English for the Hearing Impaired (includes song lyrics)
Extras: Trivia Challenge (three levels, answered through movie watching); Supplemental Featurette (1080p24, MPEG4 AVC, Dolby Digital 3/2.1 @ 448kbps - 15 mins); Four Bonus Songs (1080p24, MPEG4 AVC, Dolby Digital 3/2.1 @ 448kbps - 17 mins); Four Multi-angle Songs (5 angles, 1080p24, MPEG4 AVC, Dolby Digital 3/2.1 @ 448kbps - 18 mins); BD-Live iTunes song ordering system
Restrictions: Rated

(Australian rating); Locked to Region B

This is the video bitrate graph for this movie, generated by BDInfo 0.5.2: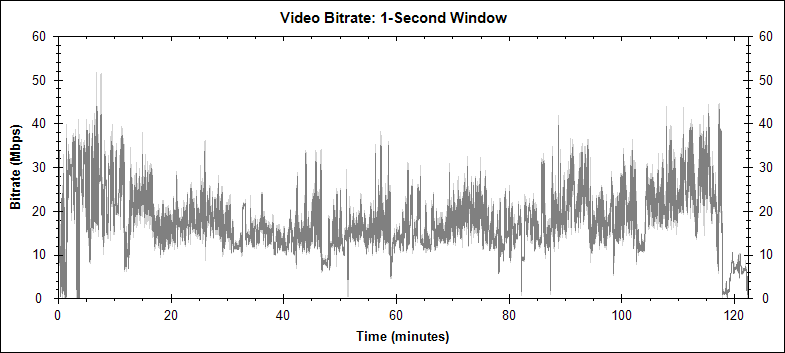 ---
&copy 2002-2009, Stephen Dawson