Home Page | About Me | Home Entertainment | Home Entertainment Blog | Politics | Australian Libertarian Society Blog | Disclosures
---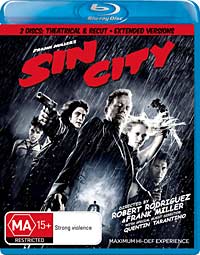 Originally published in Sound and Image, Sept/Oct 2009, v.23#01
Last updated 30 October 2009
---
Sin City
2005 - Walt Disney Studios Home Entertainment
Director: Frank Miller/Robert Rodriguez/Quentin Tarantino (special guest director)
Starring: Jessica Alba, Devon Aoki, Alexis Bledel, Powers Boothe, Rosario Dawson, Benicio Del Toro, Michael Clarke Duncan, Carla Gugino, Josh Hartnett, Rutger Hauer, Michael Madsen, Frank Miller, Brittany Murphy, Clive Owen, Mickey Rourke, Nick Stahl, Makenzie Vega, Patricia Vonne, Bruce Willis and Elijah Wood

Movie:

Picture:

Sound:

Extras:

---
Robert Rodriguez's directorial career seems to have had two tracks. One has been children's science fiction adventure fare, such as the three Spy Kids movies (1, 2, and 3) and the apparently awful The Adventures of Sharkboy and Lavagirl 3-D (it gets 3.6 out of 10 on the Internet Movie Database).

The other track has been over-the-top action crime thrillers, often as not following on from his feature debut, El Mariachi, such as Desperado and Once Upon a Time in Mexico.

In a way, Sin City brings these together. Based on an adult comic book -- aka 'graphic novel' -- by Frank Miller (who Rodriguez brought in as a co-director), this is an as over the top action crime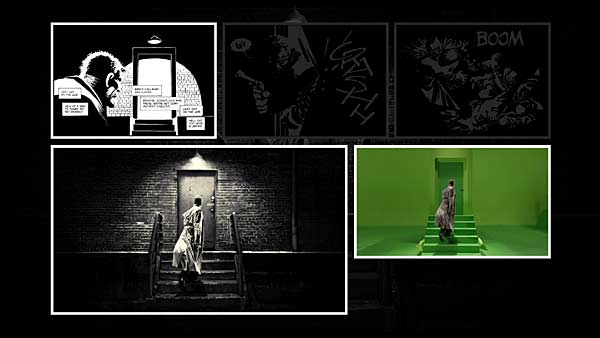 thriller as you're ever likely to seem. But it folds in much of the tone of the better '40s noir films, enhanced by the unconstrained violence available to modern film makers.
Studios like Rodriguez because his films make money. The aforementioned El Mariachi cost him just $US7,000 to make and ended up doing $US2 million at the box office, and has carried this ethos through his career. Despite the star-studded cast, Sin City cost about $US40 million to make and made four times that much worldwide.
He controls costs by using his mind. There were only two constructed sets in Sin City. The rest was done on green screen, with the backgrounds added digitally. The actors were engaged for the minimum possible time, and their scenes shot in days at most. One of the most intense sections of the movie has the Elijah Wood and Mickey Rourke characters fighting. But the actors never actually met until the debut screening of the movie, months later. Rodriguez captures the action he wants, according to a scheme in his head, and then assembles the elements with the aid of a computer (he does his own editing), adding scenery and manipulating everything into a final product.
And oh, what a final product!
Especially as presented on this extraordinary two disc Blu-ray by Walt Disney Studios Home Entertainment. On the second disc you get a bunch of standard definition featurettes, a clunky interactive comic book/game in high definition, and the four interwoven stories of the main movie presented, in high definition, as stand alone pieces.
The main disc doesn't have stand alone extras, but still manages to consume 44.55GB of space for several reasons. One is the audio. The main soundtrack, presented in 24 bit DTS-HD Master Audio, consumes over 4Mbps all by itself. Three full-bitrate DTS tracks add another 4.5Mbps. There are two commentary tracks, plus 'English Audio Descriptive') and a full length surround sound recording of the movie playing back in Austin, Texas, so that you can gasp and cheer and laugh with the crowd. Whatever.
What's really great on this disc is the 'Cine-Explore' version of the movie. This employs BonusView PIP, graphics-intense overlays (an average of 112kbps over the length of the movie) and seamless branching to provide a highly detailed feature-length making-of version of the movie.
Most Blu-ray movies are entirely contained in one very large file on the disc. This one plays back as a sequence of sixty files. Thirty of the files are the same for both versions, while the other thirty are different. The picture on this page shows a frame from near the start of the Cine-Explore version, demonstrating the green-screen shooting, the original comic book and the final result. Nearly 56 minutes of the Cine-Explore version is the branched-off alternate footage. The Bonus View PIP and the 'Presentation Graphics' overlay are used during the bits of the movie which aren't part of the branched-off sections.
The Cine-explore version is accompanied by one of the commentaries, so you get a huge amount of both visual and spoken background on the movie. My guess is that the care taken in just developing this Cine-Explore version must have cost a great deal more than the $7,000 it cost Robert Rodriguez to make his first movie.
Of course, as a refined reader of this journal your already have Sin City on DVD. Does it look better on Blu-ray? Of course! See below for the Blu-ray vs DVD comparison.
This disc must be in your collection.
---
Facts
Running time: 124 minutes
Picture: 1.85:1, 1080p24, MPEG4 AVC @ 21.96Mbps
Sound: English: DTS-HD Master Audio 24/48 3/2.1 @ 4281kbps (Core: DTS 24/48, 3/2.1 @ 1536kbps); German, English, Spanish: DTS 24/48, 3/2.1 @ 1536kbps; English (Austin Audience Reaction): Dolby Digital 3/2.1 @ 640kbps; English Audio Descriptive, Commentary (Rodriguez & Miller), Commentary (Rodriguez & Tarantino): Dolby Digital (Pro Logic flag) 2/0.0 @ 192kbps
Subtitles: English, English for the Hearing Impaired, Italian, German, Spanish, Italian (Commentary 1), German (Commentary 1), Spanish (Commentary 1), Italian (Commentary 2), German (Commentary 2), Spanish (Commentary 2)
Extras: Recut Stories (1080p24, MPEG4 AVC, English DTS-HD MA 24/48 5.1 @ 4255kbps/German/Spanish/Italian: DTS 24/48 5.1 @ 1,536kbps - 142 mins); 'Kill 'Em Good' Interactive Comic Book (1080p24, MPEG4 AVC, DD5.1 @ 448kbps); 6 Featurettes (4:3, 480i60, MPEG2, DD2.0 @ 192kbps - 48 mins); 5 Rodriguez Special Features (480i60, MPEG2, DD2.0 @ 192kbps - 58 mins); 2 Trailers (4:3, 480i60, MPEG2, DD2.0 @ 192kbps - 4 mins)
Restrictions: Rated

(Australian rating); Region Free

This is the video bitrate graph for this movie, generated by BDInfo 0.5.2: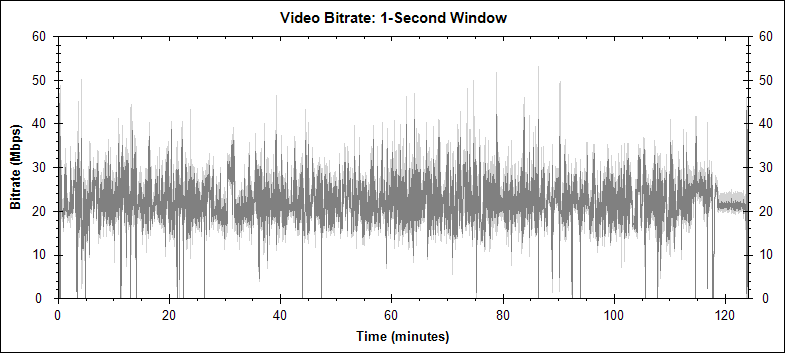 This is the video bitrate graph for the BonusView PIP stream in this movie. It shows where the PIP windows appear during its course: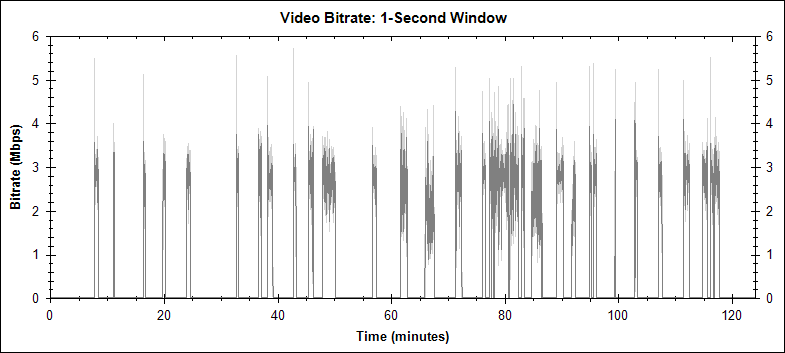 ---
Here are some comparisons between the Australian PAL DVD and the Blu-ray versions of this movie. I purchased the DVD some time ago, while the Blu-ray version was supplied by Walt Disney Studios Home Entertainment.

In the following examples, at the top of each is the full frame (suitably shrunk down) used in the comparison, with a 250 pixel wide detail from the frame underneath. The left side is from the PAL DVD. The image was captured digitally from the disc, scaled up from its native 720 by 576 resolution to 1,024 by 576 (to present in the 16:9 aspect ratio), and then, in order to be comparable to the Blu-ray version, from that to 1,920 by 1,080. The detail is from that last scaled version, and has not been rescaled again. The right side is from the Australian Blu-ray. This has not been scaled at all.

Different applications were used to capture the two frames, so I am not normally comfortable comparing the colour between the two, merely the detail and sharpness. For those visitors from NTSC lands, generally the PAL DVD is just a touch sharper than the NTSC DVD.

This movie is mostly black and white, with occasional coloured highlights. It was also largely shot on green screen and digitally composited, with high definition digital video photography. My sense is that this movie benefits from Blu-ray in two ways over DVD. The principal photography strikes me as ending up a trifle soft, but it nonetheless looks much better in Blu-ray thanks to the lack of compression artefacts and the smoother tonal graduations. Much of the post production stuff is quite sharp, and this benefits markedly in sharpness and detail. I shall proceed now without commenting and let the pictures speak for themselves.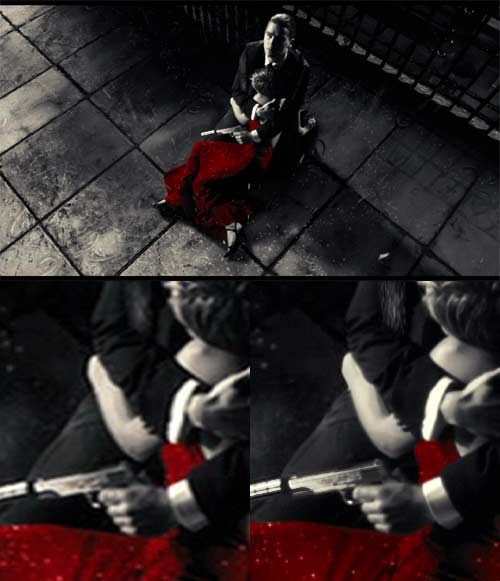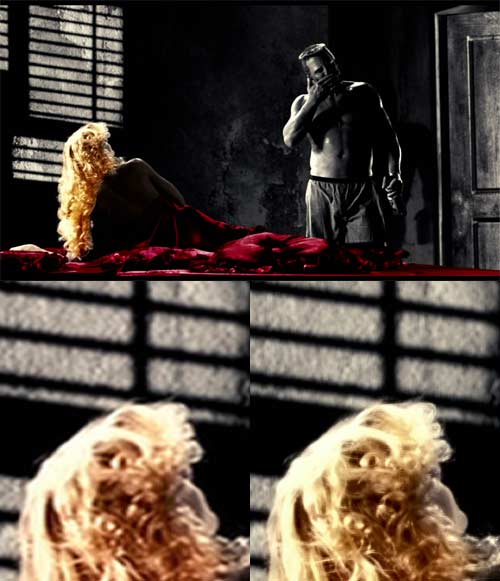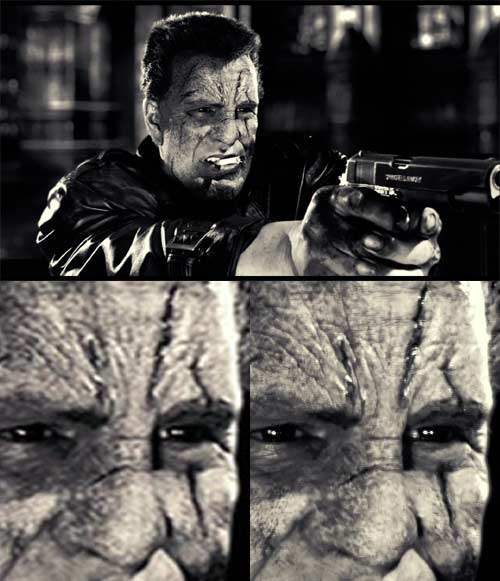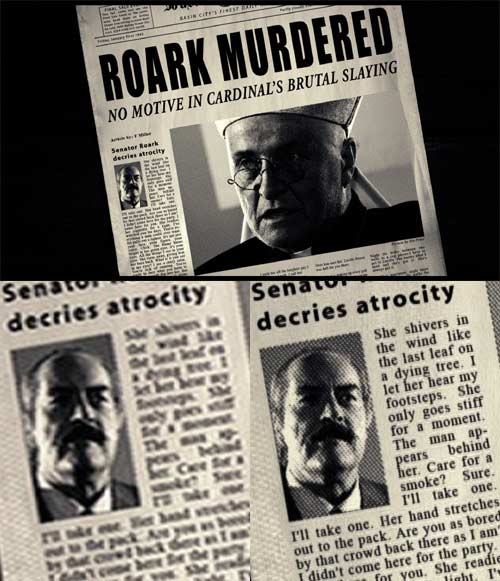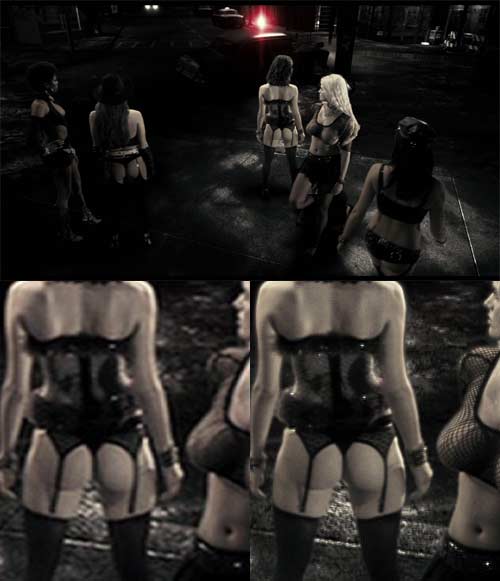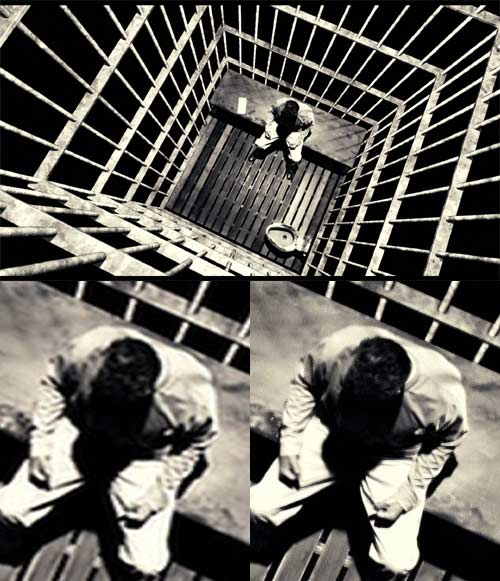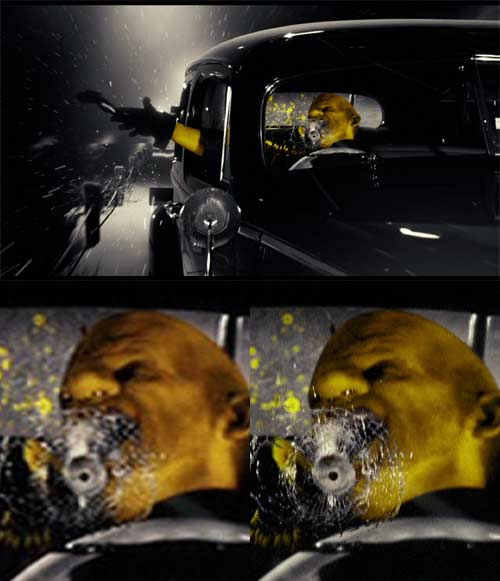 ---
&copy 2002-2009, Stephen Dawson