Home Page | About Me | Home Entertainment | Home Entertainment Blog | Politics | Australian Libertarian Society Blog | Disclosures
---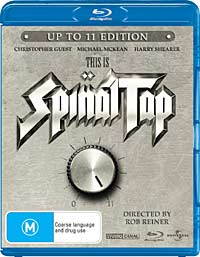 Published in Australian HI-FI, Mar/Apr 2010, v.41#02, p.106
Last updated 15 June 2010
---
This Is Spinal Tap
1984 - Universal Pictures (Australasia) Pty Ltd
Director: Rob Reiner
Starring: Rob Reiner, R.J. Parnell, David Kaff, Tony Hendra, Michael McKean, Christopher Guest, Harry Shearer, Bruno Kirby, Ed Begley Jr. and Danny Kortchmar

Movie:

Picture:

Sound:

Extras:

---
Does This Is Spinal Tap mock Led Zeppelin more than any other band?

Possibly, although it seems to be mocking the whole modern musical industry. The Tap bass player 'Derek Smalls', played by Harry Shearer (voice of Flanders, Smithers, Burns, et al on 'The Simpsons') uses a Ringo Starr voice. The genre performed by Tap at the time of the 'tour' covered by the film -- 1982 -- is heavy metal, but their 'background' is explored, including a flower-child style 60's hit, and an even earlier Beatles-suited TV appearance.

Nonetheless, the references within this movie to the band members', er, members does remind one of Robert Plant's startlingly revealing blue jeans in The Song Remains the Same.

Two things make it all work. One is the way it is played so utterly straight (many thought it was a real documentary about a real band).

And the other is the music, which is actually pretty good (if you like Zeppelin style). Yet, except for one appalling attempted rendition of 'Heartbreak Hotel', it was all written by one or more of stars Christopher Guest, Michael McKean and Shearer, along with director Rob Reiner. The lads did all the performances as well.

Perhaps the best joke in the whole movie works only because a little number that Guest's character 'Nigel' has been working on is so beautiful. Otherwise the contrast with the name, when its revealed, would have fallen flat.

If you haven't had enough comedy from the movie itself, listen to the main menu discussion and the in-character commentary delivered by the boys.

This disc is distributed in Australia by Universal. It's Blu-ray offerings so far have mostly used a standard Universal menu and operational layout, but some 'Studio Canal' titles differ. This is one of the latter.

Rather than being region free, it is locked to Region B. The commentary track is delivered in two channel PCM (as is a stereo mix of the movie) -- with 24 bits of resolution! The French dub is also PCM 2.0, but only 16 bits.

The main English-language audio is 24 bit, 48kHz, 5.1 channel DTS-HD Master Audio lossless with a quite healthy 3,917kbps average bitrate. This delivers the sound with fine clarity on the dialogue segments, and with good presence and impact on the music. Not leading edge, but for a 1984 movie it's quite fine.

If you have older gear, you may end up using the 24 bit DTS core within the DTS-HD MA bitstream. Oddly, this has a 968kbps bitrate, rather than the almost universal 1,509kbps, or second-most-common 768kbps.

The MPEG4 AVC video transfer conveys the picture pretty much perfectly, so it looks about as good as can be expected for a 1984 movie designed to look like a low budget documentary.
---
Facts
Running time: 83 minutes
Picture: 1.85:1, 1080p24, MPEG4 AVC @ 21.00kbps
Sound: English: DTS-HD Master Audio 24/48 3/2.1 @ 3917kbps (core: DTS 24/48 3/2.1 @ 968kbps); English, Commentary: LPCM 24/48 2/0.0 @ 2304kbps; French: LPCM 16/48 2/0.0 @ 1536kbps
Subtitles: Danish, French, German, Norwegian, Finnish, Swedish
Extras: 13 Trailers, featurettes & interviews (576i50, MPEG4 AVC, LPCM2.0 @ 1536kbps - 181 mins)
Restrictions: Rated

(Australian rating); Locked to Region B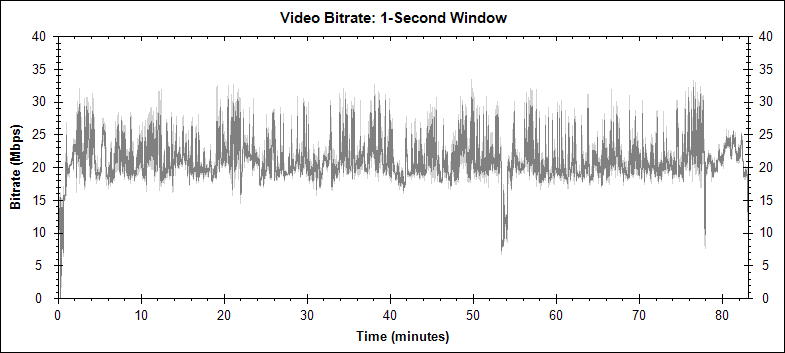 ---
Here are some comparisons between the Australian PAL DVD and the Australia Blu-ray version of this movie. The Blu-ray version was supplied to me by Universal Pictures (Australasia) Pty Ltd, while I purchased the DVD version some years ago.

At the top of each is the full frame (suitably shrunk down) used in the comparison, with a 250 pixel wide detail from the frame underneath. The left side is from the PAL DVD. The image was captured digitally from the disc, scaled up from its native 720 by 576 pixel resolution to 1,024 by 576 (to present in the correct aspect ratio) by the application. I then scaled it, in order for it to be comparable to the Blu-ray version, to 1,920 by 1,080 pixels.

The detail is from that last scaled version, and has not been rescaled again. The right side is from the Australian Blu-ray. This has not been scaled at all. Different applications were used to capture the two frames, so some caution should be exercised in judging colour and brightness.

For visitors from NTSC lands, generally the PAL DVD is just a touch sharper than the NTSC DVD.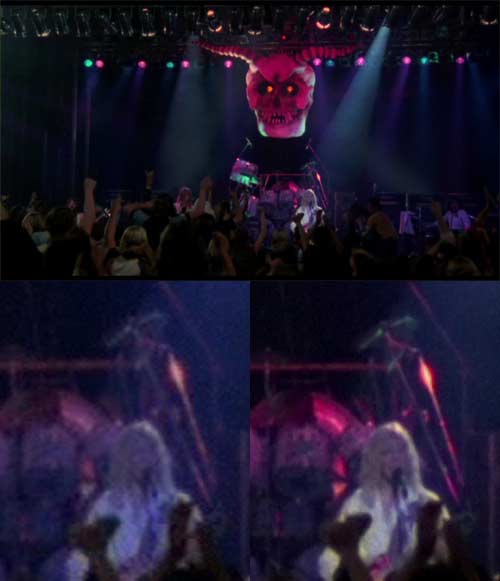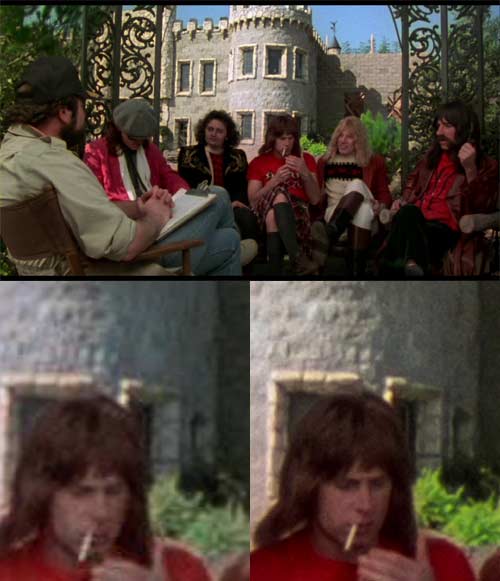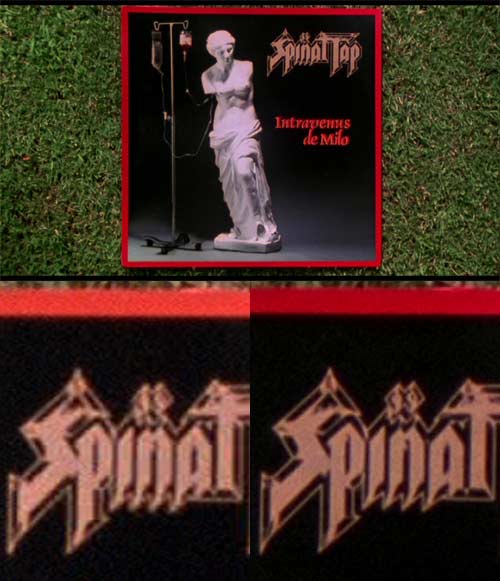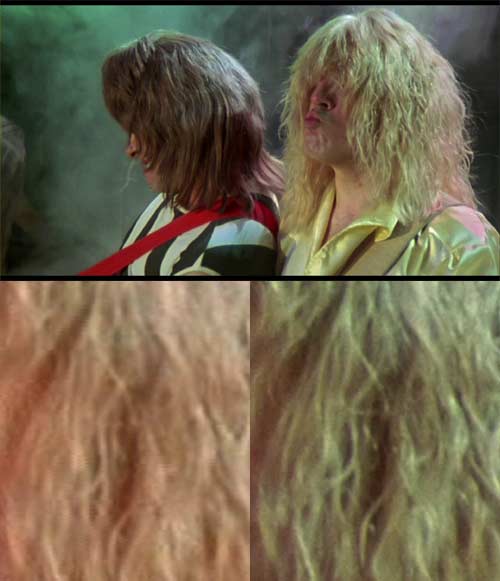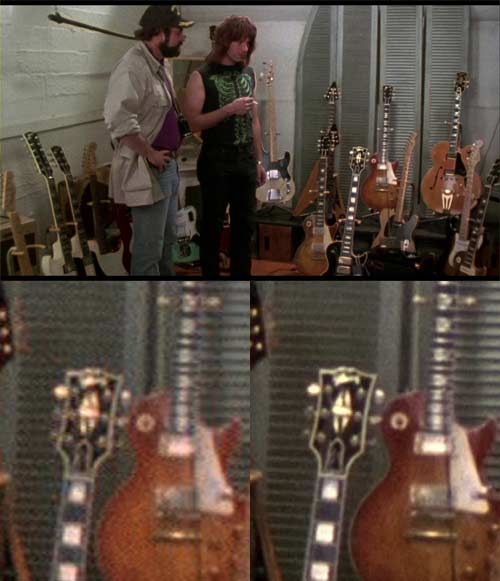 ---
&copy 2002-2010, Stephen Dawson