Home Page | About Me | Home Entertainment | Home Entertainment Blog | Politics | Australian Libertarian Society Blog | Disclosures
---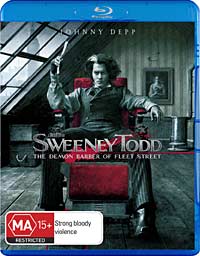 Blu-ray Reviews: Sweeney Todd: The Demon Barber of Fleet Street
Originally published in Australian HI-FI, Jul/Aug 2009, v.40#4
Last updated 12 October 2009
---
Sweeney Todd: The Demon Barber of Fleet Street
2007 - Warner Bros Entertainment Australia Pty Ltd
Director: Tim Burton
Starring: Johnny Depp, Helena Bonham Carter, Alan Rickman, Timothy Spall, Sacha Baron Cohen, Jamie Campbell Bower, Laura Michelle Kelly, Jayne Wisener and Ed Sanders

Movie:

Picture:

Sound:

Extras:

---
While Gigi grosses out thanks to the unremarked upon sleaziness of most of its characters, Sweeney Todd grosses out thanks to its buckets of blood. To my mind, though, and despite the MA classification, it is the cleaner story. And the better story.

In the heyday of the musical -- a period finishing around the time that Gigi was released -- the musical interludes were the point of the movie. Sweeney Todd conforms more to modern sensibilities, thank goodness, in which the story must remain solid. So we have Alan Rickman, a Judge in pre-Victorian England, having Johnny Depp framed for a crime and sentencing him to transportation, in order to steal Depp's bride. And his baby daughter.

As the movie opens, Depp returns, apparently having escaped. Sixteen years have passed, and once he learns of the fate of his wife, he swears revenge. Meanwhile, Rickman wants the now teenaged girl.

When I think of Stephen Sondheim, I think of his contribution to West Side Story, for which he wrote the lyrics. Few will reach Leonard Bernstein's musical heights, but Sondheim's music ranges from highly functional to, at times, quite moving. Johnny Depp turns out to be a surprisingly good singer, but not really good enough to carry the movie. Modern notions of authenticity could perhaps have taken second place to quality by having a male Marnie Nixon behind the microphone (or a Betty Wand -- who did the voice of Gigi).

The picture is wonderful, with a muted colour palette, punctuated with distressing regularity by splashes of blood red. Since so much of the movie is in a dark and grimy London, the strong blacks are especially welcome.

The sound is delivered in a sparkling Dolby TrueHD 5.1 channel mix. For the moment, TrueHD has a major advantage over DTS-HD Master Audio in that many Blu-ray players can decode it (to analogue for some, and multichannel PCM over HDMI for all the others), while few can decode Master Audio [at the time this was originally written].

If you don't have a recent receiver with HDMI inputs, you will get Dolby Digital at the maximum of 640kbps. The bitrate of the TrueHD sound is a mere 1,670kbps, or only a little more than regular DTS 5.1, or two channel PCM at 16 bits and 48kHz sampling.
---
Facts
Running time: 116 minutes
Picture: 1.78:1, 1080p24, VC1 @ 23.83Mbps
Sound: English: Dolby TrueHD 3/2.1 (16 bits/48kHz) @ 1670kbps (Core: Dolby Digital 3/2.1 @ 640kbps); English, French, German, Italian, Spanish (Castellano), Spanish (Español): Dolby Digital 3/2.1 @ 640kbps
Subtitles: English for the Hearing Impaired, French, German, German for the Hearing Impaired, Italian, Italian for the Hearing Impaired, Spanish, Dutch, Chinese, Korean, Spanish, Portuguese (Brazillian), Danish, Finnish, Norwegian, Portuguese, Swedish
Extras: 7 Featurettes (1080i60, VC1, DD2.0 @ 192kbps - 112 mins); 2 Featurettes (480i60, VC1, DPL2.0 @ 192kbps - 44 mins); Stills Set to Music: 'Razor's Refrain' (1080i60, VC1, DD2.0 @ 192kbps - 9 mins); Stills Gallery: 52 stills (1080i60, MPEG2, No sound)
Restrictions: Rated

(Australian rating); Region Free

The following video bitrate graph was generated by BDInfo 0.5.2: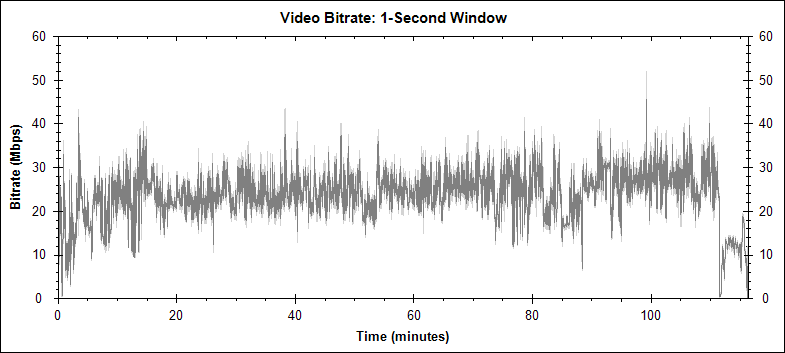 ---
&copy 2002-2009, Stephen Dawson